Aaron Rodgers is 36 years old and approaching the downswing of his career.
Rodgers has taken a relative backseat in Green Bay with the emergence of star running back Aaron Jones but remains excellent.
Sportsbooks have released odds on who will lead the divisional round in passing yards and Rodgers is in the mix.
GREEN BAY, Wis. – While much has been made of the age of New England Patriots quarterback Tom Brady, less discussed has been the age of Green Bay Packers quarterback Aaron Rodgers. Rodgers is 36, a few years younger than Brady, but Brady has been an anomaly in terms of effectiveness at his age.
Rodgers' 36 years more than qualify him as a veteran, they put him dramatically in the upper percentiles of age in the NFL. There are only 33 active players across the entire league that are older than Rodgers, and most of those serve on special teams as punters or long snappers.
Rodgers has shown his age this year, ceding ground in the offense to star running back Aaron Jones, who has been truly special in what can only be described as a breakout season.
This is not to say Rodgers is obviously worse than previous years – his yards/attempt have hovered around 7 for at least four years now and his interception percentage is an incredible 0.7%, the second-lowest mark of his starting career.
However, where you can see the decline is his completion percentage, which this season is 62%, the second-lowest of his career as a starter. Similarly, his TD percentage is 4.6, also the second-lowest of his career as a starter in that category.
It's safe to say Aaron Rodgers is no longer the player he was when he won his first – and only – Super Bowl ring. However, sportsbooks and super bowl bettors have some faith in the man, it appears.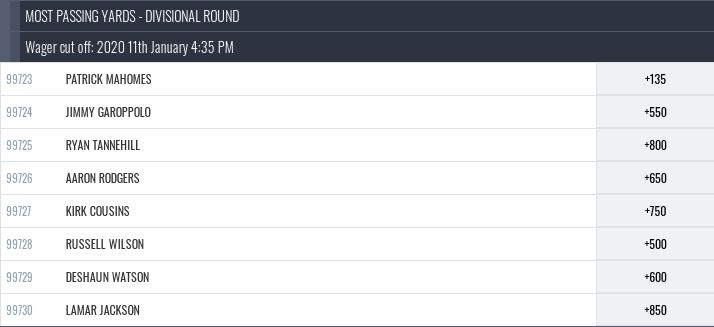 Many online sportsbooks are offering odds on who will have the most passing yards in the divisional round of the NFL playoffs. The overwhelming favorite is Patrick Mahomes, the Kansas City star, who has the best arm in the league and is throwing to the fastest receivers in the league. After Mahomes, however, it gets murky, and many of the contenders are grouped in the +500 to +700 range.
Rodgers is one of these, with +650 odds, behind Russell Wilson's +500, Jimmy Garroppolo's +550 and Deshaun Watson's +600.
In other words, in terms of passing, Rodgers is right in the mix with the elite quarterbacks of the league, with the obvious exception of the overwhelming favorite, Patrick Mahomes.
As for Rodgers himself, he remains focused, telling ESPN's Rob Demovsky: "This is an important opportunity for us. I feel like I've got a lot of really good years left, but you never know. A lot of things happen year to year. We've had some great teams that have been an injury away or a play away from being special, so I want to make the most of this opportunity."
Rodgers' age also is prominent in his own mind, as well:
"When I was 31, I thought I was going to play into my 40s and that was still a decade away. Now, I'm 36, so now we're a half a decade away."
The clock is ticking on Aaron Rodgers' excellent career. Now, what remains is to see whether his final chapters end in defeat or glory.
Advertising Disclosure
BettingSuperBowl.com may receive a commission from any purchases you make through link on our site. This enables us to offer you the best free content and news about Super Bowl Betting. Maxwell joined the BettingSuperBowl team in 2019 and is thrilled to be working for a website that so mirrors his interests. Maxwell is an avid follower of sports, a consumer of sports gambling news, and seeks to constantly better himself and his readers.