Washington Commanders Odds To Win The Super Bowl

The majority of the Washington Commanders success came early on in their teams history which includes three Super Bowl wins from 1980 to 1992. However, fast track to the present day, and this team is going to have to put in tons of work to get back to their Super Bowl contending ways.
There is some light to look forward to for the Commanders as they continue to build upon their young rosters. They have now moved on to their fourth quarterback in four years with Carson Wentz taking over the reins under center. They have some proven explosive pieces on offense in Terry McLaurin and Antonio Gibson to lean on through the air and on the ground. On defense, they have thrived having drafted and developed two of the top defensive linemen in the league in Montez Sweat and Chase Young.
Throughout this page, any information that you might need in order to bet on the Washington Commanders is right here. You'll come across all of their futures odds for the season including Super Bowl 57, the NFC Championship, and the NFC East division. You'll see their past betting trends and playoff history as well that way you can gauge your bets even more.
Commanders Record By Playoff Round
Overall: 23-20
Wild Card: 6-4
Divisional Round: 7-9
Conference Championship: 5-1
Super Bowl: 3-2
Washington Football Team Playoff History
| | | |
| --- | --- | --- |
| Playoff Appearances | 25 | 1936, 1937, 1940, 1942, 1943, 1945, 1971, 1972, 1973, 1974, 1976, 1982, 1983, 1984, 1986, 1987, 1990, 1991, 1992, 1999, 2005, 2007, 2012, 2015, 2020 |
| Division Championships | 16 | 1936, 1937, 1940, 1942, 1943, 1945, 1972, 1983, 1984, 1987, 1991, 1999, 2012, 2015, 2020 |
| Conference Championships | 5 | 1972, 1982, 1983, 1987, 1991 |
| Super Bowl Victories | 3 | 1983 (XVII), 1988 (XXII), 1992 (XXVI) |
| Super Bowl Losses | 2 | 1973 (VII), 1984 (XVIII) |
| Super Bowl Winning Quarterbacks | 3 | Joe Theismann, Doug Williams, Mark Rypien |
| Super Bowl Winning Coaches | 1 | Joe Gibbs |
| Super Bowl MVPs | 3 | John Riggins (XVII), Doug Williams (XXII), Mark Rypien (XXVI) |
What Are The Washington Football Team's Odds To Win The Super Bowl?
The Washington Commanders opened the 2022-23 season with +6000 Super Bowl 57 odds, but those odds have continued to change as the season has gone along. With Washington led by Riverboat Ron Rivera, betting on the Commanders to get hot and win their third-ever Super Bowl would come with some of the longest odds in the league and the largest payouts.
What Are The Washington Commanders NFC Championship Odds?
Led by a coach in Ron Rivera who knows what it takes to win an NFC Championship, the Washington Commanders came into the 2022-23 season with +3500 odds to win the NFC Championship. Since the start of the season, those odds have mostly lengthened, with current odds that can be seen below representing how much more can be won on the Washington Commanders if they win the NFC Championship.
What Are The Washington Commanders NFC East Division Odds?
Looking to reclaim the NFC East title that they lost last year to the Dallas Cowboys, NFC East betting odds were inclined to believe that was not going to happen. Washington opened the season with plenty of hope behind a strong defense and a new quarterback, but since then their NFC East odds (originally +600) have varied greatly. Updated odds on the Commanders to take back their NFC East crown can be found below.
2023 Betting Odds For The Washington Commanders
Super Bowl: +20000
NFC Championship: +10000
NFC East: +8000
Washington Commanders Records ATS
2021: 7-9-1
2020: 10-7
2019: 6-10
2018: 9-7
2017: 7-9
2016: 10-6
Washington Commanders Over/Under Records
2021: 7-10
2020: 6-11
2019: 8-8
2018: 7-9
2017: 8-8
2016: 12-4
Where To Bet On The Washington Commanders?
The Commanders may be embattled legally, but that doesn't mean people who bet on them have to be. The best way to wager on the Commanders is via online sportsbooks located internationally, such as Bovada and BetOnline. These sportsbooks will have better odds on the Commanders than GamBet DC and the sportsbook at Capital One Arena due to not having to contend with local betting fans. GamBet is particularly not recommended if you're looking for good odds, as they famously have bad odds given their relative monopoly in the DC area.
Sportsbooks Within Traveling Distance Of DC
Capital One Arena
Ben's Next Door
Lou's City Bar
Takoma Station Tavern
Grand Central Restaurant, Bar & Sportsbook
Dirty Waters Sportsbook
Mobile Betting On The Washington Commanders
Placing a bet on your phone is becoming the norm as online mobile sports betting is widening across the country. As for mobile betting on the Commanders, you can do so with ease from any smartphone that has access to a web browser such as iPhone, Samsung, or Android. While licensed online sportsbooks do not have a downloadable sportsbook app, you can log in to sites like BetOnline, MyBookie, and Bovada right from your phone's web browser and bet on the Commanders as you would on a computer.
2023 Washington Football Team Player Props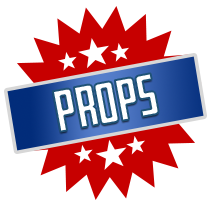 Although they may not be heavy favorites to win the Super Bowl of their division, the Washington Commanders have many players that have valuable betting odds at online sportsbooks. There are player props for the talented receiving core in Washington, the explosive run game, and the new QB in Carson Wentz.
Regular Season Most Valuable Player: Carson Wentz +20000
Defensive Player of the Year: Chase Young +10000
Defensive Player of the Year: Jonathan Allen +15000
Offensive Player of the Year: Terry McClaurin +10000
Offensive Rookie of the Year: Brian Robinson +1600
Offensive Rookie of the Year: Jahan Dotson +4500
Washington Commanders Odds History
| Year: | Super Bowl Odds: | NFC Odds: | NFC East Odds: | Odds To Make Playoffs: |
| --- | --- | --- | --- | --- |
| 2022 | +5000 | +2500 | +450 | +195 (TBD) |
| 2021 | +4000 | +1800 | +220 | +145 (Miss) |
| 2020 | +30000 | +15000 | +2200 | +700 (Make) |
| 2019 | +30000 | +15000 | +2000 | +550 (Miss) |
| 2018 | +10000 | +5000 | +600 | +300 (Miss) |
| 2017 | +10000 | +5000 | +600 | +350 (Miss) |
| 2016 | +2500 | +1200 | +275 | +220 (Miss) |
| 2015 | +10000 | +5000 | +3500 | +700 (Make) |
| 2014 | +6000 | +2500 | +400 | +275 (Miss) |
| 2013 | +3300 | +1600 | +250 | +175 (Miss) |
Washington Commanders Playoff History
Since becoming a franchise back in 1932, the Washington Commanders have had a rich history since then that has led to multiple playoff appearances and Super Bowls. Since their debut year, they have put together 25 playoff runs in which 16 of them have come as division champions. Included in their playoff history as well are 5 conference championships which have led to 3 Super Bowls.
Playoff Appearances For The Washington Commanders
There have been a total of ten different coaches that have led the Washington Commanders to a playoff berth since they first made it in 1936. Most notably though was Joe Gibbs who took this team to eight of their 25 playoff runs between the early 80s to his final season with the team in the early 90s. That does not include the two other playoff runs when he returned to the team in 2004. Making up the other 15 playoff berths that the Commanders have had have come under coaches such as Ray Flaherty, George Allen, Norv Turner, Jay Gruden, Mike Shanahan, and their current coach, Ron Rivera.
Division Championships For The Washington Commanders
The majority of the Commanders division titles came before the 2000s when they won 13 division championships from their inaugural season to 2000. Flaherty took them to four, Dutch Bergman, Dudley DeGroot, and George Allen each have them one, Gibbs was responsible for five, and Turner gave them one. Ahead of the year 2000, they were only successful for three more division titles in 2012 with Mike Shanahan, 2015 under Jay Gruden, and 2020 with Ron Rivera.
Conference Championships For The Washington Commanders
From the start of the Super Bowl era in 1967 to the present day, the Washington Commanders have been victorious in five conference championship games. George Allen was responsible for their first conference title in 1973. Joe Gibbs then led them to their remaining four conference championships in 1982, 1983, 1987, and 1991. All of which came with impressive play under center from Hall of Famer Joe Theismann, Barry Wilburn, and Mark Rypien.
Super Bowl Victories For The Washington Commanders
Of the five conference championships, the Commanders have been able to turn three of them into Super Bowl Championships in which Joe Gibbs was responsible for all three. Their first Super Bowl came in 1982 where they defeated the Miami Dolphins 27-17 after going into the game as a 3-point underdog. Commanders running back at the time, John Riggins, claimed Super Bowl MVP honors.
Their second Super Bowl win in 1988 came against the Denver Broncos where they were underdogs once again, but this time by 3.5 points. Washington had their way with the Broncos as they won 42-10 behind Doug Williams, who went on to win the Super Bowl MVP.
In 1992, sports betting sites finally put some respect on the Commanders as they went in as 7-point favorites to the Buffalo Bills. They had no problems covering the spread with the final score coming out to 37-24. Their quarterback at the time, Mark Rypien, was named the Super Bowl MVP.
Washington Commanders 14-Point Comeback In The 1988 NFC Divisional Round
One of the Commanders most memorable playoff moments came in the 1998 NFC Divisional Round where they overcame a 14-point deficit to the Chicago Bears. The Bears jumped out to an early 14-point lead in the first half before Washington went on to finish the game on a 21-3 run. Commanders running back at the time and wide receiver Clint Didier were the beneficiaries of the two offensive touchdowns. What put them over the top was Darrell Green and his 52-yard punt return to give them their first lead of the game in the third quarter. Washington would go on to win the game 21-7.