Betting On The Philadelphia Eagles To Win Super Bowl 2020

The Philadelphia Eagles Super Bowl 2020 betting odds were in their favor to start the season. As one of the most famous franchises in the NFL, the Eagles had not won a Super Bowl until recently. The Eagles entered this season having lost Super Bowl MVP Nick Foles to free agency after opting to stick with Carson Wentz as the starting quarterback. This, despite Foles' hardware and incredible performance in the Super Bowl. Wentz has been long heralded as one of the next great quarterbacks in the league, but he's entering the phase of his career where he has to prove himself and be more than just a potential great.
In a battle for possibly the worst division in the league, the Eagles and Cowboys kept bettors concerned and interested about who would make the playoffs. While Philadelphia was heralded as the team to easily make the playoffs, their subpar 2019 NFL season is being met with real critics. Still, the Super Bowl betting odds for the Eagles present an opportunity for the locals and believers to lay their hard-earned money on the line.
Philadelphia Eagles Affected By
Coronavirus
Fortunately for the Eagles, they have just one player that decided to opt-out of the season due to coronavirus concerns, and that it wide receiver, Marquise Goodwin. The Eagles currently also only have two players on their coronavirus list. The Eagles have announced that there will be no fans in attendance at their home games and that season ticket holders now have the option to opt-out of their commitment.
Philadelphia Eagles Playoff History
| | | |
| --- | --- | --- |
| Playoff Appearances | 27 | 1947, 1948, 1949, 1960, 1978, 1979, 1980, 1981, 1988, 1989, 1990, 1992, 1995, 1996, 2000, 2001, 2002, 2003, 2004, 2006, 2008, 2009, 2010, 2013, 2017, 2018, 2019 |
| Division Championships | 14 | 1947, 1948, 1949, 1980, 1988, 2001, 2002, 2003, 2004, 2006, 2010, 2013, 2017, 2019 |
| Conference Championships | 4 | 1960, 1980, 2004, 2017 |
| Super Bowl Victories | 1 | 2018 (LII) |
| Super Bowl Losses | 2 | 1981 (XV), 2005 (XXXIX) |
| Super Bowl Winning Quarterbacks | 1 | Nick Foles |
| Super Bowl Winning Coaches | 1 | Doug Pederson |
| Super Bowl MVPs | 1 | Nick Foles (LII) |
Betting On The Eagles In Pennsylvania
Those Eagles fans located in Philly have sports betting right in their backyards as there are three retail sportsbooks available in the city. There's Harrah's Philly Sportsbook, South Philadelphia Turf Club and Sugarhouse sportsbook. However, if someone does not want to make their way to a retail sportsbook, there are online sportsbooks such as MyBookie that offer the same betting odds on the NFL and the Eagles for bettors to take advantage of. In addition to the betting lines, they also offer different prop bets as well as futures bets for NFL bettors to look at.
2020 Philadelphia Eagles Betting Trends
The Eagles took home their fifth loss of the year against the Giants 27-17 after going into the game seen as 4.5-point underdogs. The Eagles have a Week 11 matchup with the Cleveland Browns where they are going into the game as 5.5-point underdogs. The Eagles have not looked great against the spread at all this season as they have gone 3-6 against the spread and with an average point margin of 3.9 points. In the Eagles last eight road games, the Over has gone 6-2. In their last five meetings with the Cleveland Browns, the home team has gone 5-0 against the spread which in this case is the Browns.
What Are The Eagles Odds To Win The Super Bowl?
The Eagles have seen their Super Bowl odds double from +3000 to +6600 since the start of the season as they have not been playing how they were hoping to. They got off to a rocky start to the season and just do not have the weapons that some of the other teams have to offer on offense. That being said, their Super Bowl odds will likely remain towards the bottom as there is no end in sight to their struggles.
What Are The Philadelphia Eagles Odds To Win The NFC Championship?
Like their Super Bowl odds, their NFC Championship odds have dropped as well as they opened up at +1200 and took a bit of a drop to +2500. This is a pretty sizeable drop here as they clearly do not have the offensive and even defensive start power that some of the other NFC teams have to offer and it is showing as the season goes on.
What Are The Philadelphia Eagles Odds To Win The NFC East?
The Eagles own the second shortest odds in the NFC East at +120 but that does not really say much as this is arguably the weakest division in all of the NFL. They share the division with the Washington Football Team as well as the New York Giant. Sitting ahead of the are the Cowboys who have more than enough to overpower the Eagles.
Philadelphia Eagles Draft Odds
The Eagles have been able to use the NFL Draft to their advantage in recent years and are looking to keep that system going. Betting on the Eagles is very easy to do, you just need an account with an online sportsbook and you are ready to bet. You'll find plenty of NFL Draft odds that you will be able to bet on.
Betting On The Eagles Win Total
The Philadelphia Eagles finished their season with an average 9-7 record that somehow got them into the playoffs. The Eagles projected win total for the 2020 season is set at 9.5 wins. They don't have the highest expectations set on them but this is enough for them to get the ball rolling and prove that they can win. The Eagles are looking to make those who bet on them happy.
Betting On Eagles Team Props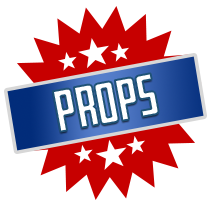 The Eagles have been on a roll and their team is jelling pretty well. This is why placing team props on your Eagles is an awesome idea! You can place a team prop bet on if the defensive unit will get a certain number of sacks in the game, or pick the exact result for an even greater payout. Your bet would be determined from all the players on defense and if they can come out and put together a team effort, winning money is that easy.
2020 Eagles Player Prop Bets
The Eagles have not had the best of luck with their offense over the years but seem to be getting back on track for the 2020 season. They are praying that Carson Wentz could remain healthy and are also looking for sparks from their receiving core such as newly drafted, Jalen Reagor, Zach Ertz and Dallas Goedert as well as their running back Miles Sanders.
Carson Wentz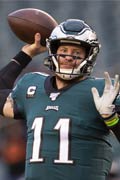 Wentz is coming off just his second healthy season since being in the league and he did not disappoint. Wentz put up 4,039 yards and 27 touchdowns, both of which are good for top ten in the league. His season totals for 2020 are projected at 3899.5 yards and 27.5 touchdowns.
Zach Ertz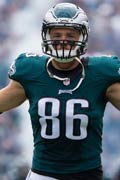 Zach Ertz had a down year from his 2018 outing as he put up 916 yards and six touchdowns through his 2019 campaign. Online sportsbooks have taken note of Ertz's slight fall and have his season totals at 899.5 yards with the under favored and 7.5 touchdowns also with the under favored.
Jalen Reagor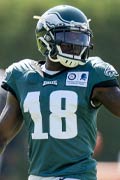 Jalen Reagor is stepping into an offense that is desperate for a spark at the wide receiver position. Reagor is a rookie wideout who had just 611 yards and five touchdowns during his final year at TCU. NFL betting sites have his season totals set at 700.5 yards with the under favored and 4.5 touchdowns.
Miles Sanders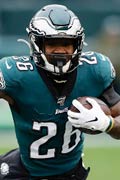 Miles Sanders is being set up for a breakout season as he is stepping into the lead running back role. Sanders put up 818 yards and three touchdowns during his rookie year and is looking to exceed that in 2020. NFL sportsbooks have his season totals set at 1000.5 rushing yards.
Dallas Goedert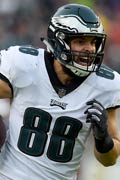 Dallas Goedert proved his worth in the 2019 season after having a slight breakout with 607 yards and five touchdowns. Online betting sites have his season totals set at just 475.5 yards but could be poised for an even bigger breakout.
Philadelphia Eagles Playoff History
The Philadelphia Eagles are one of the league's oldest franchises and with that comes years and years of playoff experience. They have been able to make it to 27 different playoffs which include 14 division championships, 4 conference championships and 1 Super Bowl win.
Eagles Playoff Appearances
The Eagles' first playoff appearance did not come until 14 years after they became an official team in the NFL in 1947under Greasy Neale who led them to three straight playoffs from 1947-1949. Their next playoff appearance did not come until 1960 where Buck Shaw was calling the plays. After that, they saw an 18 -year playoff drought that ended in 1978 where they went on to make four straight playoff appearances under Dick Vermeil. Rounding out the 80's they saw playoff appearances in 1988,1989, and 1990 under Buddy Ryan. They saw three more playoff berths starting 1992 and again in 1995-1996 under Rick Kotite and Ray Rhodes. The most successful era for the Eagles was under Andy Reid who led them to 9 playoff appearances from 1999-2012 with their first one coming in 2000 and their final one coming in 2010. Since then they saw one more under Chip Kelley in 2013 and three more from 2017-2019 under Doug Pederson.
Eagles Division Championships
Of the Eagles 27 playoff appearances, they were able to convert 14 of them into division championships. Their first stint of division titles came from 1947-1949 with Greasy Neale as the coach. They saw a 31-year drought of divisional championships as their next one did not come until 1980 With Vermeil at the coach. They saw another division championship in 1988 with Buddy Ryan as well. The Andy Reid Era took off as he coached them to six division championships from 2000 to 2013 with their first one coming in 2001 and their last one in 2013. Their two most recent division titles came in 2017 and 2019 under Coach Pederson.
Eagles Conference Championships
The Eagles have not been able to convert many of their 14 division championships into conference championships as they have just four conference titles. Their first one came in 1960 with Buck Shaw calling plays and Norm Van Brocklin under center. Their next one did not come until 1980 with Vermeil on the sideline and Ron Jaworski at quarterback. In 2004 Andy Reid led them to a conference championship as well with Donovan McNabb. Their most recent one came in 2017 with current coach, Doug Pederson, and both Carson Wentz and Nick Foles playing quarterback.
Eagles Super Bowl Victories
Of their four conference titles, the Eagles have managed just one Super Bowl win to their resume. Their championship run came in 2018 for Super Bowl LII where the Eagles took on the New England Patriots. They went into the game being seen as 4.5-point underdogs and clearly had no problems with the spread at all as they won the game with a final score of 41-33. The Super Bowl MVP was given to Nick Foles who was filling in for the injured Carson Wentz as he put up 373 yards, 3 passing touchdowns and even a receiving touchdown.