Betting On The Pittsburgh Steelers To Win The Super Bowl

Betting on the Pittsburgh Steelers to win the Super Bowl is never a bad idea. They are a very historic team that seems to always seem to make their way to contention one way or another. Their offseason has been quiet but they don't need to make any significant changes. They had an off-year in 2019 with the absence of Ben Roethlisberger but now that he is healthy and ready to return, they are right back in contending waters. During free agency, they brought in Eric Ebron who is a very solid and reliable tight end.
Their team has all the right pieces like JuJu Smith-Schuster and James Conner. They also have great surrounding pieces that could back them up to contend. Bettors should be happy to bet on Steelers whenever and wherever as we can expect to see them have a great 2020 season. As you go down the page, you will find the chances of them winning the Super Bowl, winning the AFC Championship and winning the AFC North.
Pittsburgh Steelers And
COVID-19
Luckily for the Steelers, they are one of just three teams that have had zero players opt out of the 2020 season. Aside from no players opting out, they have just one player, James Washington, on their coronavirus list. As for fans going to Steelers home games, there will be no fans at their first two games and the team will make a decision after that. As for season ticket holders, they are being offered a full refund if fans will not be allowed.
Pittsburgh Steelers Playoff History
| | | |
| --- | --- | --- |
| Playoff Appearances | 31 | 1947, 1972, 1973, 1974, 1975, 1976, 1977, 1978, 1979, 1982, 1983, 1984, 1989, 1992, 1993, 1994, 1995, 1996, 1997, 2001, 2002, 2004, 2005, 2007, 2008, 2010, 2011, 2014, 2015, 2016, 2017 |
| Division Championships | 23 | 1972, 1974, 1975, 1976, 1977, 1978, 1979, 1983, 1984, 1992, 1994, 1995, 1996, 1997, 2001, 2002, 2004, 2007, 2008, 2010, 2014, 2016, 2017 |
| Conference Championships | 8 | 1974, 1975, 1978, 1979, 1995, 2005, 2008, 2010 |
| Super Bowl Victories | 6 | 1975 (IX), 1976 (X), 1979 (XIII), 1980 (XIV), 2006 (XL), 2009 (XLIII) |
| Super Bowl Losses | 2 | 1996 (XXX), 2011 (XLV) |
| Super Bowl Winning Quarterbacks | 2 | Terry Bradshaw, Ben Roethlisberger |
| Super Bowl Winning Coaches | 3 | Chuck Noll, Bill Cowher, Mike Tomlin |
| Super Bowl MVPs | 5 | Franco Harris (IX), Lynn Swann (X), Terry Bradshaw (XIII, XIV), Hines Ward (XL), Santonio Holmes (XLIII) |
What Are The Steelers Odds To Win The Super Bowl?
The Steelers are looking like Super Bowl contenders yet again as their Super Bowl odds are towards the top of the odds board at +1500. With Big Ben Roethlisberger looking like he has not skipped a beat on the field and all of their other injured key players healthy as well, the Steelers Super Bowl odds are primed to be a great bet to make as they are back on track.
Pittsburgh Steelers 2020 Betting Trends
The Steelers' undefeated season continues to 9-0 as they took down the Cincinnati Bengals 36-10 and had no problems with their 7.5-point favorite spread. The Steelers have another favorable matchup in Week 11 where they are going up against the Jacksonville Jaguars and are seen as 10-point favorites here. They are the best team in the league in terms of record but also when it comes to going against the spread as they have gone 7-2 thus far. In the Steelers' last 29 games as a road favorite, they have gone 24-5 when hitting the Under. In their last five meetings with the Jaguars, they have gone 1-3-1 against the spread.
What Are The Pittsburgh Steelers Odds To Win The AFC Championship?
The Steelers are in a great position to make a run at the AFC Championship being that their AFC Championship odds are the fourth shortest odds in the conference at +850. That being said, they clearly have what it takes to compete with the top teams not just in the AFC but the entire NFL. As long as they stay healthy, they could be ready to make some noise this season.
What Are The Pittsburgh Steelers Odds To Win The AFC North?
The Steelers have the second shortest odds behind the Baltimore Ravens to win the AFC North division at +250. Their only real competition in the division are the Ravens as a matter of fact as they share it also with the Cleveland Browns who don't have all their pieces together yet and the rebuilding Cincinnati Bengals. As long as they can remain focused, they can certainly walk away as division champs.
Betting The Steelers NFL Draft
Mike Tomlin has proven to be one of the better coaches in the NFL by what he was able to do this past season. To sum it up, he almost took this team to the playoffs with a third-string quarterback. This all proves that Tomlin makes a very good decision and will continue to come NFL draft weekend. The only way to place a bet on Steelers' draft decisions is through online betting sites. This is the only place where betting lines for the NFL draft will be up and wager on because state-licensed sportsbooks don't offer NFL event betting lines.
Steelers Week 1 Recap + Week 2 Outlook
Big Ben Roethlisberger is officially back and in full swing as he led his team to a victory over the New York Giants in Week 1. They headed into the matchup as 6-point favorites and did just that as they were able to win by double-digits. Looking ahead to their Week 2 matchup with the Denver Broncos, they are also favored but this time at 7.5 points. With the Big Ben and Juju Smith-Schuster connection, it is hard to see the Broncos getting passed this one.
Projected Win Total For The Steelers
Finishing the season at 8-8 this team showed guys throughout the season and also can see a bright future moving forward. With the expectation set by (* online betting sites https://www.bettingsuperbowl.com/betting-sites/ *) that the Steelers win will 9 games, bettors are quickly taking the wildcard mindset or outside looking in mindset for the Steelers. Nine wins are very doable when it comes to this team that played so well without their Hall Of Fame quarterback.
2020 Steelers Player Prop Bets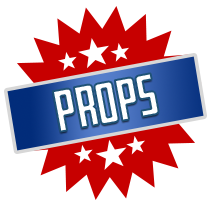 The Pittsburgh Steelers are looking to get back on track after an unfortunate, injury-riddled 2019 season. They are getting back Big Ben Roethlisberger who saw just two games in 2019. They also have great receivers in Juju Smith-Schuster as well as Dionte Johnson and are also expecting James Conner to be an every-down back.
Ben Roethlisberger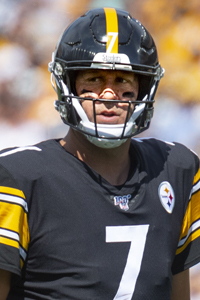 Ben Roethlisberger is going to be a man on a mission as he is returning to his highly talented offense. Big Ben is coming off of a historic 2018 season where he put up career-high numbers with 5,129 yards and 34 touchdowns. NFL betting sites have his totals set at 3850.5 passing yards and 26.5 touchdowns.
Juju Smith-Schuster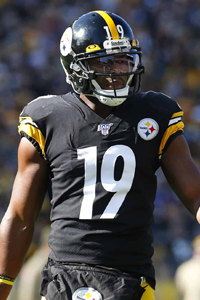 Smith-Schuster is coming off of a horrific 2019 season that was filled with injuries and just 552 receiving yards along with three touchdowns. There are high expectations for Smith-Schuster going into the 2020 season as he is the leading receiver and is getting his QB1 back as well. His season totals are set at 1099.5 yards and 6.5 touchdowns which are both favored over along with 91.5 receptions.
James Conner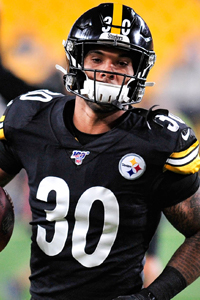 James Conner also had an injury-plagued season as he only played in 10 games and put up 464 receiving yards and four touchdowns. Conner is expected to be back at full speed in the 2020 season as he is being considered an every-down back and his season totals are set at 825.5 with the over favored and 6.5 rushing touchdowns.
Dionte Johnson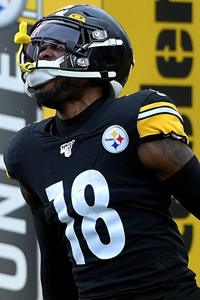 Dionte Johnson had an average 2019 rookie campaign as he was able to fill in for the injured Juju Smith-Schuster by posting 680 receiving yards and five touchdowns. Going into the 2020 season, NFL betting sites have Johnson's season totals at 775.5 yards.
Pittsburgh Steelers Playoff History
The Pittsburgh Steelers are one of the oldest and most well-known NFL franchises in history and certainly have the resume to back them up. They have made the playoffs 31 different times, they have 23 division championships, 8 conference championships and 6 Super Bowl wins.
Steelers Playoff Appearances
The Steelers have arguably the most playoff experience in the entire league as they have made the playoffs 31 times with just four different coaches. Their first playoff appearance came in 1947 where they were coached by Jock Sutherland. Their most notable playoff run was between 1969 and 1991 under Chuck Noll where they had 12 appearances. From 1992 to 2006 under Bill Cowher, they had added 10 more appearances and from 2007 until the present day, Mike Tomlin has led them to eight playoff appearances.
Steelers Division Championships
With the Steelers having made 31 different playoffs, they have converted 23 of those appearances into division championships. Their second coach, Chuck Noll, was able to convert 9 of their 12 playoff appearances into division titles with Terry Bradshaw at the help of the quarterback for the majority of the run along with Cliff Stoudt, Mark Malone and David Woodley. Bill Cowher led the team to eight more division championships between 1992 to 2006 and their current coach, Mike Tomlin, has led them to six division titles.
Steelers Conference Championships
The Steelers most recognizable run winning the conference title was between 1974 and 1980 where they won four conference championships. Terry Bradshaw was the one under center leading them while Chuck Noll was the coach. During Bill Cowher's stint, he only managed to win just one conference title in 1995 and Mike Tomlin has won three of them with Big Ben Roethlisberger under center.
Steelers Super Bowl Victories
The Steelers are one of the winningest franchises when it comes to winning Super Bowls. They have six Super Bowls to their name right now. Three of their coaches have Super Bowl rings as Chuck Noll won three, Bill Cowher won once and Mike Tomlin has two. Also, Terry Bradshaw owns four of those Super Bowl rings as well while Ben Roethlisberger has two.
Their first Super Bowl was won in the 1975 season for Super Bowl IX where they defeated the Minnesota Vikings 16-6. The Steelers were seen as 3-point favorites heading into the game and covered the spread with ease. Franco Harris was named the Super Bowl MVP after putting the team on his back for 158 rushing yards and a touchdown.
Their second Super Bowl came one year later in 1976 for Super Bowl X where they took down the Dallas Cowboys 21-17. They were unable to cover the spread, however, as they were seen as 7-point favorites and only won by four points. The Super Bowl MVP here was Lynn Swann as he went for 161 receiving yards and a touchdown.
The Steelers third championship came just two years later in 1979 for Super Bowl XIII where they faced off and won against the Dallas Cowboys with a final score of 35-31. The Steelers were seen as 3.5-point favorites here and were able to cover just barely as they won by 4-points. Terry Bradshaw was named the MVP here as he put up 318 yards and four touchdowns.
The Steelers won their fourth Super Bowl just one year after this in 1980 where they defeated the Los Angeles Rams 31-19. The Steelers were seen as 10-point favorites heading into the game and covered the spread as they won by 12-points. Terry Bradshaw was named the MVP for a second straight year here after putting up 309 yards and two touchdowns.
Their fifth Super Bowl came later on in 2006 when they faced off against the Seattle Seahawks. They won with a final score of 21-10 and covered their 4-point favored spread in doing so. The Super Bowl MVP for Super Bowl XL was Hines Ward after he went for 123 receiving yards and a touchdown.
Their sixth and more recent Super Bowl championship came in 2009 where they defeated the Arizona Cardinals. The Steelers were seen as 6.5-point favorites but were unable to cover the spread as they won 27-23. The Super Bowl MVP in the game was Santonio Holmes as he went for 131 receiving yards and a touchdown.
Betting Team Props On The Steelers
Knowing how this year is going for the Steelers, fans are very excited about things moving forwards and bettors are as well. This team has made a major improvement and it can be seen the collective energy they have given. This energy also is effecting bettors as well. Placing a bet on whether the Steelers will have a total of four interceptions in a game collectively is a team prop bet that can be placed on online sportsbooks.
Betting Player Props On The Steelers
Taking player prop bets is one of the ways online sportsbooks have been helping bettors win a lot of cash. Player prop bets are when you can place bets on a player during the game. For those who pay close attention to their favorite player during the game, this is your way to make some easy cash. A brief example is James Connor rushing for over 100 yards on the game. With that bar set, you would choose whether you believe Connor would have more or less than 100 yards, place your bet and enjoy the game.