Betting On The New Orleans Saints To Win Super Bowl 2021

Betting on the New Orleans Saints to win the Super Bowl could be one of the more profitable bets to make. The Saints have had a lot of questions surrounding them, which could put their recent success in jeopardy. The Saints have been to the playoffs a total of 15 times with six of them coming from 2010 until now. They also have nine division championships, one conference championship and a Super Bowl win as well.
The Saints have a lot of guys on their team that have the ability to make big plays such as Drew Brees and his connection with Michael Thomas and arguably one of the top running backs in the league in Alvin Kamara. They also have a great surrounding cast with guys like Jared Cook and Emmanuel Sanders as well. If the Saints could prove to be back to their contending ways, they should have no problems against any team in the league.
Those looking to take a swing at any of the Saints betting odds can find all of their information here. They will come across the Saints Super Bowl odds, their NFC Championship odds as well as their odds to win the NFC South Division. There is also info on their player props and playoff history as well.
New Orleans Saints Playoff History
| | | |
| --- | --- | --- |
| Playoff Appearances | 15 | 1987, 1990, 1991, 1992, 2000, 2006, 2009, 2010, 2011, 2013, 2017, 2018, 2019 |
| Division Championships | 9 | 1991, 2000, 2006, 2009, 2011, 2017, 2018, 2019, 2020 |
| Conference Championships | 1 | 2009 |
| Super Bowl Victories | 1 | 2009 (XLIV) |
| Super Bowl Losses | 0 | |
| Super Bowl Winning Quarterbacks | 1 | Drew Brees |
| Super Bowl Winning Coaches | 1 | Sean Peyton |
| Super Bowl MVPs | 1 | Drew Brees (XLIV) |
What Are The Odds On The Saints To Win The Super Bowl?
The Saints odds to win the Super Bowl are sitting towards the middle of the odds board being that they still do have some questions surrounding them. They also might not have enough to keep up with some of the other contending teams in the league either. The Saints do have a Super Bowl win under their belt that came back in 2009. That said, their Super Bowl odds would offer a nice payout.
What Are The New Orleans Saints Odds To Win The NFC Championship?
As good as the Saints might have been, they really did not make it far in the playoffs as they have only won the NFC Championship one time and have made the game two times. They do have some guys that could potentially help them get to where they need to be but their NFC Championship odds back that up as they sit near the top.
What Are The New Orleans Saints Odds To Win The NFC South?
The Saints could be facing their toughest road yet to win the NFC South title. Especially being that they now share the division with the defending Super Bowl Champions, the Tampa Bay Buccaneers. The Saints odds to win the NFC South are sitting in the top half of the odds boards. The Saints have nine division titles to their name.
2021 New Orleans Saints Odds
Super Bowl: +2500
NFC Champions: +1000
NFC South: +210
Betting Trends For The New Orleans Saints in 2021
Regular Season Record: 12-4
ATS Record: 10-8
Over/Under Record: 10-8
Can Saints Fans Bet In Louisiana?
Sadly, those looking to bet on the Saints will not be able to do so in-person as the state has not regulated land-based sports betting. There are, however, online sports betting options to choose from such as Bovada. Bovada offers some of the best NFL odds on the Saints and they are also one of the top online sportsbooks out there as well. They offer a wide variety of NFL betting odds like prop bets and futures bets as well as different promotions as well.
New Orleans Saints NFL Draft Odds
The New Orleans Saints have been Super Bowl contenders as of recent and they certainly have the NFL Draft to thank for that. They can continue to build around their team in the 2021 NFL Draft with their three draft picks. They own a draft pick in rounds one, two and six to look forward to.
2021 Saints Player Prop Bets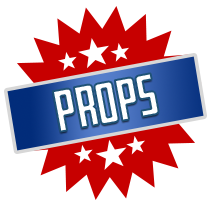 The New Orleans Saints are coming off of a solid 14-4 season that ended with a nice playoff run. There are some great players on their team that could help them get back to that winning form. Players like Alvin Kamara and Mike Thomas are sure to have player props on them and possibly playoff and Super Bowl player props as well.
Drew Brees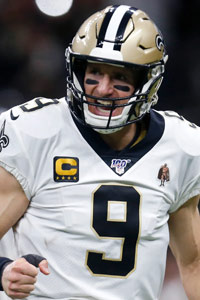 Drew Brees held his own last season and continued to lead this team to a deep postseason run. Brees put up 2,979 yards in just 11 games due to injury and also put up 27 touchdowns which is tied for fifth in the league. NFL sportsbooks have his season totals set at 4000.5 yards and 30.5 touchdowns.
Michael Thomas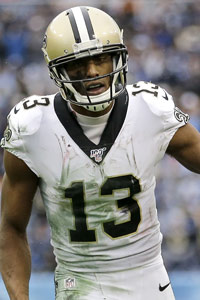 Michael Thomas was a man on a mission in the 2019 season as he led the league in receptions and yards with 149 receptions and 1,729 yards to go along with nine touchdowns which is tied for fourth in the league. Online sportsbooks are looking for Thomas to come back just as strong in the upcoming season as well with his season totals set at 1375.5 yards and 120.5 receptions. Also, he is projected 8.5 touchdowns with the over favored.
Alvin Kamara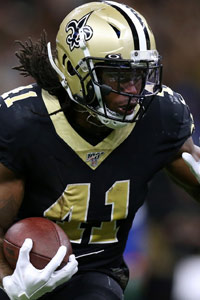 Kamara did face some injury setbacks last season as he played 14 games which is the lowest in his career. Alvin Kamara was able to put up just 797 yards and five touchdowns during his time on the field. NFL betting sites have his season total for yards set at 905.5.
New Orleans Saints Playoff History
Looking back to the year that the New Orleans Saints were founded in 1967, they have been able to make noise in their playoff appearances. Since their founding year, they have made the playoffs 15 times which includes 9 division championships, 1 conference championship and 1 Super Bowl victory.
Saints Playoff Appearance
The Saints waited 20 years after being founded to make their first playoff appearance in 1987. It was Jim Mora who led them to their first four playoff appearances in 1987 and again in three straight years from 1990-1992. They had just one playoff appearance under Jim Haslett in 2005 before Sean Payton took over in 2006 and took them to 8 playoffs with their first one coming in 2006, three straight from 2009-2011, and four more from 2017-2020.
Saints Division Championships
Of the Saints 15 playoff berths, they have been able to convert 9 of them into division championships. Of all the playoff appearances the Saints had in the Jim Mora era, they only managed to win one division championship in 1991 which was their first division championship. The Jim Haslett era was a similar scenario as they won just one division title under him in the year 2000. The Saints current coach, Sean Peyton, has led them to 6 division titles since taking over in 2006 including 2006, 2009 and 2011 and 2017-2020 and all of them with Drew Brees at quarterback.
Saints Conference Championships
Of all the Saints years of playoff experience, that have only been able to win just one conference championship that came in the 2009 season during the Peyton-Brees era. The Saints took on the Minnesota Vikings in the game and won with a final score of 31-28. Although they won the game, they were unable to cover the spread as they were seen as 3.5-point favorites.
Saints Super Bowl Victories
The Saints converted their one conference championship into a Super Bowl victory in 2009 as well for Super Bowl XLIV. They defeated the Indianapolis Colts in the game with a final score of 31-17. The Saints defeated the odds in the game as they went into the game being seen as 4.5-point underdogs and clearly beat the spread in winning fashion. Drew Brees was named the Super Bowl MVP of the game after he threw the ball for 288 yards and 2 touchdowns.