Easiest Super Bowl Props To Bet On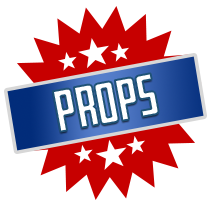 If you are looking for the easiest Super Bowl 54 props to bet on, then you have come to the right place. The fact of the matter is, the Super Bowl is the most bet on sporting event in the entire year but you can do more than just bet on who will end up winning the game. Sportsbooks offer more betting lines now than ever and they range from the typical game lines to easy prop bets on the Super Bowl. None of these types of wagers require much thought, as the question will pose a yes/no or over/under type question.
If you are new to prop betting, it might be to your advantage to wager on the easiest prop bets for Super Bowl LIV. Not only can these types of wagers provide plenty of fun and conversation about the Super Bowl but they do not require that you know too much about football to get started. Also, it possible to turn a small profit. These are great introductory prop bets that you can wager on without having to worry too much about the results of the game.
Easy Super Bowl Prop Bets
The easiest type of Super Bowl prop bets involves those that are straightforward. While some prop bets on the Super Bowl such as game and player props can offer favorite and longshot odds on a situation, the easy Super Bowl props generally come with standard odds. As they normally have two answers only to choose from, bettors can make a quick decision. So, what does this mean in practice? It means that this page is going to focus on the very basic pick 'em style of football-related props. We will focus on bets that are easy to comprehend and understand, things like: "What will the total number of penalties be?" And "Which team will score the longest touchdown?"
Basic Odds Explainer
So, if you're on this page, you might need a bit of an explanation as to what the odds actually mean. We're going to stick to basics here and talk about how handicapping works. Basically, when you see that a team is -200, it means that you have to bet $200 dollars to win $100 on that bet. When you see a team is +200, it means you bet $100 to win $200 on that bet. These correlate with the estimated probability of winning. For more detailed information, you can check out our "How To Bet On The Super Bowl" page. Now that you know what + and – mean in this context, let's talk about some easy ones to understand, bets with odds that are close to even.
Betting The Super Bowl Coin Toss
As you can imagine, betting on the Super Bowl coin toss is relatively simple. This is why is it potentially the most wagered on prop bet of the Super Bowl, aside from the fact that online sportsbooks offer this wager year-round. All you have to do is determine if the coin will land heads or tails after it is flipped. Although most people think it is a 50/50 shot, some experts have gone to extensive research to help determine which side of the coin will have a better chance. While the chances of it landing on the same result year after year are possible, the probability of the coin landing on heads vs. tails is always one out of two. Currently, the odds for the Super Bowl coin toss are:
BetOnline
Betting The National Anthem Length
Before every Super Bowl begins, there is the singing of our national anthem. A new performer is invited every year but the thing is, not everyone sings the national anthem the same way. Some singers speed through the song rather quickly while other singers take quite a while to actually finish the song. Oddsmakers offer betting lines on the Super Bowl national anthem length as they will set a time and allow you to choose and over or under. Demi Lovato was chosen to sing the national anthem for Super Bowl 54. Currently, Demi Lovato's national anthem over/under time at the Super Bowl is:
Bovada
Over 2 Minutes -325
Under 2 Minutes -120
Over 1 minute 58 seconds -160
Under 1 minute 58 seconds +120
Over 1 minute 55 seconds -450
Under 1 minute 55 seconds +275
BetOnline
Over 1 minute 59 seconds -250
Under 1 minute 59 seconds +170
Betting The Super Bowl Halftime Show
Betting on the halftime show is a bit different because the halftime show is different every year. The props that will appear for the halftime show depends on who is performing. Some props might ask you to bet on which song the performers will sing, what clothes they are wearing, and much more. Betting on the halftime show is easy because you do not need to know anything about football to bet on it. Just look up who is performing, do some research about them, and you should be good to go.
Betting On The First Half Of The Super Bowl
One thing you can do to focus down your betting is bet on first-half lines and totals. For example, you can take a look at the total number of touchdowns the San Francisco 49ers will score in the first half. The over/under for 49ers touchdowns in the first half is 1.5. This means that if the 49ers score over 1.5 touchdowns, bettors that bet the over will win. If they score under 1.5 touchdowns, bettors that bet the under will win.
Now, because of the way betting markets work, you won't get perfectly even odds on this, or any, bet. Instead, in this case, the under is a -130 favorite, and the over is a +110 underdog. However, this is pretty easy to understand. You simply pick whether or not you think the 49ers will score 2 or more touchdowns, and then bet whichever side of it your conclusion suggests.
There will be a whole lot of good options for the first-half bets, and most of them will be set as close to pick 'em odds as you can get. Another example would be that you can look at the Chiefs odds for first-half touchdowns, which has an over/under of 1.5 and -110 odds on both the over and the under.
Betting On First Occurrences In The Super Bowl
First occurrences are simple. Basically, they're just betting on which team will be the first to do a certain thing. For example, you can look at the odds for the first team to call a timeout, or the first team to challenge a ruling on the field, both of which have -110 odds for either result.
You can even get a little more interesting, and take a look at things like which team will be first to punt, a category that can be influenced by so many factors. For example, the first team to get the ball will likely have the first opportunity to punt, but what if they score? Then they won't be punting at all, and suddenly your bet is in trouble. There's a lot to consider when you are making bets like this.
The San Francisco 49ers are -115 favorites to punt first, while the Kansas City Chiefs are -105.
Broadcasting and Commercial Prop Bets
With the Super Bowl not only being the most-wagered on event of the year but the most-watched event of the year, bettors are given even more Super Bowl props. This time, the cover the Super Bowl commercials and broadcasting team. Anything related to the media will be covered when betting on Super Bowl commercials. Sportsbooks will offer lines on which commercial will air first or if the broadcast team will say or mention a certain topic. These are as random as they come and are anyone's guessing game, but if you can get a few right, you could find yourself making a small profit. An example of a broadcasting and commercial Super Bowl prop is:
Will the FOX broadcast mention the point spread or total during the broadcast?
Silly Super Bowl 54 Prop Bets
Aside from the aforementioned wagers, some of the most popular Super Bowl props are the silly ones that you can make a game out of at your Super Bowl party. These bets will require no football knowledge whatsoever, so if you want to be as inclusive as possible, or maybe just bet on some of the pageantry surrounding the big game, these props are for you. These props may come with varied odds, but they still just come down to understanding situations. Whether wagering on a player proposing to his girlfriend after the game, the price of Bitcoin at the conclusion of the game, or the total number of tweets Donald Trump makes on Super Bowl Sunday, the options are endless. Regardless of which prop you will play, be sure to review all of them as you never know what you'll find.
Easy Super Bowl Props FAQs
Best Sites for Betting on the Super Bowl