Betting On Los Angeles Chargers To Win The Super Bowl

Those who have been betting on the Los Angeles Chargers to win the Super Bowl in recent memory perhaps should reconsider. The Chargers have been consistently inconsistent, maddeningly frustrating, at times brilliant and at times totally willing to throw games away in impossibly stupid ways. The Chargers are the only team in NFL history to ever have the number one offense and the number one defense in the same season, and not make the playoffs. That anecdote, from 2007, sums up who the Chargers are – inexplicable in their failures, confusing in their successes.
As far as betting on the Chargers to win the Super Bowl in the 2019-2020 NFL season, that one's already out the window. The Chargers did not make the playoffs during this season, and as such much of this page will be focused on reviewing the season and projecting forward towards Super Bowl 2021. However, you can find all of the best betting odds on the Super Bowl, including the most popular prop bets and more throughout our website.
How The Los Angeles Chargers Have Been Affected By COVID-19
Luckily for the Los Angeles Chargers, they are one of three teams that have had zero players opt out of the season due to COVID-19 concerns. The Chargers also currently have no players on their COVID-19/reserve list either. Aside from having zero players test positive, their head coach, Anthony Lynn did have the virus in the offseason and has since recovered and is on the sidelines. The team has also announced that they will not be allowing fans at their regular-season home games until further notice. As for those who have purchased season tickets to see the Chargers in their new stadium, they have been given to option to opt-out of their commitment and receive a full refund.
Los Angeles Chargers Playoff History
| | | |
| --- | --- | --- |
| Playoff Appearances | 19 | 1960, 1961, 1963, 1964, 1965, 1979, 1980, 1981, 1982, 1992, 1994, 1995, 2004, 2006, 2007, 2008, 2009, 2013, 2018 |
| Division Championships | 15 | 1960, 1961, 1963, 1964, 1965, 1979, 1980, 1981, 1992, 1994, 2004, 2006, 2007, 2008, 2009 |
| Conference Championships | 1 | 1994 |
| Super Bowl Victories | 0 | |
| Super Bowl Losses | 1 | 1995 (XXIX) |
| Super Bowl Winning Quarterbacks | 0 | |
| Super Bowl Winning Coaches | 0 | |
| Super Bowl MVPs | 0 | |
Where To Bet On The Chargers In California
At this moment in time, land-based sports betting in California is not yet regulated. That should not turn people away from placing bets on the Los Angeles Chargers at all as there are still online sportsbooks that can be used as well. One online sportsbook that can be used to bet on the Chargers is BetOnline. This is one of the best online sportsbooks that there are to offer. They have great betting lines as well as futures bets and prop bets as well. For those users new and existing they also offer great bonuses and promotions.
Betting Trends For The Los Angeles Chargers
The LA Chargers took on their third loss in a row in Week 10 at the hands of the Miami Dolphins and were unable to cover the 1.5-point spread they were facing as they lost 29-21. They have a favorable matchup in Week 11 against the New York Jets where they are seen as 8.5-point favorites. The Chargers have not done a bad job against the spread this season as they have gone 5-4 but have an average margin of -1.4 points. In the Chargers last six games overall, the Over for the point total has gone 6-0. In their last five meetings with the Jets, the underdog has gone 4-1 against the spread.
What Are Los Angeles Chargers Odds To Win The Super Bowl?
The Los Angeles Chargers odds to win the Super Bowl are seen towards the bottom of the Super Bowl odds board at +15000. The Chargers are a confusing team to read as they have the talent on both sides of the ball to make some noise in the season but just don't seem to have it together. As long as their team continues to struggle to find their identity, so will their Super Bowl odds.
Betting On The Chargers Draft Odds
The Los Angeles Chargers have had it rough in recent years and they need to use the NFL Draft in order to get back on track. If you want to place a bet on the Chargers draft, an online sports betting account is needed. The widest variety of betting lines for the draft occur through these methods and the Chargers will have plenty of action to take. Choose whether they will select an offensive or defensive player first plus much more.
Chargers Projected Win Total
The Chargers ended their 2019 campaign with a 5-11 record that they are looking to turn around in 2020. Online sportsbooks have set the Chargers projected win total at 7.5. They are looking to meet those expectations in the 2020 season but will in a challenging division without their quarterback they have had for years under center. Still, the Chargers are projected to be about a .500 team.
What Are The Los Angeles Chargers Odds To Win The AFC Championship?
Being that the Chargers are a very confusing team to read, their odds to win the AFC Championship are towards the lower half of the odds board at +7500. They don't have what it takes to match up with the top contenders in the conference, but they have enough talent to surely surprise a top team if they pull together.
What Are the Los Angeles Chargers Odds To win The AFC West?
The Chargers are towards the bottom of the AFC West odds board with the third-longest odds in the division at +2500 odds. They share the division with the Kansas City Chiefs who don't plan on letting go of the first spot and the Las Vegas Raiders who have gotten off to a hot start for the season.
2020 Chargers Player Props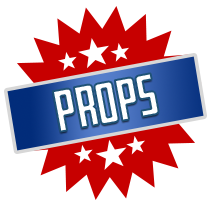 On paper, the Los Angeles Chargers should have had a better season than they did as they ended things going 5-11. There are a ton of bright spots on this team that bettors and fans should be excited about. Some of the offensive weapons that they have especially such as Keenan Allen and Hunter Henry.
Keenan Allen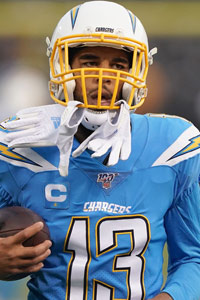 Keenan Allen was a man on a mission in the 2019 season as he was the clear number one go-to option for the Chargers. He put up 1,199 yards which was eighth in the league, six touchdowns and 104 receptions which was tied for third in the league. NFL betting sites have his season totals set at 1019.5 yards, five touchdowns and 89.5 receptions.
Hunter Henry
Hunter Henry was dealing with injuries during the 2019 season, but he is still valued enough to where he was given the franchise tag. Henry had an average season for a player that was dealing with injuries as he put up 652 yards and five touchdowns on 55 receptions. For the 2020-21 season, online betting sites have his totals set at 624.5 yards with the over favored to go along with 55.5 receptions which is even on both sides.
Los Angeles Chargers Playoff History
The Los Angeles Chargers were first established as an NFL team back in 1960 and surely made their mark on the postseason early on. Since becoming an NFL team, they have made the playoffs 19 times which includes 15 division championships and 1 conference championship. They have not yet won a Super Bowl.
Chargers Playoff Appearances
In the Chargers 60 years of existence, they have made the playoffs a total of 19 times. They did not waste any time in making the playoffs as they made it in their inaugural season under Sid Gillman. Gillman led them to the playoffs a total of five times with the first two coming in 1960-1961 and 1963-1965. They did not make the playoff again until Don Coryell took over as coach and led them to playoffs four times in 1979-1982. They then made the playoffs three more times under Bobby Ross in 1992 and 1994-1995. The four-year Marty Schottenheimer era began which saw two playoff appearances in 2004 and 2006. Norv Turner then led them to three more from 2007-2009. They saw just two more playoff appearances with one coming in 2013 under Mike McCoy and again in 2018 under their current coach, Anthony Lynn.
Chargers Division Championships
Of the Chargers 19 playoff appearances, 19 of them have come as division champions. Their first stint of division titles came from 1960-1965 where they won in every season except 1962 under coach Gillman. Don Coryell led them to three more from 1979-1981. Bobby Ross then took them to two more division championships in 1992 and 1994. The Marty Schottenheimer era saw two more division titles in 2004 and 2006. Norv Turner then led them to three consecutive division titles from 2007-2009 which was also their most recent division title.
Chargers Conference Championships
Of all of the Chargers playoff appearances and division championships, many would think that they would own more than just one conference championship. The Chargers only conference championship came back in 1994 under Bobby Ross. The Chargers defeated the Pittsburgh Steelers in the game with a final score of 17-13 and defeated all the odds as they went into the game being seen as 6-point underdogs. Their quarterback at the time was Stan Humphries who had a great game where he went for 165 yards and two touchdowns.
Chargers Super Bowl Victories
Unfortunately for the Chargers, they have not won any Super Bowls during their time in the NFL. However, they have been to the Super Bowl when they made an appearance in 1995 for Super Bowl XXIX. The Chargers went against the San Francisco 49ers where they lost with a final score of 49-26. The Chargers also were unable to cover their 19-point underdog spread either. Stan Humphries was the Chargers quarterback at the time and went for 275 yards and two one touchdown but also threw for 2 interceptions.
Betting On The Chargers With My Mobile Device
Mobile devices are known for two things mainly texting and talking on the phone. Now betting will be the other thing that mobile phones will be able to do and will be known for especially for professional bettors. Simply be connected to the internet on your device and place a bet on the Chargers right before kickoff happens. It only takes a few seconds to place your bets on your mobile device.
Live Betting On The Chargers
Placing live bets is simply placing a bet on when the game has already started. This is something that does require staying active on the game and how the players are performing. But sometimes running late is not always a bad thing because online sportsbooks do offer more betting options as the game has already kicked off. More betting options means more money can be made and live betting on the Chargers can make you all the money you need.