Betting On Indianapolis Colts To Win The Super Bowl
Betting On the Indianapolis Colts to win the Super Bowl should be considered a solid bet to make. The Colts have found great success over the years as they have added to their 29 playoff appearances, 16 division championships, seven conference championships and two Super Bowl Championships. They seem to have gotten back to their Super Bowl contending form as of late and could be in line to surprise some bettors.
With Carson Wentz now being under center for a year nehind arguably one of the best offensive lines in the NFL, their chemistry could come into play in defending the Colts Super Bowl 57 odds. The team has also gotten a nice boost from Jonathan Taylor as he continues to emerge as one of the leagues premier running backs. The defense has also stood its ground as well.
When betting on the Indianapolis Colts, bettors will come across many different odds. NFL sportsbooks offer Super Bowl odds on the Colts as well as their odds to win the AFC Championship and win the AFC South division as well. Aside from the Colts futures odds are also Colts player prop bets as well. This page will also run-down the Colts playoff history.
Colts Playoff Record By Round
Overall: 23-25
Wild Card: 7-7
Divisional Round: 8-11
Conference Championship: 4-4
Super Bowl: 2-2
Indianapolis Colts Playoff History
| | | |
| --- | --- | --- |
| Playoff Appearances | 29 | 1958, 1959, 1964, 1965, 1968, 1970, 1971, 1975, 1976, 1977, 1987, 1995, 1996, 1999, 2000, 2002, 2003, 2004, 2005, 2006, 2007, 2008, 2009, 2010, 2012, 2013, 2014, 2018, 2020 |
| Division Championships | 16 | 1968, 1970, 1975, 1976, 1977, 1987, 1999, 2003, 2004, 2005, 2006, 2007, 2009, 2010, 2013, 2014 |
| Conference Championships | 7 | 1958, 1959, 1964, 1968, 1970, 2006, 2009 |
| Super Bowl Victories | 2 | 1972 (VII), 1973 (VIII) |
| Super Bowl Losses | 2 | 1969 (III), 2010 (XLIV) |
| Super Bowl Winning Quarterbacks | 2 | Earl Morrall, Peyton Manning |
| Super Bowl Winning Coaches | 2 | Don McCafferty, Tony Dungy |
| Super Bowl MVPs | 1 | Peyton Manning |
What Are Indianapolis Colts Odds To Win The Super Bowl?
The Indianapolis Colts have two Super Bowl Championships to their name, however, they came in the 1972 and 1973 seasons. The last time that the Colts made the Super Bowl was in 2010 when they lost. The Colts are a rising team, and showed signs of competitiveness despite not making the playoffs in 2021-22. With signs of life coming from Indy, their Super Bowl odds could be on the rise in 2022-23.
What Are the Indianapolis Colts Odds To Win The AFC Championship?
The Indianapolis Colts surely have what it takes to run with the best teams in the AFC, however, they have failed to win any AFC Championships in recent years. The Colts have not won the AFC Championship since 2009 and have not made the game since 2014 when they lost. With this being an up-and-coming team as of late though, their AFC Championship odds should not be ignored.
What Are The Indianapolis Colts Odds To Win The AFC South?
The Colts have not won an AFC South division championship since 2014; however, times have changed for them as they are now sitting neck and neck with the Tennessee Titans as the contenders of the division. With the Titans being their biggest threat, their odds offer great value if taken early enough.
2023 Indianapolis Colts Betting Odds
Super Bowl Odds: +2000
AFC Championship: +1000
AFC South: +1100
Indianapolis Colts ATS Betting History
2021: 10-7
2020: 9-8
2019: 7-7-2
2018: 9-8-1
2017: 8-8
2016: 7-8-1
Indianapolis Colts Over/Under Betting History
2021: 8-9
2020: 10-7
2019: 9-7
2018: 8-10
2017: 6-10
2016: 9-7
Betting On The Colts In Indiana
Colts fans and bettors in the state of Indiana are in luck being that there are land-based sportsbooks located right in Indianapolis. Bettors can make their way to the Winners Circle Pub, Grille and OTB Sportsbook. Those bettors that aren't looking to make their way to an in-person book and wish to bet from the comfort of their own home can do so with BetOnline online sportsbook. BetOnline has great NFL odds on the Indianapolis Colts such as game lines and prop bets just line any land-based book. Other locations for Colts betting odds include:
The Book at Harrah's Hoosier Park Racing & Casino Anderson
Winner's Circle Pub, Grille, Racing and OTB Parlor Clarksville
The Book at Caesar's Southern Casino Elizabeth
Blue Chip Casino Sportsbook Michigan City
Indiana Grand Racing & Casino Sportsbook Shelbyville
Mobile Betting On The Indianapolis Colts
Colts fans and bettors are some of the most loyal across the entire NFL. That said alone, any chance that they get to bet on the Colts they will and that is where mobile betting comes into play. Colts bettors can bet on any odds that come to mind from wherever they are. Taking it one step further, bettors can also take advantage of any promotions that online sportsbooks might offer right from your phone as well.
2023 Colts Player Props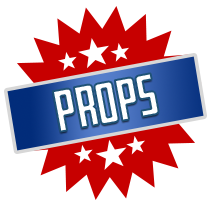 The Indianapolis Colts believe that they have what it takes to contend for a run in the playoffs and even the Super Bowl. They are banking on the talent of Carson Wentz, T.Y. Hilton and Jonathan Taylor to lead them there. While bettors can bet on them to win the Super Bowl, they can also find player prop bets on these players player props throughout the regular season, playoffs and even Super Bowl if they make it that far.
Indianapolis Colts Playoff History
The Indianapolis Colts found playoff success early on in their existence in the league since they were founded in 1953. They have seen 28 different playoff berths which include 16 division championships, 7 conference champions and 2 Super Bowl victories. Just four of their playoff appearance came in the pre-Super Bowl era which started in 1966.
Colts Playoff Appearances
The Colts' first playoff appearances came shortly after they became an official team in 1958 again in 1959 under coach Weeb Ewbank. They won 3 more in the 60s under the legendary Don Shula who won in 1964-1965 and again in 1868. From 1970 to 2000 they did not find as much success as they only saw 10 playoff berths in those 30 years with four in the 70s, 1 in the 80s and four in the 90s and the year 2000. They found more success after the year 2000 as they have seen 13 playoff appearances with their last one coming in 2018 under coach Frank Reich.
Colts Division Championship
Of the Colts 28 playoff appearances, they have been able to reel in 16 division championships with their first one coming in 1968 under the great Don Shula. Their next two came in the 70s in 1970 and 1975 under both Don McCafferty and Howard Schnellenberger. They saw just two more in the 80s and 90s in 1987 under Ted Marchibroda and in 1999 under with Jim Mora. From the 2000s until the present day, the Colts took off running as they have won 9 division titles since then with five different coaches including Tony Dungy, Jim Caldwell and Chuck Pagano.
Colts Conference Championship
With their many years of playoff experience, they have not been able to convert many of them into conference championship as they have only racked up 7 of them. From 1958 to 1970 they won the majority of them as they won five with their first and second ones coming in 1958 and 1959 under Weeb Ewbank with Johnny Unitas under center. They did not win their next one until 1964 then again in 1968 and again in 1970 all under Don Shula. Their most recent ones came in 2006 and 2009 under Tony Dungy and Jim Caldwell.
Colts Super Bowl Victories
The Colts have two Super Bowl victories on their resume which includes a Super Bowl win in 1972 for Super Bowl VII and again in 2007 for Super Bowl XLI with coaches Don McCafferty and Tony Dungy calling plays.
Starting in 1972 with Super Bowl VII where the then Baltimore Colts defeated the Dallas Cowboys with a final score of 16-13. The Colts were able to just barely cover the spread as they went into the game seen as 2.5-point favorites and covered as they won by three points. The Super Bowl MVP of the game was Chuck Howley as he had two interceptions for 22 return yards.
Moving on to their most recent Super Bowl in 2007 for Super Bowl XLI, they took on and defeated the Chicago Bears with a final score of 29-17. The Colts had no problems with the spread here as they went into the game as 6.5-point favorites and covered it with ease as they won by 12 -points. The great Peyton Manning was named the Super Bowl MVP after throwing for 247 yards and a touchdown.
2014 AFC Wild Card: Colts Complete 28-Point Comeback Against Chiefs
The largest Colts playoff comeback was one of the biggest comebacks in the history of the league, when the Colts completed a 28 point comeback against the Kansas City Chiefs during the 2014 AFC Wild Card game. The Chiefs took a 38-10 lead on an Alex Smith passing touchdown early in the third quarter. A 10 yard rush from Colts' running back Donald Brown began a run that saw the Colts outscore the Chiefs 35-6 for the remainder of the game. The massive comeback culminated in a 64 yard touchdown pass from Andrew Luck to T.Y. Hilton, putting the Colts ahead 45-44 with 4:21 remaining in the game. The Colts defense held the lead, resulting in a whopping 28 point comeback - the largest in Colts history and one of the largest in the history of the league.