Betting On The Las Vegas Raiders To Win The Super Bowl
The idea of betting on the Oakland Raiders to win the Super Bowl is all but obsolete. The team will become the Las Vegas Raiders in the 2020 season. The Raiders became an official organization in 1960 and have won three Super Bowls' in that time. As the Oakland Raiders, their 2019 season could've been better. They finished at 7-9 for the year and did not move beyond their regular season schedule to get to the playoffs. Head coach Jon Gruden is already making changes to his coaching staff with the hiring of defensive line coach Rod Marinelli. The two were able to get Tampa Bay a Super Bowl win when they worked together with the Buccaneers and Gruden hopes to do the same thing again.
Placing a wager on the Raiders to win a Super Bowl championship may not be that bad of an idea. With new coaches and a new city, it could give the team a makeover they so desperately need. Hopefully not the kind of makeover you'll find on the Vegas Strip but a makeover nonetheless. With all the freshness that is being breathed into the franchise going into the 2020 season, a fourth Championship ring would certainly be welcome. It would also help the staff and players better fit into their new glitzy over the top environment with a big shiny ring adorning their fingers.
Las Vegas Raiders And COVID-19
The Las Vegas Raiders have seen three of their defensive players opt out of the season due to coronavirus concerns. Those players are defensive back, D.J. Killings, defensive end, Jeremiah Valoaga, and linebacker Ukeme Eligwe. Other than those three opting out, there is currently just one player on the teams Injured Reserve/COVID-19 list and that is defensive lineman, Maurice Hurst.
As for fans at the games, the team has announced that they will be having their inaugural season held with zero fans at their home games. Those that purchased season tickets will have them rolled over to next season.
Las Vegas Raiders Playoff History
| | | |
| --- | --- | --- |
| Playoff Appearances | 22 | 1967, 1968, 1969, 1970, 1972, 1973, 1974, 1975, 1976, 1977, 1980, 1982, 1983, 1984, 1985, 1990, 1991, 1993, 2000, 2001, 2002, 2016 |
| Division Championships | 15 | 1967, 1968, 1969, 1970, 1972, 1973, 1974, 1975, 1976, 1983, 1985, 1990, 2000, 2001, 2002 |
| Conference Championships | 4 | 1976, 1980, 1983, 2002 |
| Super Bowl Victories | 3 | 1976 (XI), 1980 (XV), 1983 (XVIII) |
| Super Bowl Losses | 2 | 1968 (II), 2003 (XXXVII) |
| Super Bowl Winning Quarterbacks | 2 | Ken Stabler, Jim Plunkett |
| Super Bowl Winning Coaches | 2 | John Madden, Tom Flores |
| Super Bowl MVPs | 3 | Fred Biletnikoff (XI), Jim Plunkett (XV), Marcus Allen (XVIII) |
Betting On The Raiders In Las Vegas
Those located in Las Vegas have it really easy in life when it comes to betting on the NFL and the Las Vegas Raiders. There are land-based sportsbooks just about everywhere in Nevada and in Las Vegas. However, some of the offshore online sportsbooks do not permit Nevada residents from registering on their sites. Still, sites like MyBookie are the best when it comes to online sports betting, as the local bias will be completely removed.
Las Vegas Raiders 2020 Betting Trends
The Las Vegas Raiders took home their third win in a row in Week 10 over the Denver Broncos with a final score of 37-12 and had no problems covering their 3-point favored spread. They have a Week 11 matchup with the Kansas City Chiefs who they defeated earlier in the season where they are going into the game seen as 3-point underdogs. The Raiders have been one of the better teams against the spread this season so far as they have gone 6-3 and by an average margin of +4.0 points. In the Raiders last six games as an underdog, the Over for the point total has gone 4-1-1. In their last eight meetings with the Chiefs, the home team has gone 6-2 against the spread.
What Are The Las Vegas Raiders' Odds To Win The Super Bowl?
The Las Vegas Raiders have not seen a Super Bowl berth in almost 20 years. And based on their Super Bowl odds, it is looking like another year will be added to the books. The Raiders got off to a strong start to the season as they went 2-0 but have since cooled down and are sitting at 2-2 which has dropped their odds to +7500 from +4500. As long as they are on their cool down, their odds to win the Super Bowl will remain far.
What Are The Las Vegas Raiders Odds To Win The AFC Championship?
The Raiders odds at winning the AFC Championship are not up there with the contenders but they are in the upper half of the odds boards at +4000. They have racked up some impressive wins this season thus far but also have some forgettable losses as well. That being said, if they can get their chemistry to where it needs to be, they have the potential to give top teams a run for their money.
What Are The Las Vegas Raiders Odds To Win The AFC West?
When looking at the AFC West odds, the Raiders are second on the odds board at +1500 odds but unfortunately for them, sitting in front of them are the Kansas City Chiefs who are expected to hold on to that top spot for the foreseeable future. If the Raiders could get the wins that they need they could potentially pull off the upset.
Raiders NFL Draft Odds
The betting odds for the Raiders draft decisions will only be up for those that access and online betting site. Laws prevent licensed-sportsbooks to place any type of betting odds on the NFL draft or any other NFL even that has nothing to do with the game. Any bets you want to place on the Raiders has to be done via online betting sites.
With Jon Gruden and Mike Mayock shaking up this organization over the past few years, there is no telling what to expect from this front office of the silver and black. Also with a huge move to Las Vegas, expect for there to be some big and shocking moves to get this team jump-started. Many props will be upon online betting sites and you will be able to put money down on anything.
Betting The Win Total For The Las Vegas Raiders
Fans thought that Jon Gruden was crazy for some of the moves that made a few years ago. With a few drafts picks and key pickups, the Raiders improved their season with a 7-9 record in 2019. This team is trending upwards and look out for the Raiders to be a problem moving forward.
The problem with the Raiders is being patient and letting the coach build his team and that won't be an issue with the contract that Gruden signed a few years ago. Odds are even on if the Raiders will win over or under 7 games this year. With so many draft picks, Raiders will add some key pieces to this team very soon.
2020 Raiders Player Props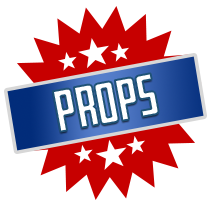 The Raiders did have a bit of an improvement in the 2019 season after they went 7-9 after going 4-12 the season prior. They have finally made their move to Las Vegas and are looking to lean on some of the younger talent to carry them out of the hole that they are in. With Young players like Josh Jacobs and Henry Ruggs and a quarterback like Derek Carr, the team could be turning around soon.
Henry Ruggs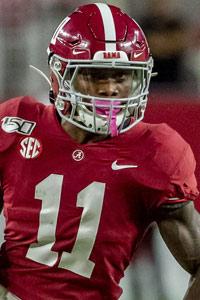 Henry Ruggs is going into his rookie season with high expectations as he was the highest-drafted receiver in this year's draft class. He is also coming out of Alabama which is enough for him to have those expectations being that they are known for producing loads of NFL talent. Legal NFL betting sites have his season totals set at 740.5 yards which is even and 4.5 touchdowns with the under favored.
Derek Carr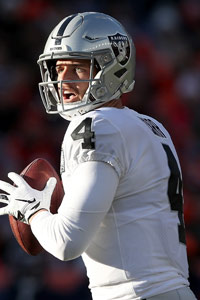 Carr has a decent season during his final year playing football in Oakland and he was able to put up 4,054 yards which was good for eighth in the league as well as 21 touchdowns. During his first year playing in Las Vegas, online betting sites have his season totals set at 19.5 touchdowns with the over favored.
Josh Jacobs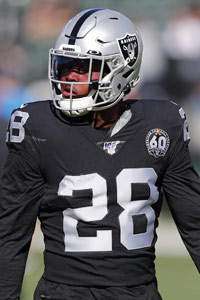 Josh Jacobs certainly proved that he is not be messed with as he had an outstanding rookie season as he rushed for 1,150 yards which was eighth in the league and seven touchdowns which was in the top 15. His season projections for the upcoming season is set at 1220.5 yards with both sides even.
Las Vegas Raiders Playoff History
Since being made an NFL franchise back in 1960 the Raiders have made their mark on the NFL postseason whether it was from Oakland or Los Angeles and will look to make their mark even more in Las Vegas. The Raiders currently have 22 playoff appearances, 15 division championships, 4 conference titles and 3 Super Bowl victories.
Raiders Playoff Appearances
In their 60 years of existence, the Raiders have made the playoffs 22 times with their first time coming in 1967. From 1967 until 1977, the Raiders made the playoffs in every season but one under coach John Rauch in 1967 and the remaining eight under the famous John Madden. When the 80s came around, they saw five different playoff seasons all under coach Tom Flores. More recently, they have not found the same success that they once had as from 1990 until the present day, they have made the playoffs just nine times with their last appearance coming in 2016.
Raiders Division Championships
Of the Raiders 22 playoff appearances, 15 of them have gone on to be divisional round championships. They went on an unbelievable run from 1967 to 1977 where they won 8 divisional championships with the exception of 1971 and 1977. From 1977 and on, they haven't found much luck as they have won just six division championships since then with their most recent one coming back in 2002 under coach Bill Callahan.
Raiders Conference Championships
Many would think that with all of the Raiders playoff experience that they would have followed that up with conference championships as well. That is not the case, however, as they have just four conference titles on their resume. Their first one came in 1976 under John Madden with Ken Stabler under center. Their second and third one came in 1980 and 1983 Tom Flores with Jim Plunket at quarterback. Their most recent one came in 2002 as a part of the short-lived Bill Callahan era with Rich Gannon at quarterback.
Raiders Super Bowl Victories
Being that the Raiders have only four conference championships, their Super Bowl count is low as well but has been efficient compared to the number of conference titles they have as they have won three Super Bowls.
Their first Super Bowl run came in 1976 for Super Bowl XI when they faced off against the Minnesota Vikings. They defeated Minnesota with a final score of 32-14 and had no problems covering their 4-point favored spread. Fred Biletnikoff was named the Super Bowl MVP after putting up 79 receiving yards on just four receptions.
The Raiders second Super Bowl ring came in 1980 for Super Bowl XV where they faced off and won against the Philadelphia Eagles. The final score of the game was 27-10 and the Raiders actually were seen as 3-point underdogs here going into the game. The Super Bowl MVP was Jim Plunket as he had a great game throwing for 261 yards and three touchdowns.
Their third and most recent Super Bowl Championship came three years later in 1983 for Super Bowl XVIII. They faced off against the Washington Redskins and defeated them with a final score of 38-9 and crushed the spread as they were actually seen as 2-point underdogs. It was Marcus Allen who was named the Super Bowl MVP after he rushed for 191 yards and two touchdowns.
Raiders Mobile Sports Betting Apps
Mobile betting is so flexible for those bettors who like to make adjustments if needed. Those fans who stay in tune with the news on their Raiders using your mobile device to place a bet is one the best thing created for them. Online sportsbooks give this feature. As soon as you click on the site, it will direct you straight to the mobile site. Betting on your Raiders just has gotten very simple and fans need to take advantage while they can.
Live Betting Raiders Games
Live betting is on games is as big as betting on games before they start. This feature is popular and is very huge when it comes to bettors claiming the big prize. Sportsbooks have this feature and it has done tremendous for bettors who place those live bets. Also, you will see that there are options that weren't there before. Bet when Gruden is going to be in the lead or if Jacobs will end this net drive with a touchdown.