Betting On The Green Bay Packers To Win The Super Bowl

Betting on the Green Bay Packers to win the Super Bowl is never a bad idea, especially in recent years. As long as Aaron Rodgers is under center, it seems that you can always count on them to make a strong push. They also have arguably a top-10 running back in the league with Aaron Jones leading the way on the ground. With that, they've opened up amongst the favorites with under +1500 odds in three of the last five years.
If the Packers want to add another Super Bowl to their resume, many have argued that they need to bring in help for the receiving core and now more than ever with the departure of Davante Adams. However, with Rodgers under center, many can expect the Packers to continue playing at a high level which is why most of their futures odds are short on Super Bowl betting sites.
For those looking to bet on the Green Bay Packers, there are plenty of different odds to look out for. Bettors can bet on the Packers' regular game lines such as their moneyline odds, odds on the spread and also the total points for the game. Bettors can also take a look at NFC Championship odds and NFC North odds for the Packers. Nobody knows everything but learning about the Packers' playoff history is a great place to start before betting.
Packers Playoff Record By Round
Overall: 36-25
Wild Card: 10-5
Divisional Round: 11-11
Conference Championship: 5-6
Super Bowl: 4-1
Green Bay Packers Playoff History
| | | |
| --- | --- | --- |
| Playoff Appearances | 34 | 1936, 1938, 1939, 1941, 1944, 1960, 1961, 1962, 1965, 1966, 1967, 1972, 1982, 1993, 1994, 1995, 1996, 1997, 1998, 2001, 2002, 2003, 2004, 2007, 2009, 2010, 2011, 2012, 2013, 2014, 2015, 2016, 2019, 2020, 2021 |
| Division Championships | 21 | 1936, 1938, 1939, 1944, 1967, 1972, 1995, 1996, 1997, 2002, 2003, 2004, 2007, 2011, 2012, 2013, 2014, 2016, 2019, 2020, 2021 |
| Conference Championships | 9 | 1960, 1961, 1962, 1965, 1966, 1967, 1996, 1997, 2010 |
| Super Bowl Victories | 4 | 1966 (I), 1967 (II), 1996 (XXXI), 2010 (XLV) |
| Super Bowl Losses | 1 | 1998 (XXXIII) |
| Super Bowl Winning Quarterbacks | 3 | Bart Starr, Brett Favre, Aaron Rodgers |
| Super Bowl Winning Coaches | 3 | Vince Lombardi, Mike Holmgren, Mike McCarthy |
| Super Bowl MVPs | 3 | Bart Starr (I, II), Desmond Howard (XXXI), Aaron Rodgers (XLV) |
What Are The Odds On The Packers To Win The Super Bowl?
The Green Bay Packers Super Bowl odds will fluctuate throughout the 2022 regular season. Packers wins will likely result in the Cheese Heads' odds getting shorter, while losses will surely increase the payouts for Green Bay's Super Bowls bettors.
What Are The Green Bay Packers Odds To Win The NFC Championship?
The Green Bay Packers odds to win the NFC Championship varied throughout the offseason, eventually settling at +400. The loss of Davante Adams has left many wondering about the team's ability to compete in the 2022-23 season, but with an offense headlined by Aaron Rodgers, Aaron Jones, and AJ Dillon, it is hard to count out the pack. With so many great players on offense, plus the return of Jaire Alexander to their defense, it is clear that the Packers are not getting counted out by odds makers with their +400 odds to win the NFC.
What Are The Green Bay Packers Odds To Win The NFC North?
The one thing that has not changed about the Packers is that they remained favorites to win the NFC North throughout all of their moves being that the overall talent level is nowhere near that of the Packers. They have even seen their odds strengthen from the -175 that they opened up at and are now in their second straight season with opening odds under even.
2022 Green Bay Packers Betting Odds
Super Bowl: +1400
AFC Championship: +550
AFC East: +120
Green Bay Packers ATS Betting Trends
2022: 0-1
2021: 8-9
2020: 11-7
2019: 11-7
2018: 6-9-1
2017: 7-9
2016: 11-7-1
Green Bay Packers Over/Under Betting Trends
2022: 0-1
2021: 12-5
2020: 11-7
2019: 8-10
2018: 8-8
2017: 11-5
2016: 13-6
When Can Packers Fans Bet In Wisconsin?
Packers fans can easily bet in Wisconsin with no issues, by using both the Oneida sportsbook open near the Green Bay airport as well as the international sportsbooks like Bovada, all of which are excellent options. In addition, some of the states that are bordering Wisconsin do offer legal sports betting such as Michigan, Iowa, Illinois and Indiana. All of these states are already well established as sports betting states as they all have 10+ sportsbooks within their borders and feature online NFL betting as well.
States On Wisconsin's Border With Retail Sports Betting
Illinois
Indiana
Iowa
Michigan
Mobile Betting On The Green Bay Packers
Mobile betting has been a fast growing market in the sports betting industry and Packers bettors are beginning to realize that. Bettors can place bets on the Packers from just about anywhere they can think of whether it is in the comfort of their own home, a sports bar or even at Lambeau Field cheering them on. There is no shortage of the odds that can be found either as regular game lines, live betting odds and game props can all be accessed from any smartphone.
2023 Packers Player Prop Bets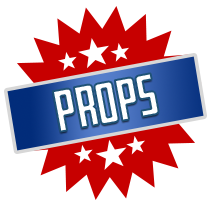 After parting way with Davante Adams, the Packers receiving core does not have a lot going for it, but with a superstar quarterback in Aaron Rodgers under center, he will continue to find ways to keep Green Bay on top. They also have an above-average running back in Aaron Jones who has gone for 1,000+ yards in two of his last three seasons and has a chance to really prove his worth this season with the passing game likely taking a step back.
Green Bay Packers Player Props
Regular Season MVP: Aaron Rodgers +1200
Most Passing Touchdowns: Aaron Rodgers +2500
Most Passing Yards: Aaron Rodgers +2000
OPOY: Aaron Rodgers +4000, Aaron Jones +6000
Most Rushing Yards: Aaron Jones +5000
Most Rushing Touchdowns: Aaron Jones +3000
As far as the odds to win the MVP go, Aaron Rodgers cannot be counted out after winning the award in the last two seasons. Luckily for Rodgers, history is on his side as former Packers QB, Brett Favre, is the only player to win three consecutive MVP awards to date. Rodgers was top-10 across the board last year with 4,115 passing yards (10th), 37 touchdowns (4th), 4 interceptions (1st), and a 69.1 QBR (1st). If he can do this without Adams running in the open field, there is no doubt that he is going to win his third straight MVP.
As for Aaron Jones, while his odds might not seem like it, he is seeing tremendous value to win the Offensive Player of the Year. That comes as he has both great rushing upside and is an above-average pass catcher for a running back. Without Davante Adams hounding most of the targets on the receiving end, it opens up Jones to get more involved in the passing game in addition to his already strong run game.
Betting On Team Props For The Green Bay Packers
There are plenty of prop bets to choose from when betting on the Green Bay Packers that aren't the weekly team props for their games. The most popular season-long prop bets to bet on for the Packers include their projected win total and their odds to make the playoffs. In each of the last three seasons, the Packers have crushed the over on their win total and have cashed their odds to make the playoffs. Those who have felt confident through those last three seasons and bet $100 on them to hit both the over and make the playoffs could have been up $436.
Green Bay Packers Win Total
Over 10.5 Wins: -115
Under 10.5 Wins: -115
Green Bay Packers To Make The Playoffs
As far as their odds go for this season, this is the 12th time since the 2000 season that they've opened up with a double-digit win total. These are also their most expensive odds to make the playoffs since the 2009 season. In regards to their win total, they have been able to win exactly or over 11 wins in 10 of those 20 seasons since 2000 include three straight 13-win seasons over the last three years. They also have the 11th easiest schedule amongst teams in the NFL this season backing those odds. Looking at their playoff odds, they have stayed true to their odds when being listed with -400 odds or better having made the playoffs in the three seasons when their odds are that expensive.
Green Bay Packers Odds History
| Year: | Super Bowl Odds: | NFC Odds: | NFC North Odds: | Odds To Make Playoffs: |
| --- | --- | --- | --- | --- |
| 2022 | +1100 | +500 | -185 | -500 (TBD) |
| 2021 | +1400 | +650 | -165 | -275 (Make) |
| 2020 | +3000 | +1500 | +200 | -130 (Make) |
| 2019 | +2000 | +900 | +225 | -110 (Make) |
| 2018 | +1200 | +600 | +170 | -180 (Miss) |
| 2017 | +800 | +350 | -225 | -340 (Miss) |
| 2016 | +800 | +400 | -200 | -365 (Make) |
| 2015 | +600 | +300 | -300 | -550 (Make) |
| 2014 | +1000 | +500 | -175 | -250 (Make) |
| 2013 | +1000 | +550 | -160 | -360 (Make) |
Green Bay Packers Playoff History
The Green Bay Packers are the oldest NFL team in the league as they were established in 1919. Since they were established, they have really made their mark on postseason football as they have 34 playoff appearances to their name, 20 division championships, 9 conference championships and 4 Super Bowl wins.
Packers Playoff Appearances
The Packers have made the playoffs a total of 34 times since their inaugural season with their first playoff appearance coming in 1936 where they were coached by Curly Lambeau. From 1936 until 1970, the Packers only made the playoffs 11 times and had several different coaches including Gene Rozani, Ray McLean and most notably Vince Lombardi. From 1970 to the year 2000 the Packers eight more playoff appearances. They really hit the ground running, however, after 2000 as they have made the playoffs 15 times since then.
Packers Division Championships
Of their 34 playoff berths, 21 of them have seen divisional championships. Prior to the year 2000, the Packers had only won nine division championships since 1936. After 2000, however, they took over the division with 11 division championships under Mike Sherman, Mike McCarthy, and Matt LaFleur. LaFleur, who is their current coach, has led them to three straight in 2019, 2020, and 2021.
Packers Conference Championships
Many would think that with all of the divisional championships the Packers have that their conference titles would be similar. That is not that case as they have just nine conference titles which included just one in the 2000s and 2010s combined. The Packers made their mark in the conference in the 60s where they won six conference titles under nonother than Vince Lombardi. In the 90s they won in 1996 and 1997 under Mike Holmgren with Farve at quarterback.
Packers Super Bowl Victories
The Green Bay Packers are the winners of four Super Bowls since they became a franchise in the NFL. Their Super Bowl winning coaches are Vince Lombardi who won two of them, Mike Holmgren with one and Mike McCarthy with one.
The Packers were the winners of the first Super Bowl back in 1967 where they defeated the Kansas City Chiefs 35-10. The Packers were seen as 14-point favorites to win the game and did just that as they won by 15 points. Bart Starr was named the MVP of the first Super Bowl after he put up 250 passing yards and two touchdowns.
Their second Super Bowl came just one year later for Super Bowl II where they took down the Oakland Raiders 33-14. There was a 13.5-point spread in the Packers favor in which they clearly covered it as they won by 19 points. Bart Starr was named the MVP once again here as well after putting up 208 yards and two touchdowns.
Green Bay's third Super Bowl win came in the 90s in 1996 where they took down the New England Patriots with a finals score of 35-21. The Packers were seen as the favorites going into the game by a whopping 14-points and ended up doing just that as they pushed the spread winning by 14-points. The Super Bowl MVP here was Desmond Howard who acted as the kick returner who returned four kicks for 154 yards and a touchdown.
Their final and most recent Super Bowl came in 2010 when they faced off against the Pittsburgh Steelers. Green Bay was favored to win by just three points and ended up winning by six with a finals score of 31-25. Aaron Rodgers was named the MVP after a spectacular 304 yard and three touchdown performance which did not have any interceptions either.
The Green Bay Packers' History Of Playoff Comebacks
The largest playoff deficit the Packers have ever overcome took place on January 12, 2008, when the Packers completed a 14 point comeback against the Seattle Seahawks in the NFC Divisional Round. The Seahawks took a two touchdown lead early in the first quarter after a Shaun Alexander touchdown skamper and a Matt Hasselbeck touchdown pass to Bobby Engram; however, a 15 yard passing touchdown from Brett Favre to Greg Jennings began a run that saw the Packers outscore the Seahawks 35-6. Favre's second touchdown pass to Jennings with 13:22 remaining in the first half gave the Packers the lead and they never looked back, winning the game 42-20 to advance to the NFC Championship.