Super Bowl Winning Quarterbacks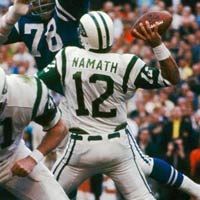 Whether fair or not, the vast majority of Super Bowl winners are remembered primarily by their quarterback, as evidenced by the fact that quarterbacks make up 30 of the 54 Super Bowl MVP award winners. Nearly every franchise with a realistic claim to being a "dynasty" (defined here as two or more Super Bowl wins within a five-year period) has been led by a Hall of Fame quarterback. Taking it one step further, only two teams in the history of the NFL have made two Super Bowl appearances in five years without a Hall of Fame or future Hall of Fame quarterback at the helm—Joe Gibbs' Redskins (Mark Rypien and Doug Williams), and Tom Flores' Raiders (Jim Plunkett). They were joined in 2020 by Chiefs' quarterback Patrick Mahomes.
Bart Starr's Packers won the first two Super Bowl games ever played. Roger Staubach's Cowboys established Dallas as "America's team". Joe Montana and Terry Bradshaw each went 4-0 in the Super Bowl (with the 49ers and Steelers, respectively), and Montana's historic Super Bowl led many to declare him the best quarterback in NFL history. In the 1990s, Troy Aikman won three Super Bowls with the Cowboys, earning himself a place in Canton despite a lack of elite production. After Y2K, Tom Brady essentially stamped his name on the Lombardi Trophy, with six wins and four Super Bowl MVP awards since 2002. The only other quarterbacks to win more than one Super Bowl since the turn of the century are brothers Eli and Peyton Manning, with two each.
What Quarterback Has Won The Most Super Bowls?
Patriots' quarterback Tom Brady is in a class of his own when it comes to Super Bowl success. He won his first Lombardi Trophy in the 2002 Super Bowl, upsetting the "Greatest Show on Turf" Rams to bring the Patriots their first-ever Super Bowl title and claiming the game's MVP award. He would add additional titles in 2004 and 2005 before a lengthy hiatus. Ten years later, in 2015, Brady's Patriots overcame the Seahawks' legendary "Legion of Boom" defense for his fourth ring, tying Joe Montana and Terry Bradshaw for the most all-time. In 2017, Brady led a record 25-point comeback in the Super Bowl to defeat the Atlanta Falcons and claim his record fifth ring. He padded his lead with a sixth championship in 2019.
How Many Quarterbacks Have Won Multiple Super Bowls?
In the Super Bowl's 53-year history, there have been 14 different quarterbacks who won multiple titles, accounting for an incredible 38 combined championships. The list, in reverse chronological order of their last Super Bowl win, goes:
Tom Brady (6 wins)
Peyton Manning (2)
Eli Manning (2)
John Elway (2)
Troy Aikman (3)
Phil Simms (2)
Steve Young (3)
Jim McMahon (2)
Joe Montana (4)
Terry Bradshaw (4)
Roger Staubach (2)
Ken Stabler (2)
Bob Griese (2)
Bart Starr (2)
Of these 14 men, 9 are enshrined in the Pro Football Hall of Fame—Starr, Griese, Stabler, Staubach, Bradshaw, Montana, Young, Aikman and Elway. Two more (Brady and Peyton Manning) are surefire first-ballot inductees when they finally become eligible. Eli Manning is far from a guaranteed induction thanks to a precipitous drop in play in the latter half of his career, but his two Super Bowl wins against Brady's mighty Patriots ensure that he has a puncher's chance. McMahon and Simms are conspicuous outliers, and Aikman and Eli exist around the fringes of true greatness, but winning multiple Super Bowls is a nearly guaranteed way to put yourself on the shortlist of all-time greats at the position.
Has Any Quarterback Won the Super Bowl with Different Teams?
Peyton Manning is the only player to start and win Super Bowls with two different teams, doing so with both the Colts (2007) and the Broncos (2016). After his second Super Bowl, he announced his retirement—a fitting end for possibly the best to ever play the position. A few other quarterbacks have come close. Craig Morton played in Super Bowls with both the Cowboys and Broncos but lost both. Kurt Warner came close, winning one Super Bowl with the Rams in 2000 and coming up just short with the Cardinals in 2009. Former MVP Earl Morall also lucked his way into this feat, winning as the backup quarterback to Johnny Unitas in Baltimore and Bob Griese in Miami. Current 49ers starter and former Patriots backup Jimmy Garoppolo could put his name alongside Morall with a win this year. He won rings with the Patriots in 2015 and 2017.
How Many Quarterbacks Have Won the MVP and the Super Bowl in the Same Year?
Only six quarterbacks have ever won both the NFL MVP award and a Super Bowl in the same season: Aaron Rodgers with the Packers (2011), Kurt Warner with the Rams (1999), Brett Favre with the Packers (1996), Steve Young with the 49ers (1995), Joe Montana with the 49ers (1989), and Terry Bradshaw with the Steelers (1978). A total of 13 more quarterbacks have lost a combined 16 Super Bowls during MVP seasons, amounting to an appalling 27% win rate for MVP quarterbacks in the event.
Memorable Super Bowl Moments from Quarterbacks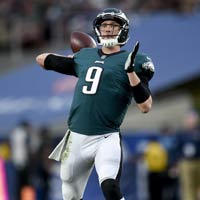 2018
Philly Special: Eagles' quarterback Nick Foles had an all-around incredible Super Bowl against the Patriots, but the play that will be remembered forever was his touchdown catch on a goal-line reverse pass right before halftime.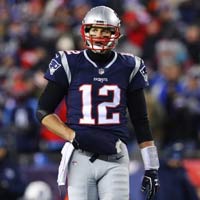 2017
28-3: Trailing the Falcons 28-3 with 2 minutes and 12 seconds left in the third quarter, Tom Brady led a furious rally to tie the game up and send it into overtime. The coin toss gods showed Brady their favor, and the Patriots would score a touchdown on the first possession of overtime to clinch the win and his record fifth Super Bowl ring.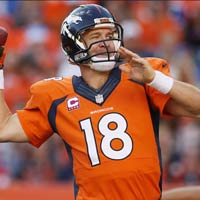 2016
Manning's Swan Song: Despite a pedestrian offensive day, Peyton Manning ended his career as a Super Bowl champion in a 24-10 win against the Carolina Panthers, announcing the end of his storied career in a postgame interview.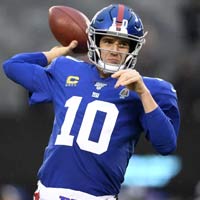 2007, 2011
Giant Killer: Eli Manning twice led middle-of-the-road Giants teams in David vs. Goliath Super Bowl upsets of the New England Patriots. Heroic fourth-quarter passes to David Tyree and Mario Manningham to set up the respective game-winning scores that will be remembered forever.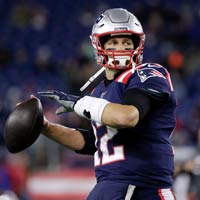 2001
Brady's Arrival: Tom Brady leads the Patriots to a 20-17 upset over the "Greatest Show on Turf" Rams, who came into the game as 14-point favorites.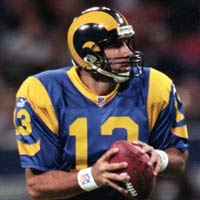 2000
Warner's Ascendance: Kurt Warner throws for 414 yards to cement the Rams' status as the greatest offense in NFL history.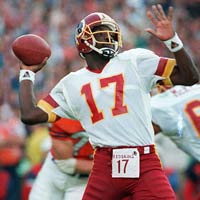 1988
Doug Williams Blazes Trail: With a 42-10 rout of the Broncos, Redskins' quarterback Doug Williams becomes the first black quarterback to both play in and win a Super Bowl. After an early 10-0 deficit, Williams exploded, completing 9 of 11 passes in the second quarter for 228 yards and four touchdowns.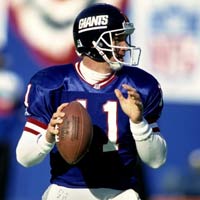 1987
Simms Surgical Second Half – After trailing 10-9 at halftime against Elway's Broncos, Phill Simms goes a perfect 10 for 10 in the second half to help the Giants cruise to a 39-20 win.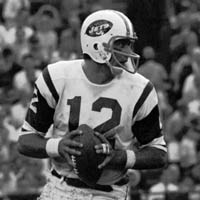 1969
Namath Secures AFL Respectability: After two years of the NFL's Green Bay Packers dominating the nascent AFL-NFL Championship Game (later renamed the Super Bowl), Joe Namath leads the Jets to a 16-7 upset of the Unitas-led Baltimore Colts. The Colts were favored by 18 points heading into the game, and this upset was proof that the AFL teams could hold their own with the more established NFL teams.