Betting On The New York Giants To Win The Super Bowl

Betting on the Giants to win the Super Bowl is like watching grass grow, you might see it, but not so much. At this moment in time, it's not so much as they only have one sure thing to be excited about in Saquon Barkley and potentially another in Daniel Jones who is still a work in progress. They also have an "okay" defense with young progressing talents such as Jabrill Peppers, Dexter Lawrence and Blake Martinez.
Throughout this page, you will find the odds for the Giants winning the Super Bowl, NFC Championship and NFC East. Despite their quick offseason, bettors can still access betting lines on the NY Giants for each game or take a futures bet for them to win the NFC East. Understanding how to bet on the Giants is also explained on this page.
New York Giants And COVID-19
There have been three Giants players that have chosen to sit out of the 2020 season due to the coronavirus. Those players are offensive lineman Nate Solder, wide receiver Da'Mari Scott and defensive back Same Beal. Aside from those opting out, there are also two players on the team's COVID/reserve list. For Giants fans at the home games, the team has already announced that there will be no fans allowed at their games and that season ticket holders will roll over to the 2021 season.
New York Giants Playoff History
| | | |
| --- | --- | --- |
| Playoff Appearances | 32 | 1933, 1934, 1935, 1938, 1939, 1941, 1943, 1944, 1946, 1950, 1956, 1958, 1959, 1961, 1962, 1963, 1981, 1984, 1985, 1986, 1989, 1990, 1993, 1997, 2000, 2002, 2005, 2006, 2007, 2008, 2011, 2016 |
| Division Championships | 16 | 1933, 1934, 1935, 1938, 1939, 1941, 1944, 1946, 1986, 1989, 1990, 1997, 2000, 2005, 2008, 2011 |
| Conference Championships | 11 | 1956, 1958, 1959, 1961, 1962, 1963, 1986, 1990, 2000, 2007, 2011 |
| Super Bowl Victories | 4 | 1987 (XXI), 1991 (XXV), 2008 (XLII), 2012 (XLVI) |
| Super Bowl Losses | 1 | 2001 (XXXV) |
| Super Bowl Winning Quarterbacks | 3 | Phil Simms, Jeff Hostetler, Eli Manning |
| Super Bowl Winning Coaches | 2 | Bill Parcells, Tom Coughlin |
| Super Bowl MVPs | 3 | Phil Simms (XXI), Ottis Anderson (XXV), Eli Manning (XLII, XLVI), |
Betting On The Giants In New York
Those betting on the Giants can enjoy betting on them in-person from one of the many retail sportsbooks that there are in the state. There are sportsbooks located in Bridgeport, Hogansburg, Monticello, Nichols, Salamanca and more. For those that don't want to make their way to an in-person sportsbook can do so on Bovada online sportsbook as they are one of the top-dogs when it comes to online sportsbooks as they are very easy to use and navigate around and offer plenty of different NFL odds on the Giants.
What Are The New York Giants Odds To Win The Super Bowl?
The Giants Super Bowl odds are far down at the bottom as they own the second furthest odds at +75000 after the loss of Saquan Barkley for the season. Without Barkley on the team, they will surely struggle not only with their Super Bowl odds but with really any other team in the league. As long as Barkley is out, their odds should be considered super longshot.
New York Giants Betting Trends to Know In 2020
The Giants have now won two straight games with their Week 10 win over the Philadelphia Eagles where they went into the game as a 4.5-point underdog and won the game. The Giants are now headed for their Week 11 bye where they will look to keep their spark lit. Thus far on the season, the Giants have played great against the spread as they have gone 7-3 and with an average point margin of +1.8 points. As for how they have played with the point total in their games, they have gone 3-7 when hitting the Over.
What Are The New York Giants Odds To Win The NFC Championship?
The Giants NFC Championship odds are the longest in the conference as they sit with +30000 odds. They do not have nearly enough talent to compete with any of the other teams, especially with the absence of Saquon Barkley. Without Barkley, they can kiss their NFC Championship odds goodbye.
What are the New York Giants Odds To Win The NFC East?
Like their Super Bowl and NFC Championship odds, their odds to win the NFC East are far behind the other teams in the division at +5500. This is a horrible look for them as the NFC East could be seen as one of the by the weakest divisions in all of the NFL and the fact that they are down at the bottom of the odds board is just humiliating.
NFL Draft Betting: Giants
Placing a bet on who the Giants would draft would be very tough for those who do not have an online betting site account. In fact, it won't happen at all for NFL draft betting enthusiasts as it is against regulations for state-licensed sportsbooks to offer betting lines on events surrounding the NFL. There are betting odds available on the online betting sites so those are the only options that Giant fans have if they want to bet on the NFL Draft.
How Many Games Will The New York Giants Win In 2020?
This team had a terrible last season because of coaching and a few missing pieces on defense aside from the Giants needing help at the offensive line position. It is going to be a while before this team can fix these things. Without much to their benefit, online sportsbooks project the Giants to win 6 games this year, and the under has already been receiving action. In short, expect things to look the same for the 2020 New York football Giants.
2020 Giants Player Prop Bets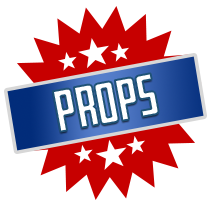 All around the New York Giants have many talented offensive players at every position. They have a young quarterback in Daniel Jones who had a solid year in 2019 along with one of the best running backs in the game in Saquon Barkley. Not to mention, their receiving group is also underrated as they have guys that can easily have breakthrough seasons like Sterling Shepard, Darius Slayton and Evan Engram.
Daniel Jones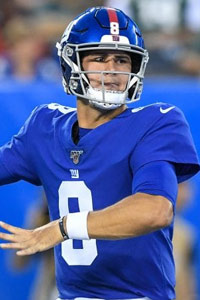 Daniel Jones has a fairly solid 2019 rookie campaign as he was thrown right into the starting job mid-season. Jones was able to put up a nice 3,024 yards to go along with 24 touchdowns. NFL betting sites have his sophomore year numbers projected at 3799.5 yards with the over favored and 25.5 touchdowns.
Darius Slayton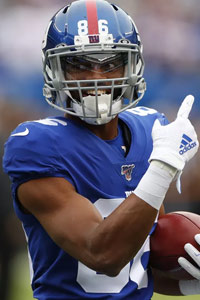 As a rookie wideout in the Big Apple, Darius Slayton did not disappoint as he showed why he is a starting receiver in the league. Slayton's numbers were 740 yards and eight touchdowns on 48 receptions. Online sportsbooks have his 2020 season stats set at 750.5 receiving yards with the under favored to go along with 5.5 touchdowns.
Evan Engram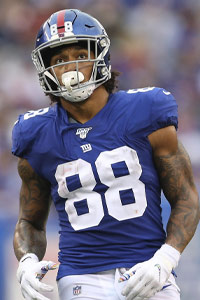 Looking at the tight ends, the leader of the group is clearly Evan Engram as he has proven to be one of the leagues premier tight ends. He has a shortened 2019 season due to injury but still managed to put up 467 yards, three touchdowns and 44 receptions. NFL sportsbooks have his numbers set at 674.5 yards and 4.5 touchdowns with both overs favored along with 62.5 receptions.
Saquon Barkley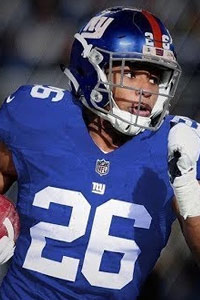 Barkley is clearly one of the best running backs in the game and has been since he entered the league. Barkley also saw a bit of a shortened season due to injury as well but still did not disappoint as he muscled in 1,003 yards and six touchdowns. Online sportsbooks are expecting him to bounce back from injury as his season totals are set at 1250.5 yards and 9.5 touchdowns with the over favored on both.
Sterling Shepard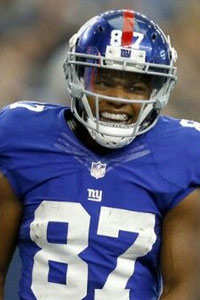 Sterling Shepard also dealt with injuries in the 2019 season which only allowed him to play 10 games. In those 10 games, he was only able to put up 576 yards and just three touchdowns. Online betting sites have his yards season totals going back to normal in the 2020 season with 815.5 yards.
New York Giants Playoff History
The New York Giants are one of the oldest franchises in the NFL and it definitely shows with their long resume. They have been made the playoffs a total of 32 times since they were first established and have added 16 division championships, 11 conference titles and 4 Super Bowl Championships.
Giants Playoff Appearances
Since the Giants were first made an NFL team back in 1925, they have seen 33 playoff berths. Their first one came in 1933 under coach Steve Owen who coached the Giants from 1931-1953. In those years, he led them to 10 of their playoff appearances. From 1956 to 1963, they only managed to make the playoffs six times under both Jim Lee Howell and Allie Sherman. They did not make the playoffs again until 1981. From 1981 to the year 2000, they made the playoffs nine total times under some notable coaches including Bill Parcells, Dan Reeves and Jim Fassel. In the 2000s and 2010s, things continue strong as they have muscled in eight more playoff appearances.
Giants Division Championships
The Giants have seen 16 of their 32 playoff appearances turn into division championships. From 1933 to 1950, they won eight of their division titles all under Steve Owen at head coach and also under eight different quarterbacks including Harry Newman, Ed Danowski, Tuffy Leemans and Frank Filchock. They then went on a 20-year drought where they did not win a division title until 1986 under Bill Parcells who led them to three division titles from 1986 to 1990. From 1990 to the present day, they have added five more division titles to their resume with their most recent one coming in 2011.
Giants Conference Championships
The Giants have been pretty efficient when it comes to turning division titles into conference titles as of their 16 division titles, 11 of them of turned into conference championships. Their first conference title came in 1956 under coach Jim Lee Howell who won three conference titles during his tenure. In the 60s, the Giants were winners of three conference titles from 1961-1963 under Allie Sherman at coach and Y.A. Tittle at quarterback. Their next conference championship did not come until 1986 under Bill Parcells and again in 1990. From 1990 until the present day they have won three more conference titles from 2000 2011 which is their most recent one.
Giants Super Bowl Victories
The Giants currently have four Super Bowl rings to their name with two of them coming under Bill Parcells in 1987 and 1991. Tom Coughlin was the coach of their next two in 2008 and 2011.
Looking back at their first Super Bowl win in 1987 for Super Bowl XXI, they defeated the Denver Broncos with a final score of 39-20. Going into the game, the Giants were seen as 9-point favorites and easily crushed the spread being that they won by 19 points. As for the Super Bowl MVP, Phil Simms won those honors after going an efficient 22/25 for 268 passing yards, three touchdowns and zero interceptions.
Their second championship came in 1991 which marks Parcells last one with the team. In Super Bowl XXV the Giants took down the Buffalo Bills in a very close game that ended with a final score of 20-19. The Giants actually went into the game being seen as 6.5-point underdogs and pulled off the upset here as they won. Ottis Anderson was named the Super Bowl MVP after rushing for 102 yards and a touchdown.
Their next Super Bowl did not come until 2008 where Tom Coughlin's Giants defeated the New England Patriots with a final score of 17-14. The Giants were seen as the underdogs here as well but by a giant 12.5-points and completely shocked the Patriots after taking them down. Eli Manning was named the MVP of the game as he went for 255 yards and two touchdowns which included a game-winning touchdown pass to Plaxico Burress with just 35 seconds left on the clock.
The Giants most recent Super Bowl came in 2011 where they not only faced off against the New England Patriots once more but were also seen as 3-point underdogs as well. The Giants came out on top with a final score of 21-17 and clearly beat the spread. Eli Manning was named the MVP here once more after going for 296 yards and a touchdown.