Betting On The New York Giants To Win The Super Bowl

Betting on the New York Giants to win the Super Bowl LVII could be thought of as a pipe dream. In recent years, the Giants have seen some major struggles as they have missed the playoffs in the last five seasons. The Giants have had their fair share of playoff experience though as they have 32 playoff appearances in which they were able to make the Super Bowl five times and win four of them.
The Giants do not have much going for them right now and it is a shame being that on paper this team should be running from wall to wall. They have the elusiveness of Saquon Barkley, a top-5 running back when healthy, and a receiving core that has loads of talent in Kenny Golladay, Sterling Shepard, and Darius Slayton. However, they have not been able to capitalize on the talent that they have. Also, their defense has shown signs of weakness over the years as well.
For those that are looking to bet on any of the New York Giants betting odds, all of their info can be found here. Bettors will find the Giants odds to win the Super Bowl, NFC Championship odds, and their odds to win the NFC East as well. There are also different player props as well as a breakdown of their playoff history.
Giants Playoff Record By Round
Overall: 24-25
Wild Card: 6-5
Divisional Round: 6-8
Conference Championship: 5-0
Super Bowl: 4-1
New York Giants Playoff History
| | | |
| --- | --- | --- |
| Playoff Appearances | 32 | 1933, 1934, 1935, 1938, 1939, 1941, 1943, 1944, 1946, 1950, 1956, 1958, 1959, 1961, 1962, 1963, 1981, 1984, 1985, 1986, 1989, 1990, 1993, 1997, 2000, 2002, 2005, 2006, 2007, 2008, 2011, 2016 |
| Division Championships | 16 | 1933, 1934, 1935, 1938, 1939, 1941, 1944, 1946, 1986, 1989, 1990, 1997, 2000, 2005, 2008, 2011 |
| Conference Championships | 11 | 1956, 1958, 1959, 1961, 1962, 1963, 1986, 1990, 2000, 2007, 2011 |
| Super Bowl Victories | 4 | 1987 (XXI), 1991 (XXV), 2008 (XLII), 2012 (XLVI) |
| Super Bowl Losses | 1 | 2001 (XXXV) |
| Super Bowl Winning Quarterbacks | 3 | Phil Simms, Jeff Hostetler, Eli Manning |
| Super Bowl Winning Coaches | 2 | Bill Parcells, Tom Coughlin |
| Super Bowl MVPs | 3 | Phil Simms (XXI), Ottis Anderson (XXV), Eli Manning (XLII, XLVI), |
What Are The New York Giants Odds To Win The Super Bowl?
The New York Giants have lost their Super Bowl glory after winning their last Super Bowl back in 2012. They have struggled to even make the playoffs ever since. They do not have any clear direction with their offense just yet and their Super Bowl odds have taken a deep shot back. The Giants have gone an impressive 4-1 in the Super Bowl and would do anything to get back to that stardom.
What Are The New York Giants Odds To Win The NFC Championship?
The New York Giants have been at the bottom of the NFC for some time now and it has really shown as they have finished with a below .500 record in the last five seasons. With not much changing for the Giants, their NFC Championship odds can be found with the rest of the bottom feeders of the NFC at the bottom of the odds board.
What are the New York Giants Odds To Win The NFC East?
Being that the Giants are in arguably the worst division in the NFL, their odds to win the NFC East should not be counted out. However, with the sudden rise of the Dallas Cowboys and Philadelphia Eagles, their odds could struggle in the coming years. New York has 16 division championships to their name but have not won it since back in 2011.
2023 New York Giants Betting Odds
Super Bowl: +500000
NFC Championship: +250000
NFC East: +10000
New York Giants ATS Betting History
2021: 6-11
2020: 9-7
2019: 7-9
2018: 8-7-1
2017: 7-9
2016: 9-7-1
New York Giants Over/under Betting History
2021: 5-11-1
2020: 3-13
2019: 10-6
2018: 9-7
2017: 6-10
2016: 5-12
Betting On The Giants In New York
Those betting on the Giants in person have plenty of New York sports betting options. Aside from the four commercial upstate casinos, bettors also have access to Super Bowl lines at a list of the New York tribal casinos with sportsbooks. Sportsbooks in New York can be found in:
Bridgepoint
Buffalo
Chittenango
Hogansburg
Monticello
Nichols
Salamanca
Schenectady
Syracuse
Waterloo
For those that don't want to make their way to an in-person sportsbook, understand that New York does not have regulated online betting. Instead, use the online sportsbooks regulated outside of the US like BetOnline and others. They offer plenty of different Giants odds and are legal to use.
Mobile Betting On the New York Giants
New York Giants fans and bettors are some of the most loyal ones in the entire league. That being said, any opportunity they get to lay action on the New York Football Giants, they take. Now they can take advantage of any Giants betting odds from wherever they are thanks to mobile online sportsbooks like BetOnline or MyBookie which all allow bettors to place bets right from their phones as long as they have access to the internet.
2023 Giants Player Prop Bets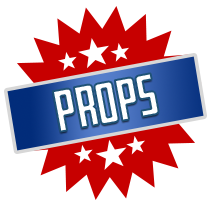 On paper, the New York Giants have one of the more explosive offenses in the league. They have a young quarterback in Daniel Jones, arguably a top-five running back with Saquon Barkley, a receiving core led by newly acquire Kenny Golladay and a solid tight end in Evan Engram. With that, any of these players are sure to have different player prop bets listed on them on online sportsbooks.
New York Giants Playoff History
The New York Giants are one of the oldest franchises in the NFL and it definitely shows with their long resume. They have been made the playoffs a total of 32 times since they were first established and have added 16 division championships, 11 conference titles, and 4 Super Bowl Championships. Also, a whopping 16 of their playoff appearances came before the Super Bowl era in 1966.
Giants Playoff Appearances
Since the Giants were first made an NFL team back in 1925, they have seen 33 playoff berths. Their first one came in 1933 under coach Steve Owen who coached the Giants from 1931-1953. In those years, he led them to 10 of their playoff appearances. From 1956 to 1963, they only managed to make the playoffs six times under both Jim Lee Howell and Allie Sherman. They did not make the playoffs again until 1981. From 1981 to the year 2000, they made the playoffs nine total times under some notable coaches including Bill Parcells, Dan Reeves and Jim Fassel. In the 2000s and 2010s, things continue strong as they have muscled in eight more playoff appearances.
Giants Division Championships
The Giants have seen 16 of their 32 playoff appearances turn into division championships. From 1933 to 1950, they won eight of their division titles all under Steve Owen at head coach and also under eight different quarterbacks including Harry Newman, Ed Danowski, Tuffy Leemans and Frank Filchock. They then went on a 20-year drought where they did not win a division title until 1986 under Bill Parcells who led them to three division titles from 1986 to 1990. From 1990 to the present day, they have added five more division titles to their resume with their most recent one coming in 2011.
Giants Conference Championships
The Giants have been pretty efficient when it comes to turning division titles into conference titles as of their 16 division titles, 11 of them of turned into conference championships. Their first conference title came in 1956 under coach Jim Lee Howell who won three conference titles during his tenure. In the 60s, the Giants were winners of three conference titles from 1961-1963 under Allie Sherman at coach and Y.A. Tittle at quarterback. Their next conference championship did not come until 1986 under Bill Parcells and again in 1990. From 1990 until the present day they have won three more conference titles from 2000 2011 which is their most recent one.
Giants Super Bowl Victories
The Giants currently have four Super Bowl rings to their name with two of them coming under Bill Parcells in 1987 and 1991. Tom Coughlin was the coach of their next two in 2008 and 2011.
Looking back at their first Super Bowl win in 1987 for Super Bowl XXI, they defeated the Denver Broncos with a final score of 39-20. Going into the game, the Giants were seen as 9-point favorites and easily crushed the spread being that they won by 19 points. As for the Super Bowl MVP, Phil Simms won those honors after going an efficient 22/25 for 268 passing yards, three touchdowns and zero interceptions.
Their second championship came in 1991 which marks Parcells last one with the team. In Super Bowl XXV the Giants took down the Buffalo Bills in a very close game that ended with a final score of 20-19. The Giants actually went into the game being seen as 6.5-point underdogs and pulled off the upset here as they won. Ottis Anderson was named the Super Bowl MVP after rushing for 102 yards and a touchdown.
Their next Super Bowl did not come until 2008 where Tom Coughlin's Giants defeated the New England Patriots with a final score of 17-14. The Giants were seen as the underdogs here as well but by a giant 12.5-points and completely shocked the Patriots after taking them down. Eli Manning was named the MVP of the game as he went for 255 yards and two touchdowns which included a game-winning touchdown pass to Plaxico Burress with just 35 seconds left on the clock.
The Giants most recent Super Bowl came in 2011 where they not only faced off against the New England Patriots once more but were also seen as 3-point underdogs as well. The Giants came out on top with a final score of 21-17 and clearly beat the spread. Eli Manning was named the MVP here once more after going for 296 yards and a touchdown.
1950: The New York Giants' Most Recent Playoff Comeback
The New York Giants have not had a very good history when it comes to making up large deficits, coming back from a 20+ point deficit just three times in their entire history. Interestingly, none of those comebacks have taken place since 1950, meaning the Giants have gone decades without a 20+ point comeback. The most recent large playoff comeback the Giants made was on November 19, 1950 against the Baltimore Colts. The Colts went up 21-0 in the second quarter behind (most notably) a 50 yard touchdown scored off a lateral. The Giants then put up 55 unanswered points, scoring seven touchdowns while holding the Colts to 0 points in the entire second half. Even more surprisingly, they have not made up a deficit of 10 or more points in any of their playoff appearances.