Betting On The Houston Texans To Win Super Bowl 2021

The Houston Texans, in recent years, have been known as a perennially good team, a ringer almost, so betting on the Houston Texans to win Super Bowl 2020 is never a bad idea. Previous Texans teams have been defined by a brutal defense featuring former Defensive Player of the Year JJ Watt, but this iteration also highlights the talents of recently drafted quarterback Deshaun Watson, formerly a National Champion with the Clemson Tigers. Watson had some knocks on him during the draft process, with scouts worrying about the velocity of his throws and the accuracy of his deep ball. During his time in the league, Watson has proven everyone wrong, becoming one of the consensus best quarterbacks in the league, part of a new generation of quarterbacks rising to the top of the game.
They also employ the crafty Deandre Hopkins, one of the best wide receivers in the NFL. Hopkins has been at the peak of his craft in recent years, even with subpar quarterbacks. With the introduction of Watson to the lineup, Hopkins has been nothing short of spectacular. Consistently in the conversation for being the number one receiver in the NFL, Hopkins moves quietly, with none of the flash and fire of his typically outspoken peers. An excellent teammate, player, and person, Hopkins is the most dominant player on the Texans which always helps the Texans' Super Bowl odds.
Houston Texans Playoff History
| | | |
| --- | --- | --- |
| Playoff Appearances | 6 | 2011, 2012, 2015, 2016, 2018, 2019 |
| Division Championships | 6 | 2011, 2012, 2015, 2016, 2018, 2019 |
| Conference Championships | 0 | |
| Super Bowl Victories | 0 | |
| Super Bowl Losses | 0 | |
| Super Bowl Winning Quarterbacks | 0 | |
| Super Bowl Winning Coaches | 0 | |
| Super Bowl MVPs | 0 | |
What Are The Texans Odds To Win The Super Bowl?
The loss of DeAndre Hopkins has certainly done a number on the Houston Texans Super Bowl odds as they have taken a hit from +7500 down to +15000. They are missing that star quality receiver that they are used to having and it is showing early on in the season as they are in a bit of a hole right now. Until they find that start quality player they are looking for, they can expect to remain at the bottom of the odds board.
What Are The Houston Texans Odds To Win The AFC Championship?
Like their Super Bowl odds, their odds to win the AFC Championship have taken a sizeable hit as well as they have gone from +2000 down to +10000 odds. They have shown early in the season that they cannot match up with the best of the best in the conference which is why their odds have taken such a steep hit to start the season. As long as they show that they cannot hold up with the rest, their odds will not be where they want them to be.
What Are The Houston Texans Odds To Win The AFC South?
The Texans are finding themselves in a tricky situation this season as they share the division with the Tennessee Titans who have taken over the top spot as well as the Indianapolis Colts who seem to be getting their wheels rolling as well. They just do not match up with these two teams at all and for that reason, their odds are the third-longest at +1800 odds.
Where Can Texans Fans Bet In Texas?
Sadly for Texans fans and bettors located in Texas, there are no land-based sports betting options due to the fact that Texas has very strict gambling laws. That should not worry fans or bettors at all as they can simply bet on the NFL and the Texans using online sportsbooks like Bovada. Bovada is the top dog when looking at online sportsbooks as they not only offer some of the best NFL odds but they are also very safe and trustworthy.
Betting Trends For The Houston Texans
The Houston Texans are 2-6 against the spread in their last 8 games when generating more than 250 yards through the air in their previous mathcup.
The Texans are 2-6 ATS when playing a team that has a winning record.
Houston has a 2-6 ATS record in their last eight home games versus a team that has a winning record on the road.
The Texans are 6-21-1 against the spread in their previous 28 matchups after racking up more than 150 yards rushing in their game before.
Betting On The Texans NFL Draft Odds
The Houston Texans have used the NFL Draft in order to get to where they are today. If the Texans want to stay on the right track, they will need to continue to use the draft to bring in talented players. If you are going to bet on the Texans, you need to sign up with an online sportsbook. There you'll find NFL Draft odds on the not just the Texans but the whole NFL Draft.
Texans Mobile Sports Betting Apps
The Houston Texans are playing very well and bettors need to take notice. No matter where you are – if you a big Texans fan or not, take a look at what betting options are available for Texans' games via your mobile device. Simply type in one of the offshore betting sites and it will take you to their mobile site. It is that easy. Offshore betting sites will not have any bias toward the local teams, always ensuring you are getting some of the best betting odds in the business. So, take the chance and use your phone for something besides texting and talking.
Texans In-Game Betting Apps
With this Texans' explosive offense, fans should definitely partake in live betting. Live betting, which is also offered by offshore betting sites, is placing bets after the game has started. For the fans that are watching the game, you can place a bet on a player that is having a monster game. Not only that, some other betting lines will continue to pop up that were not available before. So, if you know your Texans are a better second-half team, there is nothing wrong with waiting until the first half ends to place your second half live bets on offshore betting sites.
Team Props For Texans Playoff Games
The Texans have been playing well in the playoffs and bettors should look to wager on a Texans' team prop bet. These wagers allow sports bettors to bet on football without having to know much about the game itself. Prop bets regarding the team can be on the offensive side or defensive side, which is why bettors need to carefully scan the sportsbook for the best options. Examples include betting on how many combined punts both teams will kick, how many passing yards both teams will account for, and they can even be broken down to only one team, asking props like how many sacks will the Texans get.
Betting On The Texans Projected Win Total
The Houston Texans finished with an above-average 10-6 record in 2019 and want to keep things smooth sailing into the 2020 season. Online sportsbooks have the Texans projected win total set at 7.5. These are low expectations for a team that is coming off of a hot year but many offseason changes happened with this team. Still, bettors can expect the Texans to come out swinging in the 2020 season.
2020 Texans Player Props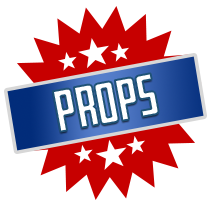 The Texans had an above-average season in 2019 but a way below average offseason as they saw their top receiver, DeAndre Hopkins, get traded to the Arizona Cardinals. They are looking to prove doubters wrong this season as both Deshaun Watson and Brandin Cooks look to lead this team to a great season once again.
Deshaun Watson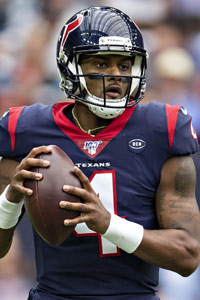 Deshaun Watson will be himself no matter who is taking the field alongside him. Last year Watson was able to throw for 3,852 yards and 26b touchdowns which was tied for eighth in the league. Online sportsbooks have the bar set high for Watson as his yards are set at 4050.5 and 27.5 touchdowns with both of them even.
Brandin Cooks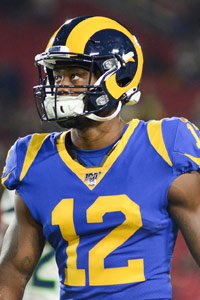 Brandin Cooks is looking to be a top receiving option once again during his first season with the Texans. Cooks had a drop offseason last year as he put up 583 yards and just two touchdowns on 42 receptions. Online sportsbooks have him making a bounce-back year with 5.5 touchdowns which are even and 849.5 yards with the under favored.
Houston Texans Playoff History
The Houston Texans are one of the newer franchises in the NFL as they became an NFL team in 1999. Since becoming an NFL team, they have been able to make the postseason but have not been able to capitalize on their playoff appearances. They have just six playoff appearances and six division championships to their name. They have never made it to the AFC Championship game, hence they have no Super Bowl Championships either.
Texans Playoff Appearances
Of the Texans 21 years as an NFL team, they have made the playoffs six times. Their first playoff appearance did not come until 2011 under Gary Kubiak who also led them to the playoffs in 2012 as well. Both of those years they were led by Matt Schaub at quarterback. Their next four playoff appearances came in 2015 and 2016 and again in 2018 and 2019 under Bill O'Brien. Their first two appearances under O'Brien came with Brian Hoyer in 2015 and Brock Osweiler in 2016. In 2018 and 2018, their playoff appearances were led by their current QB Deshaun Watson.
Texans Division Championships
The Texans were efficient when making the playoffs as all of their playoff appearances have come as division champions but they have never made it past the divisional round of the playoffs. In 2011 and 2012, they were sent home in the divisional rounds by the Ravens in 2011 and the Patriots in 2012. In 2015, they were defeated by the Chiefs in the Wildcard round and in 2016 they were sent home by the Patriots in the divisional round. They were then defeated in the Wildcard round by the Colts in 2018 and again in the divisional round in 2019 by the Kansas City Chiefs