Betting On NFC Championship Odds

Making a bet on the 2024 NFC Championship game certainly has its high points if you are lucky enough to get in on them early. What is considered early is any time before the season starts being that the odds do shift during the season depending on how certain teams are performing. You can still get in on these odds throughout the regular season and the playoffs at any time if you see odds that catch your eye, as some contenders could see their odds lengthen if they lose a game or two making them valuable as well.
If you are looking for the latest NFC Championship odds on Super Bowl LVIII betting sites you have come to the right place as you will not only find what the current odds are to win the conference title, but also the odds for each team to win their respective division. We'll also fill you in on past winners of the conference title and other stats and data that are useful to bettors.

Odds To Win The 2024 NFC Championship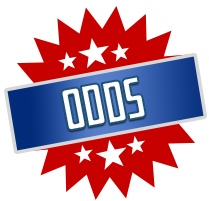 The odds on the 2024 NFC Championship opened with a three-way race towards the top of the odds board between the San Francisco 49ers, the defending NFC Champions, the Philadelphia Eagles, and the Dallas Cowboys who all had preseason odds under +600. You can bet on these odds at any time that you get the urge in the preseason, regular season, and playoffs. You should note though that these odds will shift as much as possible with different factors coming into place.
NFC Conference Winner
San Francisco 49ers +310
Philadelphia Eagles +330
Dallas Cowboys +580
Detroit Lions +1150
Los Angeles Rams +1225
Green Bay Packers +1250
Minnesota Vikings +1575
New York Giants +1750
New Orleans Saints +1900
Carolina Panthers +2500
Tampa Bay Buccaneers +2700
Seattle Seahawks +2800
Washington Commanders +2900
Atlanta Falcons +3400
Chicago Bears +3400
Arizona Cardinals +5800
Best NFL Betting Sites For NFC Championship Betting
You have several options to choose from when looking to bet on the NFC Championship as all of these Super Bowl 58 betting sites have odds and prop bets on them. What makes them each unique in their own way are the features that they each have including bonuses, mobile compatibility, or the overall quality of the odds that they have to offer. You are also not limited to signing up for just one betting site as you can sign up for all of them.

BOVADA RATING
Safety + Security:  

Reliability:  

Customer Service:  

Payout Times:  

Bonuses:  
Bovada
One Of The Top NFC Championship Betting Sites
Bovada has long been the leading online sportsbook to bet on the NFC Championship game and they have proven that with all of the features that they have to offer. They offer new users existing bonuses that could earn you between $250 and $750. Their site is also very easy to use as all of their odds and features could all be accessed right from their homepage meaning you could be betting on the NFC Championship game in a matter of seconds from gaining access to their site.

BETONLINE RATING
Safety + Security:  

Reliability:  

Customer Service:  

Payout Times:  

Bonuses:  
BetOnline
NFC Championship Betting With Bitcoin
One of the top features that BetOnline has to offer is their capability to accept Bitcoin and other cryptocurrencies as payment. They let you make deposits and bet with 17 total cryptos ranging from Bitcoin and Ethereum down to other smaller altcoins in Shiba Inu and Apecoin. The great thing about betting on the NFC title game with crypto is that they are free to make any transactions and also have no processing times either that way your funds are instantly deposited to your account.

Safety + Security:

Reliability:

Customer Service:

Payout Times:

Bonuses:
MyBookie
Safest NFL Betting Site
If you are looking for safety and reliability, MyBookie has you covered as one of the best. They take their safety seriously as they have two encrypted links in place that protect not only their servers, but also your web browser with all of your information in it. That said all transactions that you make in or out of MyBookie are always protected. In the event that something were to go wrong though, their customer service will work with you to make sure everything runs smoothly.
Deposit Methods For Betting On The NFC Championship
Depositing into an online NFL betting site to bet on the NFC teams can be done very quickly and with no stress at all. That is because you have plenty of options to choose from that cater to your everyday banking needs. It doesn't matter which deposit method you choose though, there are deposit fees, deposit limits, and processing times that you will need to follow to make your transaction complete. All of which can vary based on the method on the betting site you are using.
Credit/Debit Card
Voucher
MatchPay
Wire Transfer
Money Order
Limits For Deposit And Withdrawals For NFC Betting
Depending on the sportsbook that is being used, the deposit and withdrawal limits vary for betting on NFC odds. Online sportsbooks that are internationally regulated have the most diverse options for deposits and withdrawals because they are able to offer transactions through various cryptocurrencies. No matter how a player decides to deposit or withdrawals into their sportsbook, the limits for all of their options can be found below:
Bovada Limits
| Payment Method | Min / Max Deposit | Min / Max Withdrawal |
| --- | --- | --- |
| Crypto | $10 / $5,000 | $10 / $9,500 |
| Credit Cards | $20 / $1,500 | NA /NA |
| MatchPay | $20 / $1,000 | $20 / $1,000 |
| Bank Transfer | $50 / $450 | $1,500 / $9,500 |
| Check By Courier | NA / NA | $100 / $3,000 |
BetOnline Limits
| Payment Method | Min / Max Deposit | Min / Max Withdrawal |
| --- | --- | --- |
| Crypto | $20 / $500,000 | $50 / $100,000 |
| Credit Cards | $25 / $2,500 | NA / NA |
| Wire Transfer | $500 / $10,000 | $50 / $25,000 |
| P2P | $100 / $600 | $50 / $400 |
| Check By Courier | NA / NA | $500 / $2,500 |
MyBookie Limits
| Payment Method | Min / Max Deposit | Min / Max Withdrawal |
| --- | --- | --- |
| Crypto | $20 / No Max | $25 / $50,000 |
| Credit Cards | $45 / $2,500 | NA / NA |
| MoneyGram | $100 / $500 | NA / NA |
| Wire Transfer | NA / NA | $100 / $50,000 |
Best Bonuses For NFC Betting
No matter what sportsbook a player is using, there are Super Bowl betting deposit bonuses that can be redeemed for betting on NFC futures. Those betting on the NFC Championship might as well use the offered bonuses to up the stakes of their wagers with up to $1,000 up for grabs for new players that use cryptocurrency. The best bonuses at online sportsbooks for new or existing NFC bettors can be found below:
Bovada – For new players of the site, Bovada offers a $250 deposit bonus for non-crypto players and $750 for players depositing with crypto for the first time. Both of these bonuses have a 5x sports rollover and can be accepted one time.
BetOnline – This online sportsbook offers a $1,000 new player bonus for crypto bettors and a $350 reload bonus that does not have a redemption limit. Both of these bonuses can also be redeemed with lower bonus credits for non-crypto players. The rollovers range from 8x to 14x.
MyBookie – MyBookie has reload bonuses that help NFC bettors deposit weekly for all NFL action. This reload bonus has no limit for how much can be credited, through a 25% deposit match for all players and a 6x rollover.
NFC Betting Payouts
Getting paid out after you bet on the NFC teams or the NFC Championship is typically the first thing you look to do after cashing a bet and it does not have to be so hard. You can make SB58 sportsbook withdrawals with any of the payment methods that they have available except a credit or debit card. You'll also need to follow certain guidelines that are similar to the deposit ones such as fees, processing times, and transaction limits.
Voucher
MatchPay
Check
ECheck
Wire Transfer
Money Order
Betting On The NFC With Cryptocurrency
Cryptocurrency has become an everyday form of payment for many and you can easily use it to bet on the teams of the NFC or the NFC Championship as you please. The great thing about betting with is that they do not have any fees linked to them on any online NFL betting site. You can also conveniently link your crypto wallets directly to your betting accounts without any barriers in the way. The most important thing though comes when you are withdrawing, you can only withdraw with crypto if you make your initial deposit with that coin or token.
Bitcoin
Ethereum
Solana
Chainlink
Cardano
Ripple
Litecoin
Bitcoin SV
Tether
Apecoin
NFC North Odds
The Green Bay Packers have run the gauntlet with the NFC North odds for the better part of two decades having won 12 division titles for the most of any other team. The Minnesota Vikings follow with five division titles including the most recent in 2022 and are followed close behind by the Chicago Bears with four. The Detroit Lions are the only team to have never won a division title, however, that could change with their lowest opening odds in team history.
2023-24 NFC North Championship Odds
Detroit Lions +140
Minnesota Vikings +300
Chicago Bears +325
Green Bay Packers +375
NFC South Odds
The NFC South has been a closely kept division since 2002 with the New Orleans Saints leading the way with seven, and are followed by both the Tampa Bay Buccaneers and Carolina Panthers with five, and the Atlanta Falcons with three. Over the last four years, the team that has opened with the shortest NFC South division odds has stayed true to form with the preseason favorite winning. The Falcons are the only team in the division to win with +1000 odds or more.
2023-24 NFC South Championship Odds
New Orleans Saints +115
Atlanta Falcons +300
Carolina Panthers +300
Tampa Bay Buccaneers +650
NFC West Odds
There has been an extremely competitive nature surrounding the NFC West division betting odds with all four teams having won a division title since 2015. The Seattle Seahawks are at the helm right now with 10 division championships but their last one coming in 2020. The 49ers are right behind them with five and are the most recent winners in the 2022-23 season and opened as the preseason favorites this season. The LA Rams have won four division titles while the Cardinals sit in last with three.
2023-24 NFC West Championship Odds
San Francisco 49ers -200
Seattle Seahawks +300
Los Angeles Rams +500
Arizona Cardinals +2500
NFC East Odds
The NFC East has been on the up and coming as a competitive division as well with no team winning consecutive division titles in the last 16 years. All four teams have been profitable with their NFC East betting odds in that time frame as well. The Eagles are the most recent winners and have brought their division championship count to a leading nine. They are followed by the Dallas Cowboys at six, the Giants with 4, and the Washington Commanders with three. The Commanders though have won the division with the longest odds at +3500 in 2015 and +2200 in 2020.
2023-24 NFC East Championship Odds
Philadelphia Eagles -110
Dallas Cowboys +190
New York Giants +550
Washington Commanders +1000
Betting On Favorites in the NFC Championship Game
| Favorite | Covered | Failed To Cover | Push | Cover Percentage | Over | Under | Push | Over Percentage | Wins | Losses | Favorites Win Percentage |
| --- | --- | --- | --- | --- | --- | --- | --- | --- | --- | --- | --- |
| Home Team | 21 | 17 | 0 | 55.26% | 18 | 13 | 1 | 58.06% | 27 | 11 | 71.05% |
| Away Team | 7 | 6 | 0 | 53.85% | 5 | 7 | 0 | 41.67% | 7 | 6 | 53.85% |
| Favorites Total | 28 | 23 | 0 | 54.90% | 23 | 20 | 1 | 53.49% | 34 | 17 | 66.67% |
When the home team is the favorite in the NFC Championship the over hits in 58.06% of the games. The Rams are the home team and the favorite in the 2022 NFC Championship Game, and the over under is set at 45.5 points. The home team is also quite dominant as the favorite, with a win percentage of 71.05%.
Five Worst Passer Ratings In NFC Championship History By Starting Quarterbacks
The top five worst passer ratings NFC Championship games have a direct correlation to losses, with all five losing the game. It may not have been their faults individually though, as they were sacked a combined 17 times in these contests.
| Quarterback | Passer Rating | Touchdowns | Interceptions | Game Result |
| --- | --- | --- | --- | --- |
| Daunte Culpepper | 13.7 | 0 | 3 | Lost |
| Donovan McNabb | 19.3 | 0 | 3 | Lost |
| Jay Cutler | 31.8 | 0 | 1 | Lost |
| Shaun King | 34.1 | 0 | 2 | Lost |
| Jake Delhomme | 34.9 | 1 | 3 | Lost |
Top Five Passer Ratings In NFC Championship History By Starting Quarterbacks
The top five quarterback performances in the NFC Championship Game have all resulted in wins. In those games, the starting quarterbacks were sacked a total of four times!
| Quarterback | Passer Rating | Touchdowns | Interceptions | Game Result |
| --- | --- | --- | --- | --- |
| Kurt Warner | 145.7 | 4 | 0 | Won |
| Nick Foles | 141.4 | 3 | 0 | Won |
| Matt Ryan | 139.4 | 4 | 0 | Won |
| Colin Kaepernick | 127.7 | 1 | 0 | Won |
| Kerry Collins | 120.8 | 5 | 2 | Won |
Past NFC Championship Winners
| Year: | Team: | Preseason Odds: | Runner Up: |
| --- | --- | --- | --- |
| 2022 | Philadelphia Eagles | +1100 | San Francisco 49ers |
| 2021 | Los Angeles Rams | +500 | San Francisco 49ers |
| 2020 | Tampa Bay Buccaneers | +500 | Green Bay Packers |
| 2019 | San Francisco 49ers | +2000 | Green Bay Packers |
| 2018 | Los Angeles Rams | +500 | New Orleans Saints |
| 2017 | Philadelphia Eagles | +2000 | Minnesota Vikings |
| 2016 | Atlanta Falcons | +4000 | Green Bay Packers |
| 2015 | Carolina Panthers | +3000 | Arizona Cardinals |
| 2014 | Seattle Seahawks | +225 | Green Bay Packers |
| 2013 | Seattle Seahawks | +450 | San Francisco 49ers |
| 2012 | San Francisco 49ers | +650 | Atlanta Falcons |
Most Passing Yards In An NFC Championship Game
| Year | Player | Team | Passing Yards |
| --- | --- | --- | --- |
| 2013 | Matt Ryan | Atlanta Falcons | 396 Yards |
| 2017 | Matt Ryan | Atlanta Falcons | 392 Yards |
| 2001 | Kerry Collins | New York Giants | 381 Yards |
| 1995 | Troy Aikman | Dallas Cowboys | 380 Yards |
| 2009 | Donovan McNabb | Philadelphia Eagles | 375 Yards |
Most Receiving Yards In An NFC Championship Game
| Year | Player | Team | Receiving Yards |
| --- | --- | --- | --- |
| 1995 | Michael Irvin | Dallas Cowboys | 192 Yards |
| 2013 | Julio Jones | Atlanta Falcons | 182 Yards |
| 2017 | Julio Jones | Atlanta Falcons | 180 Yards |
| 2001 | Ike Hilliard | New York Giants | 155 Yards |
| 2009 | Larry Fitzgerald | Arizona Cardinals | 152 Yards |
Most Rushing Yards In An NFC Championship Game
| Year | Player | Team | Rushing Yards |
| --- | --- | --- | --- |
| 2020 | Raheem Mostert | San Francisco 49ers | 220 Yards |
| 1981 | Wilbert Montgomery | Philadelphia Eagles | 194 Yards |
| 2002 | Marshall Faulk | Los Angeles Rams | 159 Yards |
| 2015 | Marshawn Lynch | Seattle Seahawks | 157 Yards |
| 1996 | Emmitt Smith | Dallas Cowboys | 150 Yards |