Betting On The Seattle Seahawks To Win Super Bowl 2020

When looking to bet on the Seattle Seahawks to win Super Bowl 2020, the most attention should be paid to the health of their star quarterback, Russell Wilson. Between his impressive play and abilities to extend plays, the Seahawks can never be counted out of any game. Their defense may not be what it has been in the past but with Pete Carroll's experience in the playoffs, betting on the Seattle Seahawks to win Super Bowl 54 comes with a great payout.
The Seahawks were not a favored team to begin the season. However, their MVP-like play of Russell Wilson and the team's ability to control the flow of the game with their running game have poised this team to be a contender. Their division may be the toughest in the NFL, but Seattle showed no real issues when facing divisional opponents. If you are looking to bet on the Super Bowl, risking a wager on the Seahawks to win it all may be worth your consideration.
Seattle Seahawks And The
Coronavirus
The good news for the Seahawks is that they only had one player opt-out of the 2020 season and that is offensive lineman, Chance Warmack. The Seahawks currently also do not have any players on their COVID list. Seahawks fans found out that they will not be allowed at any of the team's first three home games and that the team will look closely before allowing fans for the remaining games. There has also been no official word on the status of season ticket holders just yet.
Seattle Seahawks Playoff History
| | | |
| --- | --- | --- |
| Playoff Appearances | 18 | 1983, 1984, 1987, 1988, 1999, 2003, 2004, 2005, 2006, 2007, 2010, 2012, 2013, 2014, 2015, 2016, 2018, 2019 |
| Division Championships | 10 | 1988, 1999, 2004, 2005, 2006, 2007, 2010, 2013, 2014, 2016 |
| Conference Championships | 3 | 2005, 2013, 2014 |
| Super Bowl Victories | 1 | 2014 (XLVIII) |
| Super Bowl Losses | 2 | 2006 (XL), 2015 (XLIX) |
| Super Bowl Winning Quarterbacks | 1 | Russell Wilson |
| Super Bowl Winning Coaches | 1 | Pete Carroll |
| Super Bowl MVPs | 1 | Malcolm Smith (XLVIII) |
Seattle Seahawks 2020 Betting Trends
The Seattle Seahawks saw their second loss in a row in Week 10 as they fell to the LA Rams 23-16 and were unable to cover the 3-point spread that they were facing. The Seahawks have a tough matchup ahead of them in Week 11 against the Arizona Cardinals where they are seen as 3-point favorites. The Seahawks have played well against the spread this season as they have gone a nice 6-3 ATS and by an average margin of +8.2 points. In fact, in their last 10 games on Thursday Nights, they have gone 7-1-2 against the spread. In their last five meetings with the Cardinals in Seattle, the Over has gone 4-1 for the game total.
What Are The Odds On The Seahawks To Win The Super Bowl?
The Seattle Seahawks have been on an absolute tear to open up the season and their +700 Super Bowl odds are the third shortest out of all the teams in the league. They have been riding behind the fantastic play of their quarterback, Russell Wilson, who has been playing at an MVP-caliber level. As long as Wilson can continue his level of play, the Seahawks Super Bowl odds will remain among the shortest.
The Seahawks Injury Report
How To Bet On The Seahawks From My Phone
Fans of the Seattle Seahawks have seen their team be successful for a while. This time around bettors are using their phones to place bets on the proud franchise as they continue their success. With better perks on offshore betting sites, it is recommended that you create an offshore betting account while using your mobile phone. All you need is some kind of connection to the internet and the rest is very easy. These mobile betting sites will direct you straight to their Super Bowl sportsbook once you click on the betting platform. Unlike land-based sportsbooks, these offshore betting sites will offer a variety of betting options. Also, the betting lines can generally work toward your favor on these offshore sites, so why not take the easier route to make money?
Seahawks In-Game Sports Betting
Live betting is very popular and is something that many fans can do. Since Seahawk fans have a team that is looking for the big prize, live betting would be right up their alley. After the game has started, there are bets still that are available to wager on at these offshore betting sites. During the game, these sites post very intriguing prop bets, game lines, and alternate betting lines that would make any bettor happy. Offshore betting sites are the main options when it comes to placing live bets and this where you can get the most winnings as well.
Seahawks Team Prop Betting
While player prop bets are sure to be a fun time, many overlook the ability to bet on team prop bets. With a team like Seattle – that lives and dies by their running game – oddsmakers may present an option for bettors to select an over or under for the total number of rushing yards for their upcoming game. This is only one of the many examples, as team prop bets focus not only on the offense, but on the defense and special teams as well.
Will The Seattle Seahawks Win Super Bowl 54?
The NFC is a tough conference this year with teams like the 49ers, Saints, and Packers standing in the way of the Seahawks. All of those teams (sans 49ers) have had recent playoff success so the path to the Super Bowl will not be easy for the Seahawks. The Ravens are considered the favorite, but the Hawks would only meet them in the Super Bowl if both teams made it that far. In short, the odds for the Seahawks to win the Super Bowl are worth considering, as they can win any game when Wilson is under center.
Have The Seattle Seahawks Ever Won The Super Bowl?
The Seahawks have a history of doing well in the regular season and making the playoffs. With Pete Carroll making the playoffs in eight of his nine years with the team, the Seahawks are always in contention to win the Super Bowl. Not only do they make the playoffs, but the Seahawks have also won their first game in six of those eight playoff appearances. With two Super Bowl appearances in the last few years, the Seahawk won their first (and only) ring in 2013.
What Are The Seattle Seahawks Odds To Win The NFC Championship?
The Seahawks are leading the NFC Championship odds board with +325 odds and do not seem to be going anywhere anytime soon. They have more than enough offensive and defensive weapons to match up with just about anyone in addition to having Russell Wilson as their quarterback. Being that they can overpower just about anyone, their NFC Championship odds do not seem to be going anywhere anytime soon.
What Are The Seattle Seahawks Odds To Win The NFC West?
The Seahawks are the leaders of the NFC West odds board as they lead with -160 odds which is impressive considering they share the division with three of the tougher teams in the league in the 49ers, Cardinals and the Rams. If the Seahawks can get through those three teams, they deserve to walk away as the winners.
2020 Seahawks Player Props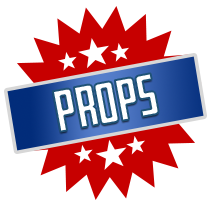 The Seattle Seahawks have managed to stay consistently competitive over the years and it shows. They have been led by their star quarterback Russell Wilson who has put his neck out on the line competing for this team and have other offensive weapons such as Chris Carson, Tyler Lockett and DK Metcalf.
Russell Wilson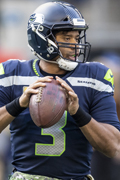 Wilson is coming off of one of his best years yet as he led his team to the playoffs after putting up 4,110 yards, 31 touchdowns and just five interceptions, all of which are good for top-five in the league. Online sportsbooks have his season totals set high at 4000.5 yards and 30.5 touchdowns with both of the overs favored along with 8.5 interceptions.
Tyler Lockett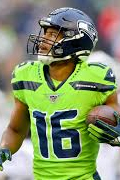 Tyler Lockett has his best receiving year yet with 1,057 yards and eight touchdowns which is the second most in his career. He is the clear WR1 on this team and NFL sportsbooks are making that clear with his season totals set at 1025.5 yards and 6.5 touchdowns.
DK Metcalf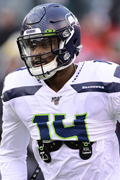 DK Metcalf had a great rookie campaign in 2019 as he put up 900 receiving yards and seven touchdowns on the year. NFL betting sites clearly have high expectations for the sophomore wide receiver as his season totals are projected at 875.5 yards and 6.5 touchdowns with both overs favored.
Chris Carson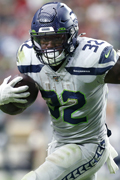 Chris Carson had a quietly great season 2019 campaign in which he was fifth on the year with 1,230 rushing yards to go along with seven touchdowns. He will continue to be the lead running back in Seattle and NFL online sportsbooks are expecting it with his season totals at 1025.5 yards.
Seattle Seahawks Playoff History
Since joining the league as an official team in 1974, the Seattle Seahawks have made their mark on the postseason. They have seen a playoff berth in 18 seasons since being established. Of those 18 playoff appearances, they have turned 10 of them into division championships, 3 conference championships and 1 Super Bowl victory.
Seahawks Playoff Appearances
The Seahawks saw their first playoff appearance come in 1983 which is just nine years after being established under Chuck Knox. The Seahawks, in fact, started off strong after their first postseason run as they went on to make three more playoff appearances in the '80s including 1984, 1987, and 1988 which were all under Knox as well. They saw one more playoff appearance prior to the 2000s in 1999 during Mike Holmgren's first season as the head coach. The Holmgren era continued four years later where he led them to five straight playoff appearances from 2003-2007. Their next playoff appearance did not come until 2010 which is when Pete Carroll first took over. From 1010 until the present day, Carroll led the Seahawks to the playoffs eight times including 2010, 2012-2016 and 2018-2019.
Seahawks Division Championships
Of their 18 playoff berths, the Seahawks have turned an impressive 10 of them into division championships. Their first division championship came in 1988 under Chuck Knox. The Holmgren stint in Seattle saw five division championships with the first one coming in 1999 and from 2004-2007. Under Pete Carroll, they have won four division championships with the first one in 2010 then 2013-2014 and their most recent one came in 2016.
Seahawks Conference Championships
After the divisional round, the Seahawks saw quite the drop off as they were only able to convert 3 of their 10 divisional championships into conference titles. Surprisingly enough, just one conference championship came with Mike Holmgren in 2005 as they had Matt Hasselbeck under center. Their other two came in back to back years for Pete Carroll and Russell Wilson in 2013-2014.
Seahawks Super Bowl Victories
The Seahawks have just one Super Bowl Championship to their name which came to them in 2014 for Super Bowl XLVIII with Pete Carroll calling the plays and Russell Wilson under center. The Seahawks took down the Broncos in their win in blowout fashion as they won with a final score of 43-8. Going into the game, however, the Seahawks were actually seen as 2.5-point underdogs and clearly demolished that in winning fashion. The Super Bowl MVP honors were given to Malcolm Smith on the defensive end as he had a 69-yard interception that he returned for a touchdown as well as 10 tackles and a fumble recovery.