Betting On Arizona Cardinals To Win Super Bowl 2021

Betting on the Arizona Cardinals to win the Super Bowl would certainly be a bold decision to make. The Cardinals have not made the playoffs since 2015, and have never won a Super Bowl. The odds do not seem to be in the team's favor to take a different path this year but with all of the abnormal conditions currently, it could be a perfect time for a surprise season.
The Cardinals surprised many people this year with how composed they were and how explosive, albeit inconsistently, they could be on offense. Having legendary wide receiver Larry Fitzgerald returning to the team for his 20th year in the league is sure to give them a big boost. Young quarterback Kyler Murray showed rare talent in his first year in the league and was named NFL Rookie of the Year. If you are looking for Arizona Cardinals betting odds on the Super Bowl and division, this is definitely the place for you.
How
COVID-19

Has Affected The Arizona Cardinals

COVID-19 has taken a hit on plenty of teams around the NFL, but the Cardinals have not been affected hard at all. The only player who chose to opt-out of the season was their right tackle Marcus Gilbert. There has only been one player thus far in the season placed on the teams injured reserve/COVID-19 list and that is wide receiver Keesean Johnson who has since been activated.

As for fans being allowed in the stadium, the team has only allowed up to 750 people in the stands which includes family members of the team only. They are using this as a trial run for when the team decides to allow fans at the games.
Arizona Cardinals Playoff History
| | | |
| --- | --- | --- |
| Playoff Appearances | 10 | 1947, 1948, 1974, 1975, 1982, 1998, 2008, 2009, 2014, 2015 |
| Division Championships | 7 | 1947, 1948, 1974, 1975, 2008, 2009, 2015 |
| Conference Championships | 1 | 2008 |
| Super Bowl Victories | 0 | |
| Super Bowl Losses | 1 | 2009 (XLIII) |
| Super Bowl Winning Quarterbacks | 0 | |
| Super Bowl Winning Coaches | 0 | |
| Super Bowl MVPs | 0 | |
Arizona Cardinals 2020 Betting Trends
The Arizona Cardinals were handed their second loss in a row in Week 12 at the hands of the New England Patriots. The Cardinals were unable to cover their 1-point favored spread as they were defeated 20-17. They have a tough Week 13 matchup ahead of them against the LA Rams where they are going into the game seen as 3-point underdogs. The Cardinals have not done a good job this season in terms of playing against the spread as they have gone 5-6 ATS. In fact, in their last four games overall, they have gone 4-0 against the spread. In the last 16 meetings between the Cardinals and Rams in Arizona, the Under for the point total has gone 11-5.
What Are The Cardinals Odds To Win The Super Bowl?
The Cardinals have really been putting the league on blast thus far in the season behind the MVP-esque play from their quarterback, Kyler Murray. They have taken down some notable teams such as the Buffalo Bills and Seattle Seahawks. With those wins and their great run this season, they have brought their opening odds much shorter from +8000 down to +2000. As long as they continue their hot season, their Super Bowl odds will continue to get shorter.
What Are the Arizona Cardinals Odds To Win The NFC Championship?
Like their Super Bowl odds, their odds to win the NFC Championship have also gotten much shorter. At one point they were sitting way back at +2000 and are now listed at +800. They have been taking names in the NFC and are a great bet for NFL bettors to consider.
What Are The Arizona Cardinals Odds To Win The NFC West?
The Cardinals opened up the 2020 season with the longest odds to win the NFC West division with +600 odds. They are now sitting in third place but are well in striking distance of the top spot with +205 odds as they have taken down the favored Seattle Seahawks once this season and have also taken care of business with the San Francisco 49ers as well. If they can continue getting a hold of the other teams in their division, they could certainly come out on top.
Betting On The Cardinals Draft Odds
For an up and coming team like the Arizona Cardinals, having a good draft is critical to their development. Bettors can place bets on some of these moves that they think the Cardinals are going to make. In order to bet on the Cardinals draft, you would need to visit an online sportsbook where they will offer countless amounts of NFL Draft odds. As long as you have an account, betting on the draft should come easy.
Betting On The Cardinals Win Total
The Arizona Cardinals had a rough outing in 2019 after going 5-10. However, they are looking to rebound, as the Arizona Cardinals projected win total is set at 7 games by online sportsbooks. There is money to be made on both sides of the line, as they must face tough divisional opponents. The fact that Cardinals win total projection is higher than their record in 2019 indicates their team expectations are rising.
When Will Cardinals Fans Be Able To Bet At Local Arizona Sportsbooks?
In order for Cards fans to be able to bet at local Arizona sportsbooks, the state officials would need to come to terms with Native American Casinos on a tax and revenue agreement for them to be able to offer sports betting. In the meantime, however, there are plenty of different online sportsbooks such as Bovada that are available to Cardinals fans in Arizona that offer great NFL betting odds.
2020 Cardinals Player Props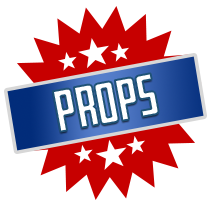 The future of the Arizona Cardinals runs through the offense. With the young stud quarterback Kyler Murry, the seasoned vet Larry Fitzgerald, and the addition of DeAndre Hopkins and Kenyan Drake, there is a lot of talent on that side of the ball. The oddsmakers are predicting big things from each of these players. The Cardinals could have a very interesting year if these players produce the way they are expected to.
DeAndre Hopkins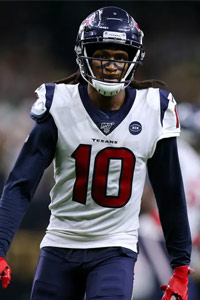 DeAndre Hopkins is one of the best receivers in the league and can do nothing but enhances this team. Hopkins' receiving yards set at 1125.5 yards and sportsbook are taking the over at -125. That would give him his sixth over 1000 yard season. The line is set at 93.5 receptions and the over of 8.5 TDs is favorited at -125.
Kenyan Drake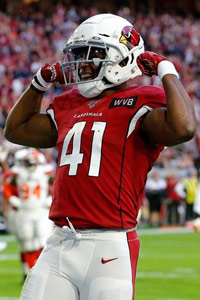 Kenyan Drake was traded from the Miami Dolphins midseason last year. In the trade for DeAndre Hopkins, the team released David Johnson who was previously lead back. Drake had already taken up the lead-back snaps and will be a big key to the team's production this season. Currently, his total rushing yards are set at 975.5 yards.
Kyler Murray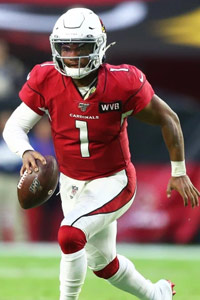 Though the team had a losing season last year, the young quarterback showed hope for years to come and sportsbooks seem to agree. Last season, the reigning Rookie Of The Year finished with 3722 passing yards and 20 touchdowns. Oddsmakers are setting is prop bet at an over-under of 3950.5 passing yards and 25.5 passing TDs.
Larry Fitzgerald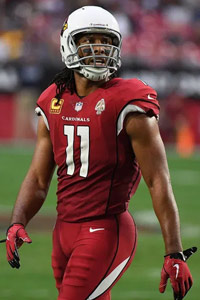 The return of Larry Fitzgerald for his 17th season in the league was great news for Cardinals fans. The wideout signed a one-year contract and will likely end his career after this season. Fitzgerald has still been producing and last year he finished with 804 receiving yards. His 2020 season's receiving yards odds have been set at 709.5 yards.
Arizona Cardinals Playoff History
The Arizona Cardinals are one of the oldest franchises in the history of the NFL as they were founded way back in 1898. Since being founded, they really have not been able to get the ball rolling with their playoff experience. They have only managed to make the playoffs 10 times since being established. Of those 10 playoff appearances, they include 7 division championships, 1 conference championship and no Super Bowl victories.
Cardinals Playoff Appearances
The Cardinals saw their first two playoff appearances come in back to back years in 1947-1948 under coach Jimmy Conzelman who led them to just those two playoffs. They did not see the playoffs again until 1975 and 1975 where Don Coryell was the coach and also only led them to those two playoff appearances. They saw the playoffs one more time in 1982 under Jim Hanifan and again in 1998 under Vince Tobin. They made the playoffs four total times in the 2000s and 2010s with two of them coming under Ken Whisenhunt in 2008 and 2009 and again in 2014 and 2015 under Bruce Arians.
Cardinals Division Championships
Of those 10 playoff appearances, 7 of them came as division champions. Their first two-division championships came in their first playoff appearances in 1947 and 1948 with Jimmy Conzelman. Their third and fourth ones came in back to back years as well in their third and fourth playoff appearances in 1974 and 1975 with Don Coryell. Ken Whisenhunt brought them two more in 2008 and 2009 while Bruce Arians led them to their most recent one back in 2015.
Cardinals Conference Championships
Of all of the Cardinals years in the playoffs, they have only managed to win just one conference championship in 2008 in the Whisenhunt era. The Cardinals took on the Philadelphia Eagles and defeated them with a final score of 32-25. They defeated the odds in this one as they went into the game being seen as 3.5-point underdogs and clearly covered in winning fashion. They did so behind the incredible performance of Kurt Warner who threw the ball for 279 yards and four touchdowns in which Larry Fitzgerald caught 152 of those yards and three touchdowns.
Cardinals Super Bowl Victories
The Cardinals do not have any Super Bowl championships to their name but have been to the Super Bowl given they won the conference championship. They took on the Pittsburgh Steelers in Super Bowl XLIII where they were defeated with a final score of 27-23. The Cardinals did, however, cover the spread as they were seen as 6.5-point underdogs in the game and lost by just 4-points. They saw great performances once again from Kurt Warner who went for 377 yards and three touchdowns while Larry Fitzgerald saw 127 yards and two touchdowns.