Betting On The Kansas City Chiefs To Win Super Bowl 57

Making a bet on the Kansas City Chiefs to win the Super Bowl in 2023, no matter where they are on the odds board could be beneficial. The Chiefs have been to the last four AFC Championship games and last two Super Bowls where they won one in 2020.
As for the Chiefs this season, they have one of the most explosive offenses in the league behind Patrick Mahomes, Tyreek Hill, and Travis Kelce. With their offense being one of the most feared every week, regardless of where their odds are to win the Super Bowl, value can be made betting on them on any given day.
Continuing down this page, find different odds on the Kansas City Chiefs. From finding the Chiefs odds to win the Super Bowl, as well as their AFC Championship odds, their future odds on the AFC West division title are also present. If looking past the Chiefs player props, bettors can also find a playoff history of the KC Chiefs franchise.
Chiefs Playoff Record By Round
Overall: 17-20
Wild Card: 4-8
Divisional Round: 6-8
Conference Championship: 4-2
Super Bowl: 2-2
Kansas City Chiefs Playoff History
| | | |
| --- | --- | --- |
| Playoff Appearances | 24 | 1962, 1966, 1968, 1969, 1971, 1986, 1990, 1991, 1992, 1993, 1994, 1995, 1997, 2003, 2006, 2010, 2013, 2015, 2016, 2017, 2018, 2019, 2020, 2021 |
| Division Championships | 14 | 1962, 1966, 1971, 1993, 1995, 1997, 2003, 2010, 2016, 2017, 2018, 2019, 2020, 2021 |
| Conference Championships | 2 | 2019,2020 |
| Super Bowl Victories | 2 | 1969 (IV), 2020 (LIV) |
| Super Bowl Losses | 2 | 1967 (I), 2021 (LV) |
| Super Bowl Winning Quarterbacks | 2 | Len Dawson, Patrick Mahomes |
| Super Bowl Winning Coaches | 2 | Hank Stram, Andy Reid |
| Super Bowl MVPs | 2 | Len Dawson (IV), Patrick Mahomes (LIV) |
What Are The Odds On The Chiefs To Win The Super Bowl?
Although the Kansas City Chiefs lost Super Bowl 55, they opened up the Super Bowl 56 odds as the favorites to walk away as the champions yet again. The Chiefs odds to win the Super Bowl ballooned as high as +1000 during the season, but they are now favorites. This should not come at any surprise as the Chiefs have made it to the Super Bowl in two straight seasons and certainly have what it takes to make it back and win.
What Are The Kansas City Chiefs Odds To Win The AFC Championship?
The Kansas City Chiefs currently have two AFC Championships to their name and both of them have come in the last two seasons. With that being said, it should be no surprise that Super Bowl sportsbooks have their AFC Championship odds heavily favored amongst the rest of the teams in the NFL. Aside from winning the AFC Championship in two straight seasons, they have now made it to the game four straight seasons, making them the first team to host four straight AFC Championship Games.
What Are The Kansas City Chiefs Odds To Win The AFC West?
The Chiefs have had the AFC West on lockdown for the past five seasons as they have won the division title in five straight years. Being that they share the division with three teams who either did not crack a .500 record or just barely did, they were heavily favored to win the West and pick up their sixth consecutive division championship, which they did easily.
2023 Kansas City Chiefs Betting Odds
Super Bowl: +125
AFC Championship: -330
Kansas City Chiefs ATS Betting History
Kansas City Chiefs Over/Under Betting History
Where To Bet On The Kansas City Chiefs
Kansas doesn't currently offer any kind of state-licensed sports betting, but that doesn't mean there are no options for Kansas residents to bet on the Chiefs. With various internationally-licensed sports betting websites currently accepting new members fr om Kansas, there are plenty of great lines and odds for Chiefs fans to take advantage of such as Bovada, BetOnline, and many more.
Iowa:
DraftKings Sportsbook at Wild Rose Clinton Casino
William Hill Sportsbook at Prairie Meadows
Illinois:
B Connected Sportsbook at Par-a-Dice Casino
Hollywood Casino Aurora Sportsbook
2023 AFC ChampionshipPlayer Props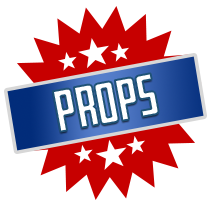 The Kansas City Chiefs are clearly the wrecking ball of the NFL right now with one of the most explosive teams in the league. They are led by arguably the best quarterback in the league in Patrick Mahomes as well as the best tight end in the league with Travis Kelce. Not to mention they also have an explosive receiver in Tyreek Hill and a great young running back in Clyde Edwards-Helaire. With that, bettors can certainly find Super Bowl player prop bets on any of these players as well as regular season and playoff props as well.
Betting On Patrick Mahomes Props
Patrick Mahomes struggled during the season with Cover 2 style defenses, but the Chiefs gradually adapted, throwing fewer passes over the top and more passes underneath where those defenses are weak. While this has statistically been one of his weakest seasons, it actually represents a big jump in his QB play - he's overcome his biggest weakness. Mahomes has passed for more than 375 yards in both of his playoff games this year.
Betting On Travis Kelce Props
Travis Kelce is one of the most dominant tight ends in the league, and his dominance shows up on the stat sheet. He racked up 108 yards against the Steelers in the Wild Card round and 96 yards against the Bills in the divisional round. He scored a touchdown in each of those games.
Betting On Tyreek Hill Props
Speed kills. This is the motto of Tyreek Hill, one of the fastest men in the NFL. Hill made his presence felt in the Divisional round against the Bills, putting up 150 yards and a touchdown. He also scored in the Wild Card round against the Steelers.
Mobile Betting On The Kansas City Chiefs
Betting on the Chiefs is one of the most popular bets to make for not only Chiefs fans but by any bettor around the NFL. With the mobile online sportsbooks, bettors can easily bet on the Chiefs from just about anywhere they are. Bettors can take advantage of not only any of the odds that are available but also any promotion that these sportsbooks may offer as well
Have The Kansas City Chiefs Ever Won The Super Bowl?
The Kansas City Chiefs have won two Super Bowls. Their first one came at Super Bowl IV in 1969 and their second one came in 2020 at Super Bowl LIV where they were victorious against the San Francisco 49ers. During the gap between Super Bowl Championships, they had lost 12 of 14 playoff games and even went on an eight-game losing streak from 1993-2003. What's impressive about this is that they were able to stay consistently good enough to make the playoffs all those years. Patrick Mahomes has completely revitalized this Chiefs team and will do so in the future ahead.
Kansas City Chiefs Super Bowl Winning Quarterbacks
The Kansas City Chiefs currently have two Super Bowl Championships to their name. Their first one came back in 1970 for Super Bowl 4 when Len Dawson led the Chiefs to a 23-7 victory over the Minnesota Vikings. Dawson threw for 142 passing yards and a touchdown and his 70.59% completion percentage is tenth best in Super Bowl history amongst starting Super Bowl quarterbacks. The other Super Bowl winning quarterbacks is Patrick Mahomes, leading the Chiefs to their second Super Bowl in 2019 (SB 54). Mahomes, on the other hand, will go down in history as the second-youngest quarterback to win the Super Bowl, throwing for 286 yards and two touchdowns in a 31-24 victory over the San Francisco 49ers
Kansas City Chiefs Playoff History
The Kansas City Chiefs became an official NFL team back in the year 1960. Since then they have been able to mark their name in postseason history as they have made the playoffs a total of 24 times. In those appearances, they have seen 14+ division championships, two conference titles and two Super Bowl victories.
Chiefs Playoff Appearances
The Chiefs wasted no time in making the playoffs as their first playoff run came just two years after their inaugural season in 1962 under coach Hank Stram. Stram led the Chiefs to a total of five playoffs during his time with the Chiefs with their last run coming in 1971. Their next playoff appearance came 15 years later in 1986 under John Mackovic. The Marty Schottenheimer era in Kansas City began in 1989 and took off as he led them to seven playoff appearances with their first one coming in 1990 and their last one being in 1997. They saw their next playoff appearance in 2003 under Dick Vermeil and again in 2006 with Herm Edwards. Todd Haley led them to one more in 2010 until Andy Reid took over and took them to eight more.
Chiefs Division Championships
The Chiefs have been able to capitalize on 14 of their 24 playoff appearances turning them into division championships. The Chiefs first coach, Hank Stram, led them to three division titles with their first one coming in 1962, again in 1966 and the final in 1971. Marty Schottenheimer led them to two more in 1995 and 1997 and Dick Vermeil added one more in 2003 and Todd Haley again in 2010, and again in 2020. Their current coach, Andy Reid, has led them to seven division championships and counting.
Chiefs Conference Championships
Surprisingly enough, the Kansas City Chiefs have won just three conference championships. Their first one came back in 1970 under Coach Stram as they defeated the Oakland Raiders. Their second came in 2019 with coach Andy Reid as they went on to defeat the Tennessee Titans. Their final and most recent AFC Championship run came in the 2020 season where they took down the Buffalo Bills with Andy Reid at the helm once again.
Chiefs Super Bowl Victories
The Kansas City Chiefs have seen two Super Bowl victories added to their resume. Their first one came in 1970 for Super Bowl IV and their second and most recent Super Bowl came in 2020 for Super Bowl LIV.
Starting with Super Bowl IV, the Kansas City Chiefs took on the Minnesota Vikings and defeated them with a final score of 23-7. The Chiefs went into the game seen as 12-point underdogs and pulled off a great upset as they covered the spread in winning fashion. The Super Bowl MVP honors went to Len Dawson as he threw for 142 yards and a touchdown.
The Chiefs most recent Super Bowl run came in 2019 where they took down the San Francisco 49ers with a final score of 31-20. The Chiefs had no problem covering the spread as they were favored by just 1.5-points and won by 11 points. Patrick Mahomes was more than deserving of the Super Bowl MVP as he threw the ball for 286 yards and two touchdowns and rushed for 29 yards and a touchdown as well.
2020 AFC Divisional Round: Chiefs Overcome Enormous 24-Point Deficit
The Chiefs have come back from just two deficits of 20 or more points in the playoffs. The largest Chiefs playoff comeback took place on January 12, 2020, when the Chiefs came back down 24 in the 2020 AFC Divisional Round vs Houston. The Texans sprinted out to a 24-0 lead early in the second quarter. The Chiefs responded in a convincing fashion outscoring the Texans 51-6 from that point on. The comeback was lead by incredible performances from Patrick Mahomes, who threw 5 touchdowns (including 3 to Travis Kelce) and running back Damien Williams (2 rushing touchdowns and 1 receiving touchdown). By the time Harrison Butker converted the Chiefs' final score with a 24 yard field goal with 8:06 remaining in the fourth quarter, the game was already out of reach for the deflated Texans. The Chiefs ultimately won the game 51-31, capping off one of the largest comebacks in NFL playoff history.