Betting On The Dallas Cowboys To Win The Super Bowl

Betting on the Dallas Cowboys to win the Super Bowl might not be the worst bet to make after all. They have had a great offseason and are looking to shake things up during the 2020 season. To Start off they parted ways with Jason Garret and hired Mike McCarthy who is a proven Super Bowl-winning coach. They were able to re-sign both Dak Prescott and Amari Cooper which is great. They also added weapons to their defense such as Ha Ha Clinton-Dix and Gerald McCoy.
The Cowboys should definitely be considered contenders throughout the league on paper. These moves are all great but now it's time for them to put them to work and show that they are the real deal. They had a more than disappointing 2019-20 season, but these offseason moves could launch them into Super Bowl consideration. As you keep going down the page, you will find the Cowboys odds to win the Super Bowl as well as finding out many ways to bet on Cowboys.
What Are The Odds On The Cowboys To Win The Super Bowl
The Cowboys odds to win the Super Bowl are definitely there, it's just a matter of if they are able to put all of their pieces together or not. There is no doubt that they have the talent to make the Super Bowl and match up against other elite teams, but only time will tell on if they are the real deal or not. Bettors do not have to stay away from betting on them but if you do, you should do so with caution.
Dallas Cowboys Playoff History
| | | |
| --- | --- | --- |
| Playoff Appearances | 33 | 1966, 1967, 1968, 1969, 1970, 1971, 1972, 1973, 1975, 1976, 1977, 1978, 1979, 1980, 1981, 1982, 1983, 1985, 1991, 1992, 1993, 1994, 1995, 1996, 1998, 1999, 2003, 2006, 2007, 2009, 2014, 2016, 2018 |
| Division Championships | 24 | 1966, 1967, 1968, 1969, 1970, 1971, 1973, 1976, 1977, 1978, 1979, 1981, 1985, 1992, 1993, 1994, 1995, 1996, 1998, 2007, 2009, 2014, 2016, 2018 |
| Conference Championships | 10 | 1966, 1967, 1970, 1971, 1975, 1977, 1978, 1992, 1993, 1995 |
| Super Bowl Victories | 5 | 1971 (VI), 1977 (XII), 1992 (XXVII), 1993 (XXVIII), 1995 (XXX) |
| Super Bowl Losses | 3 | 1970 (V), 1976 (X), 1979 (XIII) |
| Super Bowl Winning Quarterbacks | 3 | Craig Morton, Roger Staubach, Troy Aikman |
| Super Bowl Winning Coaches | 3 | Tom Landry, Jimmy Johnson, Barry Switzer |
| Super Bowl MVPs | 6 | Chuck Howley (V), Harvey Martin (XII), Randy White (XII), Troy Aikman (XXVII), Emmitt Smith (XXVIII), Larry Brown (XXX) |
What Are The Cowboys Odds To Win The NFC Championship?
Like their Super Bowl Odds, their odds to win the NFC Championship are pretty high up on the odds board considering the talent that they have to back it up. It is all a wait and see game with "America's Team" at this point. McCarthy is the right man to lead them to a Super Bowl as he has done so with the Packers, but Dak is not Aaron Rodgers. It will be interesting to see how they
What Are The Dallas Cowboys Odds To Win The NFC East?
Luckily for Dallas, they play in possibly the weakest conference in all of the NFC and possibly the league. Their only real threat for the Cowboys' odds to win the NFC East is the Eagles who are looking to be on a decline, but that's a different story. Other than Philadelphia, there is not much competition to offer Dallas as the Giants and Redskins are currently competing for who could lose more games in a season.
Cowboys Betting Odds On The NFL Draft
The Dallas Cowboys have found great success in the NFL Draft and will continue to do so to keep their team successful. For you to be able to bet on the Cowboys draft, you need to create an online sportsbook account where you'll find all of the NFL Draft odds. Get your account ready for the next NFL Draft so you can get in on these odds.
Betting On The Cowboys Projected Win Total
The Dallas Cowboys had an upsetting 8-8 record in the 2019 season and are looking to get over the hump in 2020. The Cowboys projected win total is set at 9.5 wins at online sportsbooks. The Cowboys have higher expectations set on them as they failed to meet expectations last year as well. Hopefully, for bettors taking the over, they will look to turn things around during the 2020 season.
Cowboys Team Prop Bets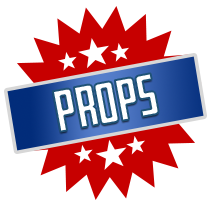 For those Cowboys fans that know their team very well, team prop bets on the Cowboys are the way to go! Although online sportsbooks offer many betting options, team props are very cool and Cowboys fans love it! You can place a bet on how many rushing yards the Cowboys' team will finish the game with as well as many other betting options. This is something that many bettors capitalize on and is advised for others to do the same!
Cowboys Player Prop Bets
There are different ways you can bet in sports. Although you can place your wager on the point spread of the Cowboys' game, there is also a betting option called player props. This is when bettors can bet on a player's performance during a game. For example, Ezekiel Elliot to score three touchdowns. You can bet on if you think he scores more or less, and it may even come with inflated odds depending on what the sportsbook if offering. Looking for Cowboys player prop bets come easy the more you follow the team.