Betting On The Atlanta Falcons To Win The Super Bowl

Here are the best Super Bowl odds for the Atlanta Falcons. The Atlanta Falcons are far removed from their 2017 Super Bowl trip where they fell short to the Tom Brady-led Patriots. The Falcons now find themselves as an ok team with low expectations that now have to face a new Tom Brady-led team in their own division. Not many sports bettors would wager on the Falcons to make it to the Super Bowl in the upcoming 2020-2021 season. Atlanta is coming off of a disappointing 7-9 season that was plagued by injuries and tough losses. Matt Ryan is no longer considered a top-five QB and the Atlanta offense is a middle-tier at best.
Many sports bettors like to know the Super Bowl odds for all teams in the upcoming season so that they can better their chances in the betting halls. Here you can find stats, odds, and history to help you make the best possible wager. The Atlanta Falcons are in the NFC South, so that means they will have to compete with the Saints, Buccaneers, and the Panthers.
How Has The
Coronavirus

Impacted The Atlanta Falcons

The Atlanta Falcons are one of three NFL teams that have not been affected by players opting out due to coronavirus concerns. Despite there being no players opting out, there have been five players placed on their reserve/COVID-19 list. Right now, however, they only have one player out on the list and that is their cornerback A.J. Terrell.

Looking at their fan policy, the did not allow fans at their first two homes games but will begin to allow a limited number of fans at games this season. There have been rumors about there being limited fans allowed at their stadium with a 10,000-20,000-fan limit, but nothing has been set just yet.
Atlanta Falcons Playoff History
| | | |
| --- | --- | --- |
| Playoff Appearances | 14 | 1978, 1980, 1982, 1991, 1995, 1998, 2002, 2004, 2008, 2010, 2011, 2012, 2016, 2017 |
| Division Championships | 6 | 1980, 1998, 2004, 2010, 2012, 2016 |
| Conference Championships | 2 | 1998, 2016 |
| Super Bowl Victories | 0 | |
| Super Bowl Losses | 2 | 1999 (XXXIII), 2017 (LI) |
| Super Bowl Winning Quarterbacks | 0 | |
| Super Bowl Winning Coaches | 0 | |
| Super Bowl MVPs | 0 | |
Betting Trends For The Atlanta Falcons In 2020
The Atlanta Falcons are coming off of their Week 10 bye after defeating the Denver Broncos in Week 9. They have an NFC South matchup with the New Orleans Saints in Week 11 where they are going into the game seen as 4.5-point underdogs. The Falcons have not looked good against the spread this season thus far as they have gone 4-5 with an average margin of -0.7-points. In the Falcons' last five games against an NFC opponent, the Under has gone 4-1. In their last five meetings against the Saints, the Falcons have gone 1-4 against the spread.
Is It Legal To Bet On The Falcons In Georgia?
It is completely legal to bet on the Falcons in Georgia, just not at any land-based sportsbooks as Georgia does not have any regulated sports betting sites just yet. With that being said, there are other options for Falcons bettors to be able to bet as there are tons of online sportsbooks like MyBookie that offer countless NFL odds and prop bets. MyBookie has amazing promotions that they offer to new and existing users that give bettors more funds to bet with.
What Are The Atlanta Falcons Odds To Win The Super Bowl?
The Atlanta Falcons have not had the season that they were hoping for as they are seen as one of the bottom feeders in the league right now. They were actually in a decent position when the season started as their Super Bowl odds opened up at +4000. Soon after the start of the season, NFL sportsbooks realized that they were not able to translate their high-scoring efforts into wins which is why their odds to win the Super Bowl have shot back to +20000.
What Are The Atlanta Falcons Odds To Win The NFC Championship?
Similar to their Super Bowl odds, their odds to win the NFC Championship have taken a significant hit as well as they have gone from +6000 all the way down to +10000. NFC teams are circling the Falcons on their calendars as many consider them to be an easy opponent as they do not defend well at all. That being said, their NFC Championship odds will remain down low.
What are the Atlanta Falcons Odds To Win The NFC South?
Unfortunately for the Falcons, they share their NFC South division with both the New Orleans Saints and the Tampa Bay Buccaneers who are both powerhouses in the league. Aside from that, they have also not been able to capitalize on the Carolina Panthers who are also in their division. Their odds have fallen from +1400 way down to +12500.
Betting On The Atlanta Falcons NFL Draft
Bettors that enjoy watching the Falcons play, can also place bets on how they think the Falcons draft is going to play out. In order for you to bet in the Falcons draft, you would need to sign up with an online sports betting site, as they host the widest range of NFL Draft betting odds. These cover many different aspects of the Falcons draft and the NFL Draft as a whole.
Betting On The Atlanta Falcons Win Total
The Atlanta Falcons finished their 2019 season at a below-average 7-9 record. Online sportsbooks are not expecting a comeback year for them just yet as the Falcons projected win total for the 2020 season is 7.5 wins. This is an exciting bet to follow being that their win total is right on point with their 2019. Only time will tell if they will meet their mark.
2020 Falcons Player Props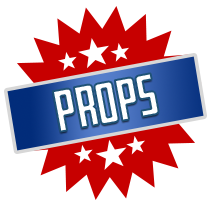 The 2020 Atlanta Falcons are going to need their key players to step up for them to have a successful season. In 2016, the Falcons had one of the most productive offenses in recent history. Now four years later the team is still looking to recreate the magic for that unit but now with different faces. Matt Ryan and Julio Jones are two of the players still left from that 2016 offense and not surprisingly two of the best players on the team. The young receiver Calvin Ridley has joined as a Julio-like target for Ryan along with the newest addition RB Todd Gurley this season.
Matt Ryan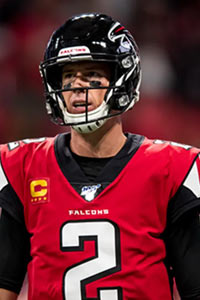 Since his MVP season, Matt Ryan has not significantly dropped in his stats but the numbers have not produced many wins for the team. He has become consistent in looking good on paper but that will not help the teams odd for the Super Bowl. His prop bets are set at 27.5 TDs and 4550.5 passing yards. Last year, he finished with stats just shy of both of those the bet lines.
Julio Jones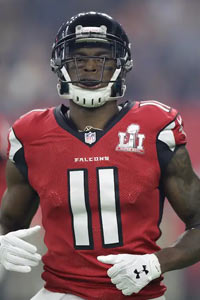 As one of the best receivers in the league, many look for outstanding showings from Julio Jones. Sportsbooks have set his 2020 receiving touchdowns at 6.5 and currently, the over is the favorite( -165). Coming off his lowest receiving yards season since 2013 due to a toe injury, the line is set at 1349.5 yards this season. Jones has only finished the season with less than 1349.5 yards in the first three years of his nine-year career.
Calvin Ridley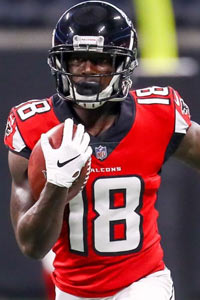 When Calvin Ridley took the field two years ago, he helped draw defenders away from Julio Jones. With a similar build, many expect Ridley to see Jones numbers eventually. He has yet to hit a 1000-yard season but was pretty close last year as he finished with 866 yards after missing three games because of injury. This year will be a bounce-back year for the wideout and the odds have his receiving yards set at 1025.5 yards.
Todd Gurley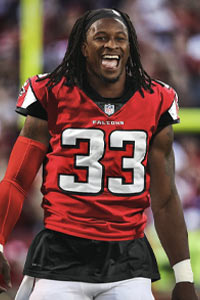 Atlanta released starting running back Devonta Freeman so seems like a sure bet that new addition Todd Gurley will definitely be taking a majority of snaps this season. In the return to the state where he made his name in college, many do not know how well this new scene will play out for him. The odds for his 2020 rushing yard are set at 825.5 yards. The under of 9.5 touchdowns is favorited in his odds for rushing TDs coming off a season where he finished with 12 TDs.
Atlanta Falcons Playoff History
Since the Atlanta Falcons were founded in 1965, they have had their fair share of playoff bouts as they have been able to make the playoffs in 14 different seasons. Of those 14 playoff berths, they have managed 6 division championships and 2 conference championships but have not won any Super Bowls.
Falcons Playoff Appearances
Their first playoff appearance did not come until 13 years after they were established in 1978 under Leeman Bennett. Bennett went on to lead the Falcons to two more playoff appearances in 1980 and 1982. Jerry Glanville then led them to one more playoff appearance in 1991 and they saw one more in 1995 under June Jones. Dan Reeves then took over and led them to two more playoff appearances 1998 and 2002 and then they saw one more in 2004 under Jim Mora. The Mike Smith era then began in 2008 and he led them to four playoff appearances in 2008 and then from 2010-2012. Dan Quinn then took over and led them to the playoffs in 2016-2017.
Falcons Division Championships
The Falcons have not been able to cash in on division championships as they only saw 6 division championships. Their first one came in 1980 under Leeman Bennett. The Dan Reeves era was only able to cash in on one of their two playoff appearances as they saw one division championships in 1998. Their next four division titles came in the 2000s and 2010s with their first one coming in 2004 with Jim Mora, again in 2010 and 2012 with Mike Smith and their most recent one came in 2016 with Dan Quinn.
Falcons Conference Championships
The Falcons have only been able to muscle in two conference championships, in their existence. Their first one came in 1998 with Dan Reeves and their most recent one came in 2016 with Dan Quinn. In 1998 the Falcons took on the Minnesota Vikings where they defeated them with a final score of 30-27 and they did so while playing against the odds as they were seen as 11-point underdogs. In 2016, they took on and defeated the Green Bay Packers with a final score of 44-21. The Falcons took care of business here as they were seen as 6.5-point favorites and won by 23 points.
Falcons Super Bowl Victories
Sadly, for Atlanta, they have not been able to win any Super Bowl during their time in the league but they have been able to make it to the game itself on two occasions given their two conference championships.
Their first appearance was in 1999 for Super Bowl XXXIII. The Falcons were defeated by the Denver Broncos with a finals score of 34-19. They went into the game seen as 7.5-point underdogs and clearly did not cover the spread. They put up 19 points behind the play of their quarterback, Chris Chandler who went for 219 yards and a touchdown.
Their most recent Super Bowl appearance came in 2017 for Super Bowl LI where they were defeated by the New England Patriots with a final score of 34-28. This game could be remembered by the fact that the Falcons were actually up 28-3 at one point and allowed New England to come back and win. Not only did the Falcons lose but they were also unable to cover the spread as they were seen as just 3-point underdogs and lost by 6.