What Are The Atlanta Falcons Odds To Win Super Bowl 58?
The Atlanta Falcons odds for Super Bowl 58 opened at +8000 making it the fourth straight season of +3000 preseason Super Bowl odds or more. Since the 2019 season, the Falcons Super Bowl odds have gone up each year when first opening. The Falcons are also riding on a serious playoff drought as well having missed the last six seasons. They have won the Super Bowl but came close in 1998 and 2016 and even did so both times with +6000 preseason odds or more in both years.
Right here we'll detail everything there is to betting on Super Bowl 58 odds for the Falcons, their NFC Championship odds, odds to win the NFC South, and any other betting angle on them that you could think of. We also lay out for you the history of betting on the Falcons as well as the playoff history behind them.
Arthur Smith hasn't taken the Falcons to the playoffs in his two seasons as coach
Bijan Robinson was selected with the 8th pick in the 2023 NFL Draft
Atlanta has made and lost two Super Bowls
Falcons Playoff Record By Round
Overall: 10-14
Wild Card: 3-4
Divisional Round: 4-6
Conference Championship: 2-2
Super Bowl: 0-2
Atlanta Falcons Playoff History
| | | |
| --- | --- | --- |
| Playoff Appearances | 14 | 1978, 1980, 1982, 1991, 1995, 1998, 2002, 2004, 2008, 2010, 2011, 2012, 2016, 2017 |
| Division Championships | 6 | 1980, 1998, 2004, 2010, 2012, 2016 |
| Conference Championships | 2 | 1998, 2016 |
| Super Bowl Victories | 0 | |
| Super Bowl Losses | 2 | 1999 (XXXIII), 2017 (LI) |
| Super Bowl Winning Quarterbacks | 0 | |
| Super Bowl Winning Coaches | 0 | |
| Super Bowl MVPs | 0 | |
What Are The Atlanta Falcons Odds To Win The NFC Championship?
The Falcons 2023-24 NFC Championship betting lines at +3400 are the second shortest in the conference and the fourth year running that they've opened above +2500 odds. Since the 1998 season, Atlanta has made the NFC Championship game four times and has gone 2-2 throughout those games. It is worth noting that the last three NFC Championship game appearances for the Falcons have all come when they are listed with +1000 or more preseason odds.
What are the Atlanta Falcons Odds To Win The NFC South?
In four of the last six seasons, the Falcons have now finished in third or fourth place in the division. However, the rest of the NFC South is set to be a dumpster fire in the 2023-24 season. That being said, their odds to win the NFC South in 2023-24 opened at +260 which isn't as terrible as a spot that many might think given the lack of competition that is expected in the division. To put it into perspective, all four teams in the division had opening Super Bowl odds of +3500 or more.
2023-24 Atlanta Falcons Betting Odds
Super Bowl: TBD
NFC Championship: TBD
NFC South: TBD
2023-24 Falcons Player Props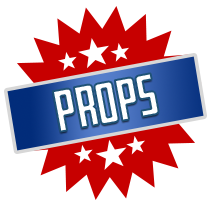 There are several Super Bowl LVIII player prop odds for the Atlanta Falcons both throughout the season and throughout the playoffs if they make it there. You'll be able to find either season total forms where you can bet on total yardage numbers, total touchdowns, and different defensive stats for the season. There are also weekly player props that can be found throughout all of the Falcons games on the season. We'll have listed out for you all of the season total player props once they become available.
2023-24 Falcons Team Props
Team props for the Atlanta Falcons can also be taken anytime in the offseason up until they close sometime in the regular season. Those props consist of team total wins and their odds to make the playoffs or not. Over the last five seasons, the Falcons set win total has dropped and they have still gone 4-1 with the under in that span. They are also on a five-year streak of missing the playoffs every season since 2018. If you were to start with $100 and rollover the profit over the five years on the odds of them missing the playoffs, you'd have $431.39 in profit.
Atlanta Falcons Win Total
Over 7.5 Wins -125
Under 7.5 Wins -105
Atlanta Falcons Odds To Make Playoffs
Atlanta Falcons Betting History
| Year | Super Bowl Odds | NFC Odds | NFC South Odds | Odds to Make Playoffs |
| --- | --- | --- | --- | --- |
| 2023 | +8000 | +3400 | +375 | +165 (TBD) |
| 2022 | +10000 | +5000 | +1200 | +700 (Miss) |
| 2021 | +8000 | +4000 | +800 | +225 (Miss) |
| 2020 | +5000 | +2500 | +1200 | +240 (Miss) |
| 2019 | +3000 | +1500 | +300 | +160 (Miss) |
| 2018 | +1400 | +700 | +180 | -160 (Miss) |
| 2017 | +1600 | +800 | +150 | -130 (Make) |
| 2016 | +8000 | +4000 | +1000 | +315 (Make) |
| 2015 | +4000 | +2000 | +200 | +135 (Miss) |
| 2014 | +6000 | +3000 | +500 | +200 (Make) |
| Year | ATS Records | O/U Records |
| --- | --- | --- |
| 2023 | TBD | TBD |
| 2022 | 9-8 | 7-10 |
| 2021 | 6-10-1 | 7-10 |
| 2020 | 7-9 | 7-9 |
| 2019 | 8-8 | 7-9 |
| 2018 | 5-11 | 9-7 |
| 2017 | 8-10 | 5-13 |
| 2016 | 12-7 | 17-2 |
| 2015 | 6-10 | 2-14 |
| 2014 | 7-9 | 6-10 |
Mobile Betting On The Atlanta Falcons
Atlanta Falcons bettors can bet on them from just about anywhere right from their phone with online sportsbooks like Bovada, BetOnline or MyBookie. This comes in handy if a bettor is at a Falcons game and wants to bet on them right from the stadium. All you would need to do is log into your mobile online Super Bowl sportsbooks and all of their odds will be laid out in front of you similar to how they would be on a computer.
Best Bonuses For Betting On The Falcons
For all NFL sportsbook players that want to wager on the Falcons to win the Super Bowl, there are Super Bowl 58 betting bonuses that can make the potential winnings much larger. When betting with Bitcoin or other cryptos, players can receive up to $1,000 at select online sportsbooks. The best Super Bowl sportsbooks offer bonuses for both new and existing players to help everyone bet and win big on Atlanta. Internationally licensed sportsbooks offer the most lucrative and inclusive bonus betting experience for the Falcons, in Atlanta or anywhere else in the US.
Crypto Bonuses For Falcons Betting
Bovada – $350 welcome bonus, 35% match, 5x rollover
SportsBetting – $1,000 new player bonus, 100% match, 14x rollover
BetOnline – $350 max reload bonus, 35%, match, 8x rollover
Non-Crypto Bonuses For Falcons Betting
Bovada – $250 welcome bonus, 25% match. 5x rollover
SportsBetting – $250 reload bonus,
MyBookie – No max reload bonus amount, 25% match, 10x rollover
BetOnline – $1,000 new player bonus, 50% deposit match, 10x rollover
Limits For Crypto Transactions For Falcons Betting
There are no fees for any transactions through cryptocurrency for betting on the Falcons Super Bowl odds. Crypto deposits process instantly and withdrawals with the currency take 24-48 hours. Bitcoin is the most secure and efficient form of cryptocurrency offered but the limits for all crypto transactions can be found below:
$10 min deposits
$10 min payout
$100,000 max deposit
$500,000 max payouts
$180,000 max weekly payouts
Cryptos Offered For Falcons Betting
Bitcoin (BTC)
Litecoin (LTC)
Bitcoin Cash (BCH)
Ethereum (ETH)
Tether (USDT)
Solana (SOL)
Binance Coin (BNB)
Avalanche (AVAX)
Ripple (XRP)
Shiba Inu (SHIB)
Stellar (XLM)
Tron (TRX)
Chainlink (LINK)
Cardano (ADA)
Polygon (MATIC)
ApeCoin (APE)
Dogecoin (DOGE)
Is It Legal To Bet On The Falcons In Georgia?
You can legally bet on the Falcons in Georgia by using online sportsbooks located outside of the state. This can mean driving to Tennessee to access their online sports betting market, or it can mean using an international online sportsbook such as Bovada or BetOnline from the comfort of your couch. Both of these are entirely legal options in the state of Georgia, and both are options that people use to bet on the Falcons commonly.
Atlanta Falcons Playoff History
Since the Atlanta Falcons were founded in 1965, they have had their fair share of playoff bouts as they have been able to make the playoffs in 14 different seasons. Of those 14 playoff berths, they have managed 6 division championships and 2 conference championships but, over the history of the Super Bowl, the Falcons haven't won any.
Falcons Playoff Appearances
Their first playoff appearance did not come until 13 years after they were established in 1978 under Leeman Bennett. Bennett went on to lead the Falcons to two more playoff appearances in 1980 and 1982. Jerry Glanville then led them to one more playoff appearance in 1991 and they saw one more in 1995 under June Jones. Dan Reeves then took over and led them to two more playoff appearances in 1998 and 2002 and then they saw one more in 2004 under Jim Mora. The Mike Smith era then began in 2008 and he led them to four playoff appearances in 2008 and then from 2010-2012. Dan Quinn then took over and led them to the playoffs in 2016-2017. Arthur Smith has been the coach since 2021 and has yet to take them to the playoffs.
Falcons Division Championships
The Falcons have not been able to cash in on division championships as they only saw 6 division championships. Their first one came in 1980 under Leeman Bennett. The Dan Reeves era was only able to cash in on one of their two playoff appearances as they saw one division championships in 1998. Their next four division titles came in the 2000s and 2010s with their first one coming in 2004 with Jim Mora, again in 2010 and 2012 with Mike Smith and their most recent one came in 2016 with Dan Quinn.
Falcons Conference Championships
The Falcons have only been able to muscle in two conference championships, in their existence. Their first one came in 1998 with Dan Reeves and their most recent one came in 2016 with Dan Quinn. In 1998 the Falcons took on the Minnesota Vikings where they defeated them with a final score of 30-27 and they did so while playing against the odds as they were seen as 11-point underdogs. In 2016, they took on and defeated the Green Bay Packers with a final score of 44-21. The Falcons took care of business here as they were seen as 6.5-point favorites and won by 23 points.
Falcons Super Bowl Victories
Sadly, for Atlanta, they have not been able to win any Super Bowl during their time in the league but they have been able to make it to the game itself on two occasions given their two conference championships.
Their first appearance was in 1999 for Super Bowl XXXIII. The Falcons were defeated by the Denver Broncos with a finals score of 34-19. They went into the game seen as 7.5-point underdogs and clearly did not cover the spread. They put up 19 points behind the play of their quarterback, Chris Chandler who went for 219 yards and a touchdown.
Their most recent Super Bowl appearance came in 2017 for Super Bowl LI where they were defeated by the New England Patriots with a final score of 34-28. This game could be remembered by the fact that the Falcons were actually up 28-3 at one point and allowed New England to come back and win. Not only did the Falcons lose but they were also unable to cover the spread as they were seen as just 3-point underdogs and lost by 6.
1999 NFC Championship Game: The Atlanta Falcons' Largest Playoff Comeback
In the Falcons' over-50 season franchise history, the largest comeback they have ever completed in a playoff game took place on January 17, 1999 in the NFC Championship game against the Minnesota Vikings. The Vikings held a 13 point lead late in the second quarter, when a 14-yard touchdown pass fr om Falcons' quarterback Chris Chandler to Terance Mathis just before halftime brought the lead to just 6 points. The Falcons would outscore the Vikings 20-7 in the second half, with the last 7 of those 20 coming as a result of another touchdown pass from Chandler to Mathis to tie the game with 57 seconds left in regulation. A 38 yard field goal in overtime off the foot of Morten Anderson would seal the largest Falcons playoff comeback in franchise history.