Betting On The Atlanta Falcons To Win The Super Bowl

The Atlanta Falcons are far removed from their 2017 Super Bowl trip where they fell short to the Tom Brady-led Patriots after going into the season with massive +8000 odds to win the championship. Nowadays not many are banking on the Falcons Super Bowl odds as they do not have much going for them. This is the first time they have opened up the season at +10000 preseason odds in 2008 when they had +20000 odds.
The Falcons 2017 Super Bowl run also marks their last playoff appearance. They have a young receiving core made up of Kyle Pitts and Drake London, a Swiss army knife running back in Cordarrelle Patterson, and a young, rookie quarterback in Desmond Ridder. While they might have some trouble with their Super Bowl odds in coming years, if they keep building they could get back to contention.
When looking for the best Falcons Super Bowl odds, be sure to look around a few sportsbooks, as each one will display different odds. The Super Bowl betting sites also offer other futures odds for the Falcons, including odds to win the NFC and even the division.
Falcons Playoff Record By Round
Overall: 10-14
Wild Card: 3-4
Divisional Round: 4-6
Conference Championship: 2-2
Super Bowl: 0-2
Atlanta Falcons Playoff History
| | | |
| --- | --- | --- |
| Playoff Appearances | 14 | 1978, 1980, 1982, 1991, 1995, 1998, 2002, 2004, 2008, 2010, 2011, 2012, 2016, 2017 |
| Division Championships | 6 | 1980, 1998, 2004, 2010, 2012, 2016 |
| Conference Championships | 2 | 1998, 2016 |
| Super Bowl Victories | 0 | |
| Super Bowl Losses | 2 | 1999 (XXXIII), 2017 (LI) |
| Super Bowl Winning Quarterbacks | 0 | |
| Super Bowl Winning Coaches | 0 | |
| Super Bowl MVPs | 0 | |
What Are The Atlanta Falcons Odds To Win The Super Bowl?
The Atlanta Falcons have not seen much playoff success since their most recent Super Bowl run back in the 2016-2017 season. They had a very uneventful 2021-22 season where they finished 7-10 and their Super Bowl odds remained towards the bottom of the odds board for the better part of the season. Looking ahead to the Falcons Super Bowl 57 odds, their odds spiked following the draft after drafting their potential QB1 Desmond Ridder who had the third shortest odds to be the first QB selected and arguably the top receiver in Drake London who sat with +335 odds to be the first WR taken. They saw their odds shorten from the +16500 they were at before drafting.
What Are The Atlanta Falcons Odds To Win The NFC Championship?
Preseason NFC Championship odds are not fond of the Atlanta Falcon's chances to advance to the Super Bowl, giving the Falcons the longest odds to represent the NFC with +10000 odds. The Falcons' +10000 odds are their longest odds to win the NFC since at least 1970, and likely the longest in franchise history.
What are the Atlanta Falcons Odds To Win The NFC South?
The Atlanta Falcons' odds to win the NFC South have lengthened throughout the offseason, shifting from +500 to +1200 following the Calvin Ridley Suspension and then growing all the way to +3500 after the trade of former franchise icon Matt Ryan. The Falcons have not won the division since their NFC South victory back during their Super Bowl run in 2016. Atlanta's division rivals all have shorter odds, with the Tampa Bay Buccaneers outright favorites with -250 odds.
2023 Atlanta Falcons Betting Odds
Super Bowl: +20000
AFC Championship: +10000
AFC East: +3500
Atlanta Falcons ATS Betting History
2021: 6-10-1
2020: 7-9
2019: 8-8
2018: 5-11
2017: 8-10
2016: 12-7
Atlanta Falcons Over/Under Betting History
2021: 7-10
2020: 7-9
2019: 7-9
2018: 9-7
2017: 5-13
2016: 16-2-1
Mobile Betting On The Atlanta Falcons
Atlanta Falcons bettors can bet on their beloved team from just about anywhere right from their phone with online sportsbooks like Bovada, BetOnline or MyBookie. This comes in handy if a bettors is at a Falcons game and wants to bet on them right from the stadium. All you would need to do is log into your online sportsbook account like normal from your phone.
2023 Falcons Player Props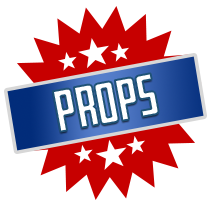 While many question the talent that is on the Atlanta Falcons right now, there are plenty of young, bright pieces to be excited about and oddsmakers have made note of that on different odds boards. Specifically for their tight end, Kyle Pitts, and rookie wide receiver, Drake London. Pitts has +5000 odds to be the league leader in receiving yards while London has +800 odds to win the Offensive Rookie of the Year.
As a rookie last season, Pitts led Atlanta in targets (110) and receiving yards (1,026). The Falcons also parted ways with three players that each totaled 50+ targets last season meaning Pitts should be a busy man. As for London, he was inserted into the WR1 slot on the depth chart. In four of the last five seasons, each of the Falcons WR1 on the depth chart for that season have posted over 1,300 receiving yards and 3+ touchdowns on the season.
2022-23 Individual Player Props – Atlanta Falcons
Kyle Pitts put up 1026 yards and 68 receptions in his rookie campaign. In year two, sportsbooks are not particularly optimistic, expecting Pitts to be used more as a dump-off artist in an ineffective offense. Without Matt Ryan under center, books set season props for Kyle Pitts at 900.5 yards on 71.5 receptions. As such a big target, sportsbooks expect a jump forward in terms of receptions though, considering he might end up as a safety blanket.
Kyle Pitts Season Props
Over 71.5 Receptions (-115)
Over 900 Yards (-125)
Under 71.5 Receptions (-115)
Under 900 Yards (-105)
An interesting wrinkle – Falcons coach Arthur Smith was the Tight Ends coach for Marcus Mariota, the presumed starting QB for the Falcons, back on the Titans in 2015. In that season, Mariota and TE Delanie Walker had a famously great rapport, with Walker racking up more than 1000 yards. With all due respect to Walker, Pitts is a far more talented TE.
Falcons great Roddy White compared him to Tony Gonzalez, saying "I played with Tony Gonzalez, who I consider the best tight end to ever play football, but this guy has everything [Tony] has and more." In this context, with this coach and this quarterback, Pitts' yards over could be a very smart play.
Is It Legal To Bet On The Falcons In Georgia?
You can legally bet on the Falcons in Georgia by using online sportsbooks located outside of the state. This can mean driving to Tennessee to access their online sports betting market, or it can mean using an international online sportsbook such as (* Bovada https://www.bettingsuperbowl.com/bovada-review/ *) or BetOnline from the comfort of your couch. Both of these are entirely legal options in the state of Georgia, and both are options that people use to bet on the Falcons commonly.
Atlanta Falcons Preseason Odds History
| Year: | Super Bowl Odds: | NFC Odds: | NFC South Odds: | Odds To Make Playoffs: |
| --- | --- | --- | --- | --- |
| 2022 | +10000 | +5000 | +1200 | +500 (TBD) |
| 2021 | +8000 | +4000 | +800 | +225 (Miss) |
| 2020 | +5000 | +2500 | +1200 | +240 (Miss) |
| 2019 | +3000 | +1500 | +300 | +160 (Miss) |
| 2018 | +1400 | +700 | +180 | -160 (Miss) |
| 2017 | +1600 | +800 | +150 | -130 (Make) |
| 2016 | +8000 | +4000 | +1000 | +315 (Make) |
| 2015 | +4000 | +2000 | +200 | +135 (Miss) |
| 2014 | +6000 | +3000 | +500 | +200 (Miss) |
| 2013 | +1600 | +850 | +130 | -160 (Miss) |
Atlanta Falcons Playoff History
Since the Atlanta Falcons were founded in 1965, they have had their fair share of playoff bouts as they have been able to make the playoffs in 14 different seasons. Of those 14 playoff berths, they have managed 6 division championships and 2 conference championships but have not won any Super Bowls.
Falcons Playoff Appearances
Their first playoff appearance did not come until 13 years after they were established in 1978 under Leeman Bennett. Bennett went on to lead the Falcons to two more playoff appearances in 1980 and 1982. Jerry Glanville then led them to one more playoff appearance in 1991 and they saw one more in 1995 under June Jones. Dan Reeves then took over and led them to two more playoff appearances 1998 and 2002 and then they saw one more in 2004 under Jim Mora. The Mike Smith era then began in 2008 and he led them to four playoff appearances in 2008 and then from 2010-2012. Dan Quinn then took over and led them to the playoffs in 2016-2017.
Falcons Division Championships
The Falcons have not been able to cash in on division championships as they only saw 6 division championships. Their first one came in 1980 under Leeman Bennett. The Dan Reeves era was only able to cash in on one of their two playoff appearances as they saw one division championships in 1998. Their next four division titles came in the 2000s and 2010s with their first one coming in 2004 with Jim Mora, again in 2010 and 2012 with Mike Smith and their most recent one came in 2016 with Dan Quinn.
Falcons Conference Championships
The Falcons have only been able to muscle in two conference championships, in their existence. Their first one came in 1998 with Dan Reeves and their most recent one came in 2016 with Dan Quinn. In 1998 the Falcons took on the Minnesota Vikings where they defeated them with a final score of 30-27 and they did so while playing against the odds as they were seen as 11-point underdogs. In 2016, they took on and defeated the Green Bay Packers with a final score of 44-21. The Falcons took care of business here as they were seen as 6.5-point favorites and won by 23 points.
Falcons Super Bowl Victories
Sadly, for Atlanta, they have not been able to win any Super Bowl during their time in the league but they have been able to make it to the game itself on two occasions given their two conference championships.
Their first appearance was in 1999 for Super Bowl XXXIII. The Falcons were defeated by the Denver Broncos with a finals score of 34-19. They went into the game seen as 7.5-point underdogs and clearly did not cover the spread. They put up 19 points behind the play of their quarterback, Chris Chandler who went for 219 yards and a touchdown.
Their most recent Super Bowl appearance came in 2017 for Super Bowl LI where they were defeated by the New England Patriots with a final score of 34-28. This game could be remembered by the fact that the Falcons were actually up 28-3 at one point and allowed New England to come back and win. Not only did the Falcons lose but they were also unable to cover the spread as they were seen as just 3-point underdogs and lost by 6.
1999 NFC Championship Game: The Atlanta Falcons' Largest Playoff Comeback
In the Falcons' over-50 season franchise history, the largest comeback they have ever completed in a playoff game took place on January 17, 1999 in the NFC Championship game against the Minnesota Vikings. The Vikings held a 13 point lead late in the second quarter, when a 14-yard touchdown pass fr om Falcons' quarterback Chris Chandler to Terance Mathis just before halftime brought the lead to just 6 points. The Falcons would outscore the Vikings 20-7 in the second half, with the last 7 of those 20 coming as a result of another touchdown pass from Chandler to Mathis to tie the game with 57 seconds left in regulation. A 38 yard field goal in overtime off the foot of Morten Anderson would seal the largest Falcons playoff comeback in franchise history.