Betting On Los Angeles Rams To Win The Super Bowl

With their recent play in the playoffs, betting on the Los Angeles Rams to win the Super Bowl has been a popular bet. They have a very talented receiving group lead by Cooper Kupp and Robert Woods. They have a top tight end in Tyler Higbee and their running game even without Gurley is not all that bad with Malcolm Brown and Darrel Henderson.
The elephant in the room here is Jared Goff. Goff had a decent 2020 season throwing the ball but consistently through picks and got sacked. As you keep going down the page, you will find the chances of the Rams winning the Super Bowl, winning the NFC Championship and winning the NFC West. Readers can also learn where to bet on the Rams and the best odds for NFL lines.
Los Angeles Rams And The Coronavirus
The Rams are only looking at one player that has decided to sit out of the 2020 season and that is offensive tackle, Chandler Brewer. The Rams are also one of very few teams who have yet to place any players on their COVID/reserve list at all throughout the season thus far. The Rams announced on August 25 that they will not be allowing fans at any of their games in their new stadium. Looking at season ticket holders, those who purchased them will have them pushed to the 2021 season.
Los Angeles Rams Playoff History
| | | |
| --- | --- | --- |
| Playoff Appearances | 29 | 1945, 1949, 1950, 1951, 1952, 1955, 1967, 1969, 1973, 1974, 1975, 1976, 1977, 1978, 1979, 1980, 1983, 1984, 1985, 1986, 1988, 1989, 1999, 2000, 2001, 2003, 2004, 2017, 2018 |
| Division Championships | 17 | 1945, 1949, 1967, 1969, 1973, 1974, 1975, 1976, 1977, 1978, 1979, 1985, 1999, 2001, 2003, 2017, 2018 |
| Conference Championships | 7 | 1950, 1951, 1955, 1979, 1999, 2001, 2018 |
| Super Bowl Victories | 1 | 2000 (XXXIV) |
| Super Bowl Losses | 3 | 1980 (XIV), 2002 (XXXVI), 2019 (LIII) |
| Super Bowl Winning Quarterbacks | 1 | Kurt Warner |
| Super Bowl Winning Coaches | 1 | Dick Vermeil |
| Super Bowl MVPs | 1 | Kurt Warner (XXXIV) |
Betting On The Rams In California
Unfortunately, for those looking to bet on the Los Angeles Rams while in the state of California, there are no land-based sportsbooks available being that sports betting is not yet regulated. However, there are online sports betting options available with sites like MyBookie. This is easily one of the best online sportsbooks that it is available. They are very safe and very reliable and also offer great NFL betting odds on the Los Angeles Rams.
Los Angeles Rams Betting Trends To Know
The Los Angeles Rams were the winners of their sixth game on the season in Week 10 as they defeated their division rivals, the Seattle Seahawks 23-16 and had no problems covering their favored 3-point spread. The Rams are heading into Week 11 seen as 3.5-point underdogs as they are taking on the 7-3 Tampa Bay Buccaneers. The Rams are in dead last in the league when it comes to hitting the Over for the point total as they have gone 2-7 when hitting the Over this season. However, they have gone 4-1 against the spread in their last five games as a road underdog. In their last six meetings with the Buccaneers in Tampa Bay, the Under has gone 5-1.
What Are Los Angeles Rams Odds To Win The Super Bowl?
The Rams have gotten off to a better start than they were hoping for as they remain undefeated thus far. That has certainly made their Super Bowl odds shorter going from +5000 to open up the season down to +2200. This is a huge jump and should be taken seriously as they clearly have the talent to compete with the rest of the league both on the offensive and defensive end.
What Are the Los Angeles Rams Odds To Win The NFC Championship?
The Rams have cut their NFC Championship odds in half going from +2000 odds to open the season down to +900. The huge cut comes with their recent success to start off the season and how they have proven to match up with the rest of the NFC teams. If they can keep this up, they would be looking at even shorter odds in no time.
What Are The Los Angeles Rams Odds To Win The NFC West?
The Rams are in arguably the toughest division in all of the NFL as they share it with the Seattle Seahawks who have the shortest odds as well as the Super Bowl runner ups, the San Francisco 49ers. They also share it with the Arizona Cardinals who are a hot team as well. Their odds are currently the second-shortest in the division at +350 and have the potential to contend with Seattle.
Betting On The Rams NFL Draft
Even though there are some great licensed-sportsbooks, they are not allowed to offer betting lines on any NFL event that is not a football game. However, that does not mean bettors can't bet on the NFL draft. Betting on the Rams draft decisions would have to be done via an online sportsbook. Online betting sites have all those crazy props up when you log in.
Los Angeles Rams Projected Win Total
Odds favor the Rams to finish with more than 8 wins again this season but this team has a higher ceiling than that. The defense is still pretty good and young so this team could be around for a long time. With the Rams projected to finish at the .500 level, bettors can find see if the Jeff Fisher mindset is still in town. Online betting sites can have varied odds, so be sure to shop lines and find the best opportunity.
2020 Rams Player Props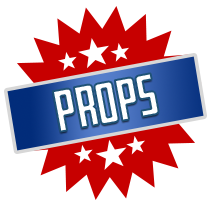 The Rams 2019 season took a turn for the worst just one season after they were runner ups in the Super Bowl. They finished last season at a mediocre 9-7 and what is even more concerning is that they did manage to keep most of their team intact. A couple of the bright spots that are on this team right now are Jarred Goff under center and Cooper Kupp as the lead receiver.
Cooper Kupp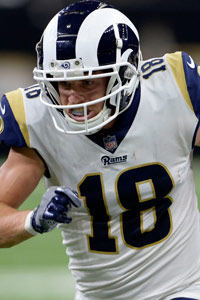 Kupp had himself a breakout season during his third year in the league as he was able to go for 1,161 receiving yards, 10 touchdowns which was good for second in the league and 94 receptions. Online NFL betting sites have Kupp coming out with another strong year in 2020 with his season totals set at 1099.5 yards on 89.5 receptions which are both even along with 7.5 touchdowns with the over favored.
Jarred Goff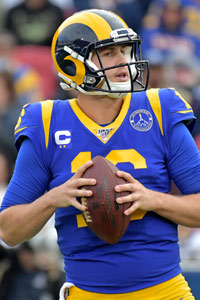 Goff had an alright season as he was incredible when it came to throwing the ball as he threw for 4,638 yards which was the third-most in the league to go along with 22 touchdowns but he did also throw for 16 interceptions. Online betting sites are expecting him to take a bit of a step back in the passing yards as his season total is set at 4350.5 with the under favored and 24.5 touchdowns with the over favored.
Los Angeles Rams Playoff History
The Los Angeles Rams are no strangers to playing playoff football since they were made an official team in 1936. The Rams have seen 29 different playoff appearances in their existence which includes 17 divisional championships, 7 conference championships and 1 Super Bowl victory under 12 different head coaches.
Rams Playoff Appearances
The first of the Rams 29 playoff berths did not come until nine years later in 1945 under coach Adam Walsh. From 1945 to 1955, the Rams managed to make the playoffs six different times with four different coaches including Walsh, Clark Shaughnessy in 1949, Joe Stydahar from 1950-1952 and Hamp Pool in 1955. They made two more in the 60s (1967-1969) with George Allen calling the plays. The Rams playoff dynasty really took off from 1970-1990 as they piled up 14 playoff appearances in those 20 years under just three different coaches including Chuck Knox, Ray Malavasi and John Robinson. Their first came in 1973 and they ended this run in 1989. Their next playoff appearance did not come until 10 years later in 1999 with Dick Vermeil. In the 2000s and 2010s, the Rams only made the playoffs six times with four in the 2000s era and two in the 2010s with their most recent one coming in 2018.
Rams Division Championships
Of the Rams 29 playoff appearances, they have been able to claim 17 of them as division champions. Their first two-division championships came in their first two playoff appearances in 1945 and 1949 and the next two did not come until 1967 and 1969 with George Allen. They really took off in the 70s as they won seven straight division championships from 1973-1979 with Chuck Knox at the helm for the first five and Ray Malavasi for the final two. The 80s and 90s saw just two more division championships (1985, 1999) under John Robinson and Dick Vermeil. The 2000s and 2010s era only saw four combined division championships in 2001, 2003, 2017 and 2018 under Mike Martz and their current coach, Sean McVay.
Rams Conference Championships
The Rams were able to convert 7 of their 17 division championships into conference championships with their first three coming in the 50s (1950, 1951, 1955) under Joe Stydahar and Sid Gillman. They did not win their fourth one until 1979 while their fifth was in 1999. In 2001, they saw their sixth with Mike Martz and their most recent one came in 2018 with Sean McVay.
Rams Super Bowl Victories
Many would think that with their years of playoff experience, that they would have been able to turn more than just one of those years into a Super Bowl championship. The Rams only Super Bowl win came in the year 2000 for Super Bowl XXXIV in the Dick Vermeil era. They defeated the Tennessee Titans in the game with a final score of 23-16. Going into the game The Rams were seen as 7-point favorites and did just that as they pushed the spread winning by 7-points. Kurt Warner was named the Super Bowl MVP after an unbelievable performance putting up 414 yards and two touchdowns.