Betting On Tampa Bay Buccaneers To Win The Super Bowl

Betting on the Tampa Bay Buccaneers to win the Super Bowl used to sound like a dream. This year, it has become a reality. They made the biggest signing of the 2020 offseason as they brought in the greatest quarterback of all-time in Tom Brady. This is a huge move for them and has made their odds to win Super Bowl 55 skyrocket. In signing Brady, they've moved on from Jameis Winston who had a confusing season last year as he led the league in interceptions but also in touchdowns and passing yards. With Brady now serving under center, he could very well put up similar numbers without that many interceptions being that he has one of the best-receiving duos in the league with Mike Evans and Chris Godwin.
The only thing that Tampa Bay lacks in order to really push them over the top is their ground attack. Ronald Jones II serves as the lead back in front of Dare Ogunbowale… This is by no means a run game that is up to NFL standards. Ogunbowale only got 11 touches last year for 17 yards and is not ready to step into a larger role. People might be quick to put all the blame on Winston for his performance, but it also falls on the front office in Tampa for not going out and securing NFL caliber running backs. Not to downplay Brady at all, but without a running game, they are setting him up for failure. As you keep reading you will find Tampa Bays chances at winning their conference, division and Super Bowl.
Tampa Bay Buccaneers Playoff History
| | | |
| --- | --- | --- |
| Playoff Appearances | 10 | 1979, 1981, 1982, 1997, 1999, 2000, 2001, 2002, 2005, 2007 |
| Division Championships | 6 | 1979, 1981, 1999, 2002, 2005, 2007 |
| Conference Championships | 1 | 2002 |
| Super Bowl Victories | 1 | 2003 (XXXVII) |
| Super Bowl Losses | 0 | |
| Super Bowl Winning Quarterbacks | 1 | Brad Johnson |
| Super Bowl Winning Coaches | 1 | Jon Gruden |
| Super Bowl MVPs | 1 | Dexter Jackson (XXXVII) |
Tampa Bay Buccaneers And
COVID-19
The Tampa Bay Buccaneers have just offensive tackle, Brad Seaton choose to sit out of the 2020 season. Aside from Seaton, there are two other players that are currently on the teams' COVID-19/reserve list. As for fans attending Raymond James Stadium, no fans will be allowed at their first two games but the team will look into the rest of the season. There has been no decision made yet for season ticket holders but the team has made it known that they will only be selling single-game tickets.
Where To Bet On The Buccaneers In Florida?
When looking at options to bet on the Tampa Bay Buccaneers in Florida, there aren't any land-based sportsbooks but there are plenty of online NFL sportsbooks to take a look at. One of the best online sportsbooks that there is available to Florida bettors is MyBookie. They have some of the best NFL odds on the Buccaneers to offer which includes countless prop bets and other betting lines. They also have a bunch of promotions for new and existing users to take a look at and choose the one that would best benefit them.
Betting Trends For The Tampa Bay Buccaneers in 2020
The Buccaneers were handed a loss in Week 12 of the season to the defending Super Bowl champions, the Kansas City Chiefs. The final score of the game was 27-24 and the Bucs went into the game with a 3-point underdog spread in which they pushed. Tampa Bay is going into Week 13 with a bye where they will look to learn from their mistakes as they prepare for the Minnesota Vikings. Looking at how they have done against the spread this season, the Buccaneers have gone an average 6-6 ATS and with an average point margin of 1.7-points. As for how they have done hitting the Over for their point total, they have gone 7-5.
What Are Tampa Bay Buccaneers Odds To Win The Super Bowl?
The Buccaneers started off the season rough but have since gotten the ball rolling. They opened up the season at +1600 Super Bowl odds and have since made their way up to +1100 behind the hot play of Tom Brady which is good for the fifth shortest odds. As long as the Bucs could continue to play at a high level, their Super Bowl odds will stay right at the top.
What Are The Tampa Bay Buccaneers Odds To Win The NFC South?
The Buccaneers odds to win the NFC South are the second shortest in the division behind just the New Orleans. Luckily for the Buccaneers, the Saints are their only real competition in the division as they are followed by just the Atlanta Falcons who cant convert their scoring into wins and the Carolina Panthers who are entering a rebuild.
NFL Draft Betting: Buccaneers
Since the NFL draft is an event that does not surround the game, licensed-sportsbooks are not allowed to post betting odds on the draft. However, online sportsbooks can post any betting props on Bucs draft plans and fans need to join and get ready for this great weekend. Teams panic and trade back for more picks or for the person they have targeted the whole day. NFL draft betting has options like this that are available all over the online betting sites. Bucs fans should tune in on where they can earn some winnings.
What Are The Tampa Bay Buccaneers Odds To Win The NFC Championship?
The Tampa Bay Buccaneers odds to win the NFC Championship are right where NFL bettors might have expected them to be as they are fourth on the odds board at +550. They obviously have what it takes to compete with the teams in the NFC but need to work on their chemistry if they want to make a run at the NFC Championship.
What Are The Tampa Bay Buccaneers Odds To Win The NFC South?
The Buccaneers are owners of the shortest odds in the NFC South at -110 as they have been playing at an elite level behind Tom Brady and the rest of this Buccaneers offense. Their only real threat here in the division are the New Orleans Saints who are dealing with injuries themselves right now.
2020 Buccaneers Player Props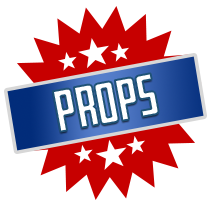 The Tampa Bay Buccaneers have completely turned their team around after a rough 2019 season. The biggest news for the team was the arrival of Tom Brady along with Rob Gronkowski. Adding them to the mix of Chris Godwin and Mike Evans creates a lethal offense.
Tom Brady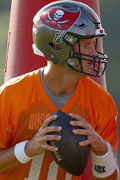 At 43 years old, Tom Brady is still managing to put up remarkable numbers in his career. Brady put up 4,057 yards which were good for top ten in the league, 24 touchdowns and eight interceptions. NFL betting sites have Brady getting off to a hot start in his first year in Tampa with 4225.5 yards and 29.5 touchdowns with both favored over along with 10.5 interceptions with the under favored.
Rob Gronkowski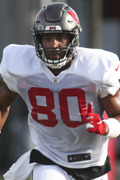 In his return to the NFL, there are high hopes for the 31-year old Gronk. In his last season in 2018, he was able to put up 682 yards and three touchdowns in just 13 games. Online betting sites are continuing to have high expectations for Gronk at 599.5 yards and 5.5 touchdowns with both of them favored over.
Chris Godwin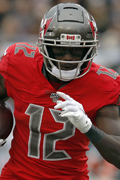 Chris Godwin put on a clinic in his 2019 campaign as he marked himself as one of the top receivers in the NFL. Godwin muscled in 1,333 yards and nine touchdowns, both of which are top five in the league. NFL online betting sites have the bar set high for him in 2020 with his season totals at 1200.5 yards and 8.5 touchdowns.
Mike Evans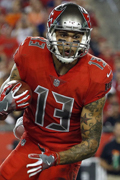 Mike Evans remains the lead receiver on a high-powered Buccaneers offense. Evans pulled in 1,157 yards to go along with eight touchdowns which was good for top ten in the league. Online NFL sportsbooks have his season totals set at 1150.5 receiving yards and 8.5 touchdowns with both favored under.
Tampa Bay Buccaneers Playoff History
Dating back to when the Tampa Bay Buccaneers became an established NFL team in 1976, they have found themselves in the postseason a number of times. They have managed to make the playoffs 10 different times. Of those 10 playoff berths, they have pulled in six division titles, one conference championship and one Super Bowl victory.
Buccaneers Playoff Appearances
The Buccaneers have managed to make the playoffs in 10 of their 44 seasons as an NFL team. John McKay led them to their first three playoff appearances with their first one coming in 1979 and again in back to back years in 1981-1982. They then went on a 15-year playoff drought that ended in 1997 under Tony Dungy who led them to four playoffs including 1997 and 1999 as well as 2000-2001. Their last three playoff appearances came in the John Gruden era as he led them to the playoffs in 2002, 2005 and 2007 which is their last appearance.
Buccaneers Division Championships
Of the Bucs 10 playoff appearances, six of them have been division championships. Their first two division titles came under John Mckay in 1979 and 1981. After McKay's stint as the coach, Tony Dungy led them to one more 18 years later in 1999. Then, when John Gruden was the coach, he led them to three more in 2002, 2005 and 2007.
Buccaneers Conference Championships
Of the three coaches that have led the Buccaneers to the playoffs, only John Gruden has been able to lead them to a conference championship win in 2002 where he had Brad Johnson under center. The Bucs took down the Philadelphia Eagles in the game with a final score of 27-10. They did so in underdog fashion as they went into the game being seen as 4-point underdogs.
Buccaneers Super Bowl Victories
The Tampa Bay Buccaneers have just one Super Bowl victory backing them up and that came in 2003 for Super Bowl XXXVII. They faced off with the then, Oakland Raiders, and took care of business in blow out fashion as they finished the game with a final score of 48-21. The Buccaneers actually went into the game being seen as 3.5-point underdogs and clearly covered the spread. Dexter Jackson was named the Super Bowl MVP after he had two interceptions for 34 return yards, one pass deflection, and three total tackles.