Super Bowl 58 Odds For The Tampa Bay Buccaneers

Super Bowl 58 oddsmakers have lost all hope on the Tampa Bay Buccaneers after officially losing Tom Brady to retirement with their opening odds at +8000. The Buccaneers are on a terrible trend since 2010 as they've opened with +8000 or more odds eight times since then and have seen their Super Bowl odds get pulled from contention by Week 14. To make matters even worse, in the 2022-23 season, their +750 opening odds rose all the way to +3000 prior to the playoffs where they were eliminated in the Wild Card Round.
Anything that there is to know about betting on the Super Bowl 58 odds for the Tampa Bay Buccaneers will be given to you on this page. Not only will we show you what their futures odds are to win the NFC South and the NFC Championship, but we'll get into their odds history as well. We'll also show you how to go about betting on the Buccaneers and the guidelines you'll need to follow when doing so.
Buccaneers Playoff Record By Round
Overall: 10-11
Wild Card: 2-6
Divisional Round: 4-3
Conference Championship: 2-2
Super Bowl: 2-0
Tampa Bay Buccaneers Playoff History
| | | |
| --- | --- | --- |
| Playoff Appearances | 13 | 1979, 1981, 1982, 1997, 1999, 2000, 2001, 2002, 2005, 2007, 2020, 2021, 2022 |
| Division Championships | 8 | 1979, 1981, 1999, 2002, 2005, 2007, 2021, 2022 |
| Conference Championships | 2 | 2002, 2020 |
| Super Bowl Victories | 2 | 2003, 2021 |
| Super Bowl Losses | 0 | |
| Super Bowl Winning Quarterbacks | 2 | Brad Johnson, Tom Brady |
| Super Bowl Winning Coaches | 2 | Jon Gruden, Bruce Arians |
| Super Bowl MVPs | 2 | Dexter Jackson (XXXVII), Tom Brady (LV) |

BOVADA RATING
Safety + Security:  

Reliability:  

Customer Service:  

Payout Times:  

Bonuses:  
Bovada
Live Betting on the Bucs
When betting on the Bucs live, Bovada offers moneyline betting, spread betting, total wagers, props, and much more. All of these different types of bets have odds that change as the game progresses, and Bovada updates the odds in real-time. Because the Bucs have been preseason favorites for the Super Bowl and the NFC and outright favorites to take the South, there can be more value in a live bet for the Bucs to make a second-half comeback.  Bovada makes live betting on the Bucs simple and profitable for players in all states.

BETONLINE RATING
Safety + Security:  

Reliability:  

Customer Service:  

Payout Times:  

Bonuses:  
BetOnline
Buccaneer Betting With Bitcoin
Between future betting, live betting, or placing wagers on the Bucs game on a Sunday afternoon before kickoff, BetOnline offers deposit methods into the sportsbook with 17 different cryptocurrencies. Bitcoin is the most efficient method for deposits at BetOnline but all of the cryptos have no fees attached and can be processed instantly. The online sportsbook allows deposits up to $500,000 and a minim of $20 for betting on the Bucs each week of the NFL season. There are no fees added for large or consistent deposits with the secure sportsbook.

Safety + Security:

Reliability:

Customer Service:

Payout Times:

Bonuses:
MyBookie
Weekly Deposit Bonuses
With a minimal rollover requirement of 6x, MyBookie offers a sports-reload bonus for all of their NFL players that have previously deposited into the sportsbook. This bonus requires a minimum deposit of $100 and is a 25% deposit match that has no limit for the max bonus that can be redeemed. With no limit for how much can be received through bonus credit, players can put plenty of skin in the game for every week of the Tampa Bay Bucs regular season. This bonus also has no restrictions on the number of times it can be redeemed, allowing a bankroll boost every NFL Sunday.
What Are the Tampa Bay Buccaneers Odds To Win the NFC Championship?
Tampa Bay opened with +3500 odds to win the NFC Championship which is on par with where they were prior to the 2020 season. From 2020 to 2022, the Bucs were able to claim one NFC Championship and opened with under +500 odds in all three years. However, all of those competitive seasons came with Tom Brady under center. Prior to 2020 without Tom Brady, they opened with over +2000 odds in 12 seasons since 2008.
What Are The Tampa Bay Buccaneers Odds To Win The NFC South?
The Tampa Bay Buccaneers opened with the longest odds to win the NFC South at +375. These are their longest opening odds in the last four seasons. They did win the last two division titles with -250 odds or better. From 2002 to 2009, the Buccaneers claimed three division titles where two of them did come at over +375 opening odds. With the loss of Tom Brady though, it is hard seeing them becoming a real threat to win the division anytime soon.
2023-24 Buccaneers Betting Odds
Tampa Bay Buccaneers ATS Betting Trends
2022: 4-13-1
2021: 10-9
2020: 12-8
2019: 5-9-2
2018: 7-7-2
2017: 6-9-1
2016: 9-7
Tampa Bay Buccaneers Over/Under Betting Trends
2022: 6-12
2021: 10-9
2020: 11-9
2019: 12-4
2018: 9-7
2017: 8-8
2016: 7-8-1
2023-24 Buccaneers Player Prop Odds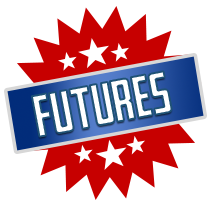 There are hundreds of Buccaneers player prop odds that are available to you all season long and you can bet on them either every game of the season or through season-long form as well. Regardless of which you choose, you can bet on players totals for touchdowns, passing yards, sacks, receptions, and interceptions just to name a few. Different season-long player props for the Buccaneers will be found here when they go live.
2023-25 Tampa Bay Buccaneers Team Props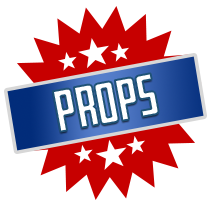 Similar to player prop odds, there are plenty of team prop bets on the Buccaneers available as well both in all of their games and others that span throughout the season. The season team props include odds to make or miss the playoffs and their projected win total. The Bucs made the playoffs in each of their last three seasons with two of them having -600 odds to do so. They hit the over on their team win total in three of the last four seasons, however, they are coming off of an under season in 2022-23.
Tampa Bay Buccaneers Odds History
| Year: | Super Bowl Odds: | NFC Odds: | NFC South Odds: | Odds To Make Playoffs: |
| --- | --- | --- | --- | --- |
| 2023 | +750 | +350 | -300 | TBH |
| 2022 | +750 | +350 | -300 | -600 (Make) |
| 2021 | +700 | +300 | -200 | -650 (Make) |
| 2020 | +1000 | +500 | +175 | -200 (Make) |
| 2019 | +10000 | +5000 | +1600 | +500 (Miss) |
| 2018 | +30000 | +15000 | +2500 | +600 (Miss) |
| 2017 | +4000 | +2000 | +250 | +150 (Miss) |
| 2016 | +8000 | +4000 | +750 | +310 (Miss) |
| 2015 | +10000 | +5000 | +700 | +500 (Miss) |
| 2014 | +10000 | +5000 | +800 | +380 (Miss) |
| 2013 | +5000 | +2500 | +550 | +260 (Miss) |
Tampa Bay Buccaneers Odds History
| Year | ATS Records | O/U Records |
| --- | --- | --- |
| 2023 | TBD | TBD |
| 2022 | 4-13-1 | 6-12 |
| 2021 | 10-9 | 10-9 |
| 2020 | 12-8 | 11-9 |
| 2019 | 5-9-2 | 12-4 |
| 2018 | 8-7-1 | 9-7 |
| 2017 | 6-9-1 | 8-8 |
| 2016 | 9-7 | 7-8-1 |
| 2015 | 7-9 | 9-7 |
| 2014 | 7-9 | 5-11 |
Mobile Betting On The Tampa Bay Buccaneers
Those looking to lay action on the Buccaneers have it very easy. Mobile betting with online sportsbooks like Bovada, BetOnline and MyBookie makes betting on the Buccaneers very entertaining. Bettors can place bets on just about anything they can think of including Buccaneers game lines, futures odds, game props and player props. Bettors can even take a look at tons of different promotions and bonuses that they have to offer as well. While no Florida mobile sportsbooks exist that are state-regulated, the online sites will service betting on the Bucs without any issues.
Best Deposit Methods For Tampa Bettors
For all Tampa Bay Bucs bettors in the 813 area and beyond, there are deposit methods that are both easy and fast for funding an online betting account. With sportsbooks having odds for the Bucs' Super Bowl futures and NFC futures, it is always beneficial to have a funded bankroll. Depending on the sportsbook chosen, there are crypto deposit options that have no fees. Along with crypto, the limit for all of the various deposit methods can be found below:
Bovada Deposit Limits
Crypto ($10 min, $5,000 max)
Credit Cards ($20 mi, $1,500 max)
Bank Transfer ($50 min, $450 max)
MatchPay ($20 min, $1,000 max)
Fast Payouts For Bucs Bettors
Whether betting on Tom Brady to bring another Super Bowl to Tampa or for the team to win the NFC South, there are withdrawal methods that guarantee fast and secure transactions. Crypto can be used for the best payout experience, offering same-day transactions with Bitcoin and no fees. There are still other trusted methods for requesting payouts and the limits can be found below:
Bovada Payout Limits
Crypto ($10 min, $9,500 max)
Bank Transfer ($1,500 min, $9,500 max)
Check By Courier ($100 min, $3,000 max)
MatchPay ($20 min, $1,000 max)
Cryptos Offered At Bovada
Bitcoin is the most efficient crypto offered at Bovada and most other crypto Super Bowl betting sites because the currency typically has the widest range of limits. For Bovada betting, the sportsbook allows up to $9,500 payouts every 15 minutes. Bitcoin provides the largest weekly payout limit at Bovada at $180,500 total. All of the other cryptos found below have a weekly payout limit of $2,500.
Bitcoin (BTC)
Bitcoin Cash (BCH)
Bitcoin SV (BSV)
Ethereum (ETH)
Tether (USDT)
Litecoin (LTC)
Best Bonuses For Betting On The 2024 Bucs
No matter if the Bucs are on top of the odds boards with the shortest Super Bowl 58 odds or they have faced a few losses and have long odds to make a playoff run, Super Bowl bettors can still receive great value for Bucs betting with online bonuses. When depositing with sportsbooks like Bovada or BetOnline, there are bonus options that go up to $1,000 for new bettors and $350 for all players that have deposited not the sportsbook in the past. These bonuses make figure SB wagers even more profitable and exiting for betting on the 2023 Bucs.
Best Bucs Bonuses
| Sportsbook: | Bonus Name: | Max Credit: | Min Required Deposit: | Rollover: |
| --- | --- | --- | --- | --- |
| Bovada | New Player | $750 | NA | 5X |
| BetOnline | New Crypto Player | $1,000 | $20 | 14x |
| MyBookie | Sports Reload | No Limit (25% match) | $100 | 6x |
Tampa Bay Buccaneers Super Bowl Winning Quarterbacks
The Tampa Bay Buccaneers have been in just one other Super Bowl aside from Super Bowl 55. The Buccaneers' first Super Bowl appearance was back in 2003 for Super Bowl 37 where Brad Johnson was the winning quarterback that led the Buccaneers to a 48-21 win over the then, Oakland Raiders. Johnson led the Bucs with 215 passing yards and two touchdowns in the win, however, Johnson finished with the sixth-worst completion percentage in Super Bowl history at 52.94%. On a brighter note, he is one of just nine quarterbacks in Super Bowl history to not take a sack in the game!
Where To Bet On The Buccaneers In Florida?
The Tampa Bay Buccaneers brought back Tom Brady, and that caused a frenzy of Bucs betting in TB. That betting was done almost entirely via international sportsbooks such as BetOnline and MyBookie. These sportsbooks are the best option for Bucs fans, as they're the only sportsbooks anyone can access in Tampa Bay. Since Florida's attempt to regulate sports betting via a compact with the Seminole Tribe went belly-up, bettors have returned to these international sportsbooks in droves.
Hard Rock Sportsbook
Seminole Hard Rock Hotel & Casino Hollywood, FL
 Seminole Hard Rock Hotel & Casino Tampa, FL
Tampa Bay Buccaneers Playoff History
Dating back to when the Tampa Bay Buccaneers became an established NFL team in 1976, they have found themselves in the postseason several times. They have managed to make the playoffs 13 different times. Of their playoff berths, eight of them came as NFC South champions, two as NFC Champions, and have won two Super Bowls.
Buccaneers Playoff Appearances
The Buccaneers have managed to make the playoffs in 12 of their 44 seasons as an NFL team. John McKay led them to their first three playoff appearances with their first one coming in 1979 and again in back-to-back years in 1981-1982. They then went on a 15-year playoff drought that ended in 1997 under Tony Dungy who led them to four playoffs including 1997 and 1999 as well as 2000-2001. Their last three playoff appearances came in the John Gruden era as he led them to the playoffs in 2002, 2005, and 2007. Their latest playoff appearances from 2020-2022 are shared between Bruce Arians and Todd Bowles, both with Tom Brady at QB.
Buccaneers Division Championships
Of the Bucs 13 playoff appearances, seven of them have been division championships. Their first two division titles came under John Mckay in 1979 and 1981. After McKay's stint as the coach, Tony Dungy led them to one more 18 years later in 1999. Then, when John Gruden was the coach, he led them to three more in 2002, 2005, and 2007. Bruce Arians and Todd Bowles have led them to one more each in 2021 and 2022.
Buccaneers Conference Championships
Of the three coaches that have led the Buccaneers to the playoffs, only John Gruden has been able to lead them to a conference championship win in 2002 where he had Brad Johnson under center. The Bucs took down the Philadelphia Eagles in the game with a final score of 27-10. They did so in underdog fashion as they went into the game being seen as 4-point underdogs. They won their second NFC Championship in 2020 for the first time under Bruce Arians.
Buccaneers Super Bowl Victories
The Tampa Bay Buccaneers have won two Super Bowls with their first one coming back in 2003 at Super Bowl XXXVII when they defeated the Oakland Raiders 48-21. The Buccaneers actually went into the game being seen as 3.5-point underdogs and clearly covered the spread. Dexter Jackson was named the Super Bowl MVP after he had two interceptions for 34 return yards, one pass deflection, and three total tackles. Their second Super Bowl came in 2020 for Super Bowl LV where the Buccaneers took down the Kansas City Chiefs 31-9 after being seen as underdogs once more but this time at 3 points. It was Tom Brady who walked away with the MVP of the game after going for 201 passing yards and three touchdowns.
2000 NFC Divisional Round: Buccaneers Complete Their Largest Playoff Comeback
The largest playoff deficit the Buccaneers have ever overcome was just 13 points on January 15, 2000 against the Washington Redskins in the NFC Divisional Round. The Redskins cruised to a 13-0 lead in the third quarter, spurred on by an impressive 100-yard kickoff return touchdown by Brian Mitchell on the second half kickoff. After though, the Buccaneers scored two unanswered touchdowns starting down 13-0. The second of these, a 1-yard touchdown pass from Shaun King to John Davis, put the Buccaneers ahead 14-13 and completed the largest playoff comeback in Buccaneers history.