Betting On Tampa Bay Buccaneers To Win The Super Bowl

Betting on the Tampa Bay Buccaneers to win the Super Bowl used to sound like a dream to many. However, that dream has become a reality as the Buccaneers have added a second Super Bowl championship to their resume in 2021 for Super Bowl 55. Being that they are now the defending Super Bowl champions, they have opened up as one of the favorites to win Super Bowl 56.
With Tom Brady now in his second season with the Tampa Bay Buccaneers, they will look to keep on adding to their 12 playoff appearances, seven division championships and two conference championships as well. They should have no problems doing so with an elite receiving group in Mike Evans and Chris Godwin and a premier run game led by Leonard Fournette. They also have one of the best defenses in the league as well that ranked in the top five in numerous categories.
For those who are looking for the different Tampa Bay Buccaneers odds, they can all be found below. Bettors can find the Buccaneers Super Bowl odds, odds to win the NFC Championship and even their futures odds to win the NFC South division. There are also different odds here such as their NFL Draft odds and even some player prop bets to take a look at as well.
Buccaneers Playoff Record By Round
Overall: 10-9
Wild Card: 2-5
Divisional Round: 4-2
Conference Championship: 2-2
Super Bowl: 2-0
Tampa Bay Buccaneers Playoff History
| | | |
| --- | --- | --- |
| Playoff Appearances | 12 | 1979, 1981, 1982, 1997, 1999, 2000, 2001, 2002, 2005, 2007, 2020, 2021 |
| Division Championships | 7 | 1979, 1981, 1999, 2002, 2005, 2007, 2021 |
| Conference Championships | 2 | 2002, 2020 |
| Super Bowl Victories | 2 | 2003, 2021 |
| Super Bowl Losses | 0 | |
| Super Bowl Winning Quarterbacks | 2 | Brad Johnson, Tom Brady |
| Super Bowl Winning Coaches | 2 | Jon Gruden, Bruce Arians |
| Super Bowl MVPs | 2 | Dexter Jackson (XXXVII), Tom Brady (LV) |
What Are Tampa Bay Buccaneers Odds To Win The Super Bowl?
The Tampa Bay Buccaneers added their second Super Bowl ring to their organization after a 17-year Super Bowl drought. Looking at the Tampa Bay Buccaneers' odds to win the Super Bowl this season, they are favored to make another run at the championship. As long as they can continue to stay hot on offense and defense, bettors should be looking to take their Super Bowl odds before they get any shorter.
What Are the Tampa Bay Buccaneers Odds To Win the NFC Championship?
The Tampa Bay Buccaneers won just their second NFC Championship in 2020 after defeating the Green Bay Packers to advance to the Super Bowl. Their first NFC Championship came back in 2002 which also led to a Super Bowl win for the Bucs. Looking at their odds to win the NFC Championship this season and they are favored to do so.
What Are The Tampa Bay Buccaneers Odds To Win The NFC South?
The Buccaneers have not won an NFC South championship since way back in 2007 when they won their sixth. Now that the Buccaneers have shown that they are the best team in the division by winning the Super Bowl, NFL sportsbooks are favoring them to win their seventh NFC South championship. As long as the Buccaneers continue to prove that they are the best team in the division, they should be able to add more division titles to their name.
2022 Buccaneers Betting Odds
Super Bowl: +800
NFC Championship: +325
Tampa Bay Buccaneers ATS Betting Trends
Tampa Bay Buccaneers Over/Under Betting Trends
Mobile Betting On The Tampa Bay Buccaneers
Those looking to lay action on the Buccaneers have it very easy. Mobile betting with online sportsbooks like Bovada, BetOnline and MyBookie makes betting on the Buccaneers very entertaining. Bettors can place bets on just about anything they can think of including Buccaneers game lines, futures odds, game props and player props. Bettors can even take a look at tons of different promotions and bonuses that they have to offer as well. While no Florida mobile sportsbooks exist that are state-regulated, the online sites will service betting on the Bucs without any issues.
2021 Buccaneers Player Props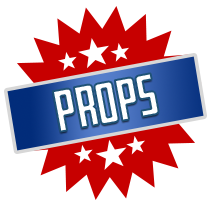 The Buccaneers have absolutely nothing to worry about in terms of the talent that is on their team. They have easily the greatest quarterback of all time in Tom Brady leading the way who will certainly have loads of Bucs prop bets on him. Aside from Brady, they have a lethal receiving core in Mike Evans, Chris Godwin and Antonio Brown, a tough running back in Leonard Fournette and a seasoned tight end with Rob Gronkowski. All of these players and more are sure to have player prop odds on them for not just the regular-season, but also the playoffs and even the Super Bowl if they repeat their season.
Tampa Bay Buccaneers Super Bowl Winning Quarterbacks
The Tampa Bay Buccaneers have been in just one other Super Bowl aside from Super Bowl 55. The Buccaneers' first Super Bowl appearance was back in 2003 for Super Bowl 37 where Brad Johnson was the winning quarterback that led the Buccaneers to a 48-21 win over the then, Oakland Raiders. Johnson led the Bucs with 215 passing yards and two touchdowns in the win, however, Johnson finished with the sixth-worst completion percentage in Super Bowl history at 52.94%. On a brighter note, he is one of just nine quarterbacks in Super Bowl history to not take a sack in the game!
Where To Bet On The Buccaneers In Florida?
When looking at options to bet on the Tampa Bay Buccaneers in Florida, there is currently one Florida-regulated sportsbook taking bets from FL locals. Internationally, one of the best online sportsbooks is Bovada They have some of the best odds on the Buccaneers. Those looking for a Florida sportsbook nearby to bet on the NFL should see some launches soon.
Hard Rock Sportsbook
Seminole Hard Rock Hotel & Casino Hollywood, FL
 Seminole Hard Rock Hotel & Casino Tampa, FL
Tampa Bay Buccaneers Playoff History
Dating back to when the Tampa Bay Buccaneers became an established NFL team in 1976, they have found themselves in the postseason a number of times. They have managed to make the playoffs 12 different times. Of their playoff berths, they have pulled in seven division titles, one conference championship and two Super Bowl victories.
Buccaneers Playoff Appearances
The Buccaneers have managed to make the playoffs in 12 of their 44 seasons as an NFL team. John McKay led them to their first three playoff appearances with their first one coming in 1979 and again in back-to-back years in 1981-1982. They then went on a 15-year playoff drought that ended in 1997 under Tony Dungy who led them to four playoffs including 1997 and 1999 as well as 2000-2001. Their last three playoff appearances came in the John Gruden era as he led them to the playoffs in 2002, 2005 and 2007. Their latest playoff appearances came in 2020 and 2021 under Bruce Arians with Tom Brady under center.
Buccaneers Division Championships
Of the Bucs 12 playoff appearances, six of them have been division championships. Their first two division titles came under John Mckay in 1979 and 1981. After McKay's stint as the coach, Tony Dungy led them to one more 18 years later in 1999. Then, when John Gruden was the coach, he led them to three more in 2002, 2005 and 2007. Bruce Arians has led them to one more in 2021.
Buccaneers Conference Championships
Of the three coaches that have led the Buccaneers to the playoffs, only John Gruden has been able to lead them to a conference championship win in 2002 where he had Brad Johnson under center. The Bucs took down the Philadelphia Eagles in the game with a final score of 27-10. They did so in underdog fashion as they went into the game being seen as 4-point underdogs. They won their second NFC Championship in 2020 for the first time under Bruce Arians.
Buccaneers Super Bowl Victories
The Tampa Bay Buccaneers have won two Super Bowls with their first one coming back in 2003 at Super Bowl XXXVII when they defeated the Oakland Raiders 48-21. The Buccaneers actually went into the game being seen as 3.5-point underdogs and clearly covered the spread. Dexter Jackson was named the Super Bowl MVP after he had two interceptions for 34 return yards, one pass deflection, and three total tackles. Their second Super Bowl came in 2020 for Super Bowl LV where the Buccaneers took down the Kansas City Chiefs 31-9 after being seen as underdogs once more but this time at 3 points. It was Tom Brady who walked away with the MVP of the game after going for 201 passing yards and three touchdowns.
2000 NFC Divisional Round: Buccaneers Complete Their Largest Playoff Comeback
The largest playoff deficit the Buccaneers have ever overcome was just 13 points on January 15, 2000 against the Washington Redskins in the NFC Divisional Round. The Redskins cruised to a 13-0 lead in the third quarter, spurred on by an impressive 100-yard kickoff return touchdown by Brian Mitchell on the second half kickoff. After though, the Buccaneers scored two unanswered touchdowns starting down 13-0. The second of these, a 1-yard touchdown pass from Shaun King to John Davis, put the Buccaneers ahead 14-13 and completed the largest playoff comeback in Buccaneers history.