Betting On The Chicago Bears To Win The Super Bowl

Betting on the Chicago Bears to win the Super Bowl does not align in the stars in 2021. They have a handful of problems they need to attend to before they could be considered contenders once again. Their defense did not meet the expectations they were supposed to during the 2019season at all. They made some head-turning moves to the defense this offseason that could turn out pretty nice like signing Robert Quinn and Artie Burns.
This could bring their defense to that elite level but the offensive side needs help. Mitchell Trubisky is not the guy. They did trade for NickFoles who could actually work out for them but only time will tell. Tarik Cohen had a horrible 2019 season after a promising showcase in 2018. The offense could turn things around depending on how Foles operates but do not hold your breath. As you keep reading, you will find the chances of the Bears winning the Super Bowl, winning the NFC Championship and winning the NFC North.
Chicago Bears And
COVID-19
The Bears have seen two of their defensive players opt out of the 2020 season. Those players are defensive tackle Eddie Goldman and safety Jordan Lucas. There were nine players on the team's injured reserve/COVID-19 list but the Bears were dealing with false-positive tests in which all nine players had faulty results.
As for fan attendance at the games, the Bears announced on August 17 that there will be no fans allowed at Soldier Field during the 2020 NFL season and that all season ticket holders will receive a full refund. There is no chance for the team to allow fans at all now that the season has started.
Chicago Bears Playoff History
| | | |
| --- | --- | --- |
| Playoff Appearances | 26 | 1933, 1934, 1937, 1940, 1941, 1942, 1943, 1946, 1950, 1956, 1963, 1977, 1979, 1984, 1985, 1986, 1987, 1988, 1990, 1991, 1994, 2001, 2005, 2006, 2010, 2018 |
| Division Championships | 19 | 1933, 1934, 1937, 1940, 1941, 1942, 1943, 1946, 1984, 1985, 1986, 1987, 1988, 1990, 2001, 2005, 2006, 2010, 2018 |
| Conference Championships | 4 | 1956, 1963, 1985, 2006 |
| Super Bowl Victories | 1 | 1986 (XX) |
| Super Bowl Losses | 1 | 2007 (XLI) |
| Super Bowl Winning Quarterbacks | 1 | Jim McMahon |
| Super Bowl Winning Coaches | 1 | Mike Ditka |
| Super Bowl MVPs | 1 | Richard Dent (XX) |
Betting On The Bears For Week 12 Sunday Night Football
The Chicago Bears are scheduled to take on the Green Bay Packers in an NFC North showdown where the Bears are going in seen as the underdogs. They are currently 5-5 on the year and a win here against the 7-3 Packers would surely give them hope for a playoff push. Looking at their matchup history against the Packers, they have not looked good. Dating back to 2011, they have seen the Packers 18 times and have won just three of those games.
Bears
Packers
Looking at some of the Bears betting trends heading into their bout with the Packers, they have gone 0-5 against the spread in their last five road games against a team with a winning home record. They are also 3-8 against the spread in their last 11 road games as well. In their last 19 meetings with the Packers, they have gone 5-14 against the spread.
Where To Bet On The Chicago Bears In Illinois
Luckily for Bears fans and bettors, sports betting was made officially legal in the state in 2019 and land-based sportsbooks are soon to be popping up all over the Prairie State. Due to the COVID-19 pandemic, however, there were delays on these sportsbooks opening. In the meantime, Bears bettors thankfully can use online NFL sportsbooks such as MyBookie to bet on the Chicago Bears. MyBookie is one of the most relied on online sportsbooks that there is and they are known for offering great odds on all of the NFL.
Chicago Bears Betting Trends In 2020
The Chicago Bears losing streak has extended to five games in Week 12 after they were defeated by the Green Bay Packers. They were unable to cover their 7.5-point spread as they were beaten with a final score of 41-25. The Bears will catch a break in Week 13 as they have a favorable matchup with the Detroit Lions where they are seen as 3-point favorites going into the game. Although the Bears are seen as the favorites heading into the game, they have gone just 4-7 against the spread this season. In the Bears last four games as a home favorite, the Under for the point total has gone 4-0. In their last five meetings with the Lions, they have gone 4-1 against the spread.
What Are The Chicago Bears Odds To Win The Super Bowl?
The Bears got off to a hot start to the season and saw their Super Bowl odds climb as high as +5000 but have since dropped down to +12500 as their hot start clearly has not continued. They changed quarterbacks throughout the season from Mitchell Trubisky to Nick Foles and seem to have gotten worse. As long as their struggles continue, so will their odds.
What Are The Chicago Bears Odds To Win The NFC Championship?
The Chicago Bears odds to win the NFC Championship started off at +2500 to open up the season but have since dropped down to +6600 and have continued to fall. They have been dropping meaningless games. They proved early on in the season that they could play and beat anyone but have not looked that way at all during the second half of the season.
What Are The Chicago Bears Odds To Win The NFC North?
The Bears are in one of the tougher conferences in the league as they share it with the Green Bay Packers who seem to have a firm grip on the shortest odds to win the division. They are currently three games behind the Packers for the best record in the division and the way that the Packers have been playing, they are lucky that it is just three games. Their odds have taken a steep hit from +350 way back to +1300 which are the third-longest in the division.
NFL Draft Betting On The Bears
It seems that the Bears like to take chances and this is perfect for bettors who would like to win a lot of money. Now license-sportsbooks do not offer betting lines because of its law requirement so placing a bet on the Bears' next bold move would have to be done online sportsbooks. With an easy process of creating your online account, you will be able to see tons of options for what the Bears may do during the draft progress. The Bears could do anything during the (* NFL Draft https://www.bettingsuperbowl.com/draft/ *) and if bettors play the correct bet, money could be flowing in before the draft is over.
Chicago Bears Projected Win Total
Finishing the season at 8-8, the Bears have a huge question mark at the quarterback position. The defense is great and has some future Hall of Famers on that side of the ball. All season however the play at the quarterback position didn't help anything. With this defense being so great online sportsbooks have odds in favor of the Bears finding a way to win more than 8 games next year which is what they finished with this past year.
2020 Bears Player Props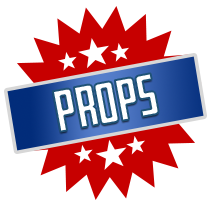 The Chicago Bears are a team that is looking to have a bounce-back year as well after many expected them to be an elite team both on the offensive and defensive end. The bears proved to be one of the best defenses in the league in 2018 but did not back that up the following year. As for the offense, there is still no answer as to who will be under center but whoever is can always rely on Allen Robinson to be the number one option.
Allen Robinson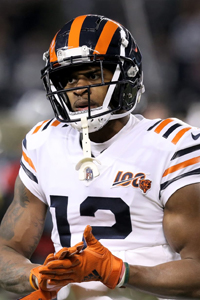 Going into his third year in Chicago, Allen Robinson has proven to be a reliable option as the Bears number one receiver. He is coming off a great season where he managed to put up 1,147 receiving yards to go along with seven touchdowns and a career-high 98 receptions. Going into the new season, NFL betting sites have his season totals set at 1099.5 yards and 89.5 receptions. Both of those betting lines have the odds for the over as the favorite.
Chicago Bears Playoff History
The Chicago Bears are one of the oldest NFL franchises in the NFL as they were founded 100 years ago in 1920. With that comes years and years of playoff experience as they have seen a total of 26 playoff berths which includes 19 division championships, 4 conference championships and just 1 Super Bowl victory.
Bears Playoff History
The Bears first playoff appearance in the NFL came back in 1933 where George Halas was the head coach. Halas led the Bears to a total of six playoffs from 1933 to 1942 which included a three-year run from 1940-1942. Their next playoff appearance was in 1943 while Hunk Anderson was the coach. Halas returned to the Bears in 1946 and led them to four more playoffs in 1946, 1950, 1956 and 1963. Their next two playoff appearances did not come until 1977 and 1979 under Jack Pardee and Neil Armstrong. The Bears then went on a consistent playoff run from 1982-1992 under the legendary Mike Ditka who led them to 7 appearances in those 10 years. Dave Wannstedt led them to one more playoff run in the 90s in 1994. In the 2000s and 2010s they were only able to combine for five playoff appearances under three different coaches including Dick Jauron, Lovie Smith and Matt Nagy with their most recent appearance in 2018.
Bears Division Championships
The Bears have been efficient when turning their playoff appearances into division championships. Of their 26 playoff appearances, they turned 19 of them into division titles. Their first six division titles came under George Halas with the first one coming in 1933 and their most recent one coming in 1942. Their next two came in 1943 and 1946 under hunk Anderson and Halas as well. When Mike Ditka took over in 1982, he led them to six more division titles with their first one coming in 1984 and their final one coming in 1990. From 2001 to the present day they have only been able to muscle in four division titles under three different coaches.
Bears Conference Championships
Many would think that the Bears would have capitalized on their 19 division championships with more conference titles, but they were only able to win four conference championships. Their first one came back in 1956 under Paddy Driscoll coaching and Ed Brown under center. Their second one came in 1963 under coach George Halas with Billy Wade at quarterback. They did not see their third one until 22 years later in 1985 under the great Mike Ditka. Their most recent one came back in 2006 with Lovie Smith and Rex Grossman throwing the ball.
Bears Super Bowl Victories
The Chicago Bears have won just one Super Bowl in their existence as they won in 1986 for Super Bowl XX. They took on the New England Patriots and defeated them with a final score of 46-10. The Bears had absolutely no problems in covering the spread here as they were favored by 10-points and won by a whopping 36. Richard Dent was given the Super Bowl MVP honors after he finished with 1.5 sacks and a tackle.