Betting On The New York Jets To Win The Super Bowl

Bettors haven't had too much luck in the year's past when betting on the New York Jets to win the Super Bowl. The Jets have not won a Super Bowl since 1969 which was over 50 years ago and if you are planning to bet on them now, you might have to wait another 50 years. They had a quiet but interesting free agency period as they lost their top receiver in Robby Anderson.
Although the Jets have taken a lot of heat over the years, they are slowly but surely making a quiet rebuild. Sam Darnold has been a nice young piece for them, the talent around Le'Veon Bell is known as their defense has always been known for being scrappy. Putting money on the Jets to win the AFC East could be the best odds around, but odds for the Jets to win the AFC and more can also be found. Whether betting on your phone or computer, betting on the Jets has never been easier.
New York Jets And
Coronavirus
The New York Jets have had three players inform the team that they will not be playing in the 2020 season – offensive lineman, Leo Koloamatangi, linebacker, C.J. Mosley and wide receiver Josh Doctson. There is also just one player on the team that is currently on the COVID-19/reserve list. The team announced that there will be no fans allowed at any of the Jets home games for the 2020 season and that season tickets will be deferred to the 2021 season.
New York Jets Playoff History
| | | |
| --- | --- | --- |
| Playoff Appearances | 14 | 1968, 1969, 1981, 1982, 1985, 1986, 1991, 1998, 2001, 2002, 2004, 2006, 2009, 2010 |
| Division Championships | 4 | 1968, 1969, 1998, 2002 |
| Conference Championships | 0 | |
| Super Bowl Victories | 1 | 1968 (III) |
| Super Bowl Losses | 0 | |
| Super Bowl Winning Quarterbacks | 1 | Joe Namath |
| Super Bowl Winning Coaches | 1 | Weeb Ewbank |
| Super Bowl MVPs1 | | Joe Namath |
Betting On The Jets In New York
When betting on the Jets, New York bettors have the luxury of going to plenty of different in-person sportsbooks that are located around the state. There are sportsbooks located in, Schenectady, Syracuse and Waterloo amongst other cities. Those that want to enjoy betting on the NFL and the Jets from their own homes can do so also with online sportsbooks like Bovada. Bovada offers the same betting experience online that would be found in person as they have plenty of different NFL odds on the Jets as well as the rest of the league.
2020 Betting Trends For The New York Jets
The Jets have remained the only winless team this season as they sit at 0-11 after falling to the Miami Dolphins in Week 12 with a final score of 20-3. They were unable to cover the 7.5-point spread they were looking at as they lost by 17 points. They have another tough opponent in Week 13 in the Las Vegas Raiders where they are going into the game seen as 8-point underdogs. The Jets have gone an awful 3-8 against the spread this season which is good for the second-worst in the league. In the Jets last five games against a team with a winning record, the Under has gone 5-0. In their last six meetings with the Raiders, the home team has gone 5-1 against the spread.
What Are The New York Jets Odds To Win The Super Bowl?
The New York Jets Super Bowl odds are in dead last at +100000 being that they have very little talent on this team to get excited about. They are yet to win a game this season and their odds are clearly showing that. It should also be noted that their head coach, Adam Gase, and his coaching style just are not working in New York. If this team does not make any changed and quickly, their Super Bowl odds are sure to remain towards the bottom.
What Are The New York Jets Odds To Win The AFC Championship?
The Jets odds to win the AFC Championship are like their Super Bowl odds, in last place at +50000 odds. They have absolutely nothing to look forward to on this team and it has shown during the start of the season as they look completely lost when they take the field. With the Jets continuing their journey to discover themselves, their AFC Championship odds have already been discovered in last place.
What are the New York Jets Odds To Win The AFC East?
The Jets are in last place yet again but this time it is for the AFC East divisional odds with +25000. They are struggling so hard that they are even sitting behind the Miami Dolphins which is a hard thing to accomplish. They do not nearly matchup with the Bills or the Patriots either and for that reason, their odds will not be shifting anytime soon.
Jets Betting Odds On The NFL Draft
Betting odds for the New York Jets draft would only be seen on online betting sites. Licensed-sportsbooks are forbidden to place betting odds on NFL events that are not the games. This means that bettors will have the number one option of placing their bets on online sportsbooks. Don't worry, there will be plenty of betting options and props up. Online betting sites will be much prepared for the Jets draft as much as the general manager there.
New York Jets Projected Win Total
There is so much confusion with the New York Jets. Finishing the year with a 7-9 record, the Jets have players on their team that the head coach doesn't want there. Even with the confusion going on in the locker room of the jets, sportsbooks favor the Jets to find a way to win over 6 games this year. Now that doesn't mean improvement because they won seven games last year but still the money is floating toward the over.
Mobile Betting Apps For The Jets
Jets fans know-how are busy it is in New Jersey and that traffic can get in the way of when they get on. As long as you have a connection to the internet on your phone you can find ways to place your bets on your Jets team. iPhone or Android it doesn't matter which one you have! You can connect to the internet and log on to your online sportsbooks with no problem at all!
Live Betting On The Jets
Placing bets on the Jets game is one thing. Placing live bets on the Jets is another. Even with placing very good bets prior to the game starting, online sportsbooks give you an option to where you can place some bets online during the gameplay. Basically, live betting is when you place a bet after the game has kicked off. Even after the game has kicked off, online betting sites give you multiple options when it comes to placing a bet during the Jets game. So do not feel bad if you missed placing a bet prior to the game starting, log in your sportsbook and place your best bet available.
2020 Jets Player Prop Bets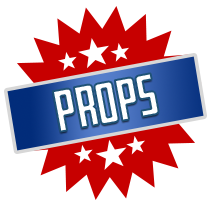 The New York Jets are no doubt one of the bottom-feeding teams in the league after a rough outing in 2019. They hardly brought in any bigger names to their team for the 2020 season. There are many prop bets for different Jets players which includes, of course, Le'Veon Bell and Sam Darnold and on the receiving end, Denzel Mims and Jamison Crowder.
Sam Darnold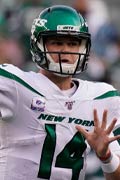 Sam Darnold had a roller coaster of a 2019 season after playing 13 games, he put up 3,024 passing yards and 19 touchdowns. In the upcoming season, Darnold has projections of 22.5 passing touchdowns and 3599.5 passing yards with the over favored.
Le'Veon Bell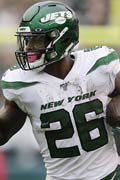 If there was one person on the Jets that has a confusing season, it is Bell. Bell did not seem to be utilized properly as he put up just 789 yards and three touchdowns. Looking ahead at his 2020 projections, Bell is projected 850.5 rushing yards with the under favored.
Jamison Crowder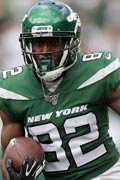 Jamison Crowder had a fairly above-average season during his first year with the Jets as he put up 833 yards and six touchdowns. In his 2020 projections, NFL sportsbooks have his season totals 800.5 receiving yards.
Denzel Mims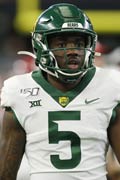 Denzel Mims, the rookie wide receiver out of Baylor, has high expectations during his first season with the Jets. During his final season at Baylor, he put up huge numbers with 1,020 yards and 12 touchdowns. NFL betting sites have his season totals set at five touchdowns with the under favored and 609.5 yards.
New York Jets Playoff History
Since the Jets were established back in 1960, they have had their fair share of playoff runs. In their 80 years of existence, they have been able to put up 14 playoff berths which have included just four division titles, 1 conference championship and a Super Bowl victory.
Jets Playoff Appearances
The Jets saw their first playoff appearance eight years after they became apart of the NFL in 1968 under coach Weeb Ewbank. Ewbank took the Jets to just one more playoff appearance in 1969. They then went on a 12-year playoff drought and finally made it again in 1981 with Walt Michaels who also led them to one more in 1982. They saw two more appearances back to back in 1985 and 1986 under with Joe Walton calling the plays. Their next two playoff berths came in 1991 and 1998 under both Bruce Coslet and Bill Parcells. In the 2000s, Herm Edwards took over and led them to three playoff appearances between 2001 and 2005. Eric Mangini led them to one more appearance in 2006 and in 2009 and 2010, Rex Ryan led them to two more. The Jets are currently on a playoff dry spell.
Jets Division Championships
Of the Jets 14 playoff appearances, they have seen am inefficient four divisional championships. Their first two came in 1968 and 1969 under Weeb Ewbank calling the plays and Joe Namath under center. Bill Parcells led them to one more in 1998 with Vinny Testaverde under center. Their most recent one came in 2002 under Herm Edwards while Chad Pennington at quarterback.
Jets Conference Championships
The Jets have not won any conference championships in their existence but have made it to the conference championship game a total of three times. The first time in 1982 where they were defeated by the Miami Dolphins after being favored to win by 3-points under Walt Michaels. Their second and third appearances came in 2009 and 2010 during the Rex Ryan era where Mark Sanchez was the quarterback. In 2009 they lost to the Indianapolis Colts and were seen as 8.5-point underdogs. In 2010 they were defeated by the Pittsburgh Steelers and were seen as 4-point underdogs.
Jets Super Bowl Victories
The Jets have just one Super Bowl to their name that came way back in 1968 under Ween Ewbank. They took on the then Baltimore Colts in Super Bowl III and defeated them with a final score of 16-7. The Jets defeated the odds here as they went into the game being seen as 18-point underdogs and were able to cover the spread in winning fashion. Joe Namath was given the Super Bowl MVP honors as he threw for 206 yards but did not throw for a touchdown.