Super Bowl Winning Coaches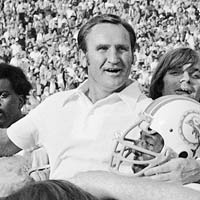 Any discussion of Super Bowl coaching would be incomplete without the namesake himself; Vince Lombardi directed the Green Bay Packers to victory in the first two Super Bowl games ever played. After Lombardi's untimely passing in 1970, the Super Bowl trophy was renamed in his honor. The early years of the Super Bowl were controlled by a litany of legendary coaches: Lombardi's Packers, Chuck Noll's Steelers, Don Shula's Miami Dolphins, and John Madden's Raiders captured 10 of the first 15 Super Bowl titles. These coaches were archetypal in every sense of the word, from their gruff demeanor to their emphasis on stifling defense and a strong running game.
In 1982, a third-year coach and his relatively unheralded quarterback took the league by storm, winning the Super Bowl behind an innovative short passing game known as the "west coast offense". You've undoubtedly heard of them. The coach was Bill Walsh and his quarterback was Joe Montana. In the 1990s, Jimmy Johnson's charismatic, star-studded Dallas Cowboys dominated the league with three Super Bowl wins from 1993 to 1996. Mike Shanahan wrested control of the NFL away from Johnson in the late 90s, winning back-to-back Super Bowls with the help of a veteran John Elway. At the turn of the century, a Bill Parcells disciple named Bill Belichick completely took over the NFL, winning a record six Super Bowls from 2001 to 2019. In 2007, Colts coach Tony Dungy became the first-ever black coach to hoist the Lombardi Trophy, followed shortly after by Mike Tomlin with the Steelers in 2009.
Which Coaches Have the Most Super Bowl Victories?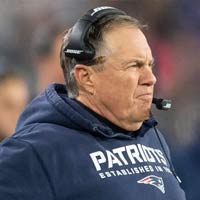 As mentioned above, the Patriots' Bill Belichick has a healthy lead on the rest of the field, with six total Super Bowl victories. Behind him, Chuck Noll is the only other coach with even four titles. Belichick won his first Super Bowl in 2001 and his most recent (but not necessarily his last) in 2019. The Patriots have been historically dominant since that first Super Bowl season, with a record of 232-72 and an absurd 16 division titles. At 67 years old, Belichick likely won't be coaching for more than the next year or two, but his tenure with the Patriots has set numerous records that might never be broken. In 2021, the Patriots failed to make the playoffs, meaning Belichick will not be expanding on his lead until at least 2022.
How Many Coaches Have Won Multiple Super Bowls?
Currently, there are 13 coaches with multiple Super Bowl victories; these 13 men have combined for 34 of the league's 55 championships (61.8%). Prior to Belichick, the Giants' Tom Coughlin was the last coach to add his name to the list of multiple time champions. The complete list is as follows:
Bill Belichick (6 wins)
Chuck Noll (4)
Joe Gibbs (3)
Bill Walsh (3)
Tom Coughlin (2)
Don Shula (2)
Tom Landry (2)
Bill Parcells (2)
Vince Lombardi (2)
Tom Flores (2)
Jimmy Johnson (2)
George Seifert (2)
Mike Shanahan (2)
Many of these coaches are noted pioneers of the league. Lombardi was the model coach the rest of the league tried to emulate for decades. Don Shula brought the concept of the "no-name defense", or a unit that would be greater than the sum of its parts. He also popularized the use of the 3-4 defense. Tom Landry introduced the 4-3 defense to the NFL, which would become standard alignment for decades. Chuck Noll's "Steel Curtain" defenses were revolutionary in their ability to control the line of scrimmage with a four-man rush. Bill Walsh's west coast offenses with Joe Montana became the blueprint of every modern offense in the NFL. One clever wrinkle can win you one title, but to win more than one, you need to either have a transcendent talent or a football luminary who shapes the NFL with your very presence.
Has Any Coach Won the Super Bowl with Different Teams?
No coach in Super Bowl history has ever won the with two different franchises. If you want to make a huge stretch (like Michael Jordan versus the Monstars huge), you could argue that Tom Flores won with two separate teams when he won with the Oakland Raiders in 1981 and the Los Angeles Raiders in 1984. But if you make this argument, you're wrong.
Who Are the Youngest and Oldest Coaches to Win the Super Bowl?
In 2019, Bill Belichick became the oldest coach in league history by capturing his sixth Lombardi Trophy at 66 years, 9 months and 18 days old. Belichick led the Patriots back to the postseason this season, and it's very possible that his coaching career still has something left to give. Chiefs coach Andy Reid is only a few years younger (he will turn 62 in March), but his brilliant offenses in Kansas City have proven that he is still one of the NFL's best coaches.
In 2009, Steelers coach Mike Tomlin became the youngest coach ever to win a Super Bowl at just 36 years, 10 months and 18 days. Even over 10 years later, Tomlin still ranks in the youngest third of an increasingly youth-crazy league. Rams head coach Sean McVay came close to smashing this record in 2019, finishing as a runner-up to the Patriots at just 32 years old. 49ers coach Kyle Shanahan comes in at a youthful 39 years old, and with young offensive gurus currently being the NFL's hottest commodity, expect this record to be broken soon.
Memorable Super Bowl Coaching Decisions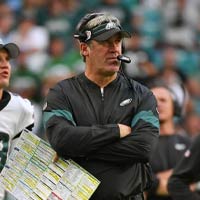 2018
The Philly Special: With time running out in the first half facing a 4th and goal on the Patriots' 1-yard line, Eagles' rookie head coach Doug Pederson leaves his offense on the field. Rather than run the ball up the middle with LeGarrette Blount, he dials up a trick play. As quarterback Nick Foles pretends to make adjustments to the Eagles' protection scheme, running back Corey Clement receives a direct snap. He carries the ball left, flips it back to tight end Trey Burton running the other direction, who throws it to a wide-open Foles for the Eagles touchdown. The Eagles go on to win the game 41-33.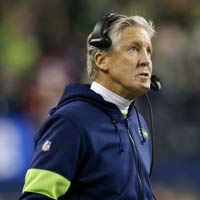 2015
Pete Carroll Passes on the 1-Yard Line: Down 28-24 and facing a 2nd and goal from the 1 with one timeout left and less than 30 seconds in the game, Pete Carroll elects not to hand the ball to running back Marshawn Lynch—one of the best power backs in football history—and instead throws a surprise slant route to Ricardo Lockette. The ball was played perfectly by Patriots nickelback Malcolm Butler and intercepted on the goal line. This decision gets a worse rap than deserved. Quarterback Russell Wilson had a career-low 4.4% interception rate in 2014, and passing on second down allows for two additional plays in the case of an incompletion, whereas an unsuccessful run would leave the Hawks with only one more attempt with Lynch or force them to pass on third down (a much easier play to anticipate as a defense). Instead, Butler makes the play of his life and Seahawks fans are left wondering "What if?" for the rest of their lives.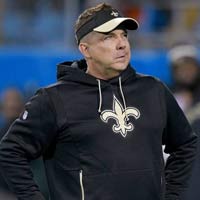 2010
Sean Payton's Surprise Onside Kick: After going into halftime trailing the Colts 10-6 and facing the prospect of giving Peyton Manning the ball to start the second half, Sean Payton decides the Saints needed to do something drastic to steal the Colts' momentum. On the opening kickoff of the second half, Thomas Morestead surprises the Colts by drilling an onside kick to the left side of the field. The ball bounces off the chest of Colts receiver Hank Bassett, where it is recovered by the Saints' Chris Reis, a reserve defensive back who played primarily on special teams. The Saints go on to score a touchdown on that drive and win the game 31-17.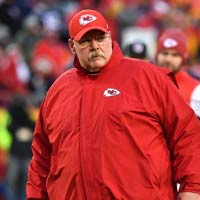 2005
Andy Reid Clock Management: Trailing the Patriots by two scores with 5 minutes and 40 seconds remaining, Reid's Eagles mount an agonizingly slow 4-minute touchdown drive, huddling up after every play and generally behaving like they had a lead. With only a minute and change left, they were forced to kick an onside kick, which the Patriots recovered to seal a 24-21 win.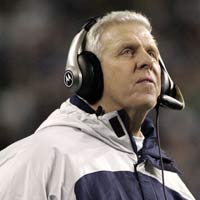 1997
Bill Parcells Kicks to Desmond Howard: With time winding down in the third quarter, Parcells' Patriots have just cut the Packers' lead to 27-21 on a Curtis Martin touchdown run. Rather than kicking the ball out of bounds (in 1997 this would have put the ball at the 35-yard line), Bill Parcells tells kicker Adam Vinatieri to kick it deep to Packers receiver Desmond Howard. Howard turns on the jets on a 99-yard kick return touchdown, and any chance at a Patriots comeback dissolves. This decision is another that gets more criticism than it probably deserves. There were still 18 minutes left in the game and this was the only one of his 368 career kick returns that Howard managed to take the distance.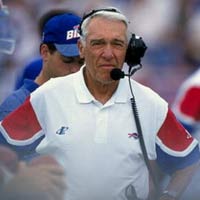 1991
Marv Levy's Timid Playcalling: Down 20-19 to the Giants with 2 minutes and 16 seconds remaining, Bills coach Marv Levy decides to go conservative with his play-calling. The Bills throw only three passes on the drive, completing two for a total of 10 total yards. First-team All-Pro running back Thurman Thomas gets only two carries, while noted non-athlete Jim Kelly gets three carries for 16 yards. The entire drive moves at a lackadaisical pace inappropriate for the game-winning drive of a championship game, and Scott Norwood is asked to make a much longer field goal than he realistically should have been. You know the rest: wide right, Bills lose, the Four Falls of Buffalo begin in earnest.