Patrick Mahomes has very high passing and rushing prop betting odds at Bovada.
Past playoff performances suggest the best bet for Patrick Mahomes is the over on nearly all his props.
KANSAS CITY, Mo. - Players are likely to cash in on their Patrick Mahomes MVP bets in the coming weeks, with prop bets on Mahomes in the Divisional Round a great way to boost their bankrolls before those bets cash.
Passing Prop Bets for Patrick Mahomes
Super Bowl betting sites offer many different Patrick Mahomes prop betting odds, with the best bets being on the reigning NFL passing yards leader to dominate through the air against the Jacksonville Jaguars:
Patrick Mahomes Passing Yards Prop: 312.5 Yards (Over -115; Under -115)
Patrick Mahomes Passing Touchdowns Prop: 2.5 Touchdowns (Over -110; Under -120)
Patrick Mahomes Interceptions Prop: 0.5 Interceptions (Over -110; Under -120)
Patrick Mahomes Passing Attempts Prop: 39.5 Attempts (Over -110; Under -118)
Patrick Mahomes Completions Prop: 27.5 Completions (Over -114; Under -114)
Mahomes' passing props illustrate that he has had an incredible season, but they are still set low enough that bettors should take the over.
Betting the over at Kansas City Chiefs sportsbooks can be done with confidence when viewing how Patrick Mahomes' playoff usage has gone up since he took over as a starter (particularly last season):
Patrick Mahomes 2018 Playoff Averages: 21.5/36 for 286.5 Yards, 1.5 Touchdowns, and 0 Interceptions
Patrick Mahomes 2019 Playoff Averages: 24/37.3 for 300.3 Yards, 3.3 Touchdowns, and 0.7 Interceptions
Patrick Mahomes 2020 Playoff Averages: 25.3/39 for 283.3 Yards, 1.3 Touchdowns, and 0.7 Interceptions
Patrick Mahomes 2021 Playoff Averages: 29.7/40.7 for 352.3 Yards, 3.7 Touchdowns, and 1 Interception
Mahomes has increased his passing attempts and completions in all four past playoff runs, with neither the 27.5 completions prop nor the 39.5 attempts prop accounting for the gameplans from Andy Reid involving more Mahomes throws.
That increase in Patrick Mahomes passes manifested itself in a big way last season, with his 352.3 passing yards per game easily a career playoff run high.
Betting on the increased usage of Patrick Mahomes' arm in the passing game should likely influence bettors to bet nearly all of his overs, with a specific focus on Mahomes' attempts, completions, and yardage bets at Bovada.
Rushing Prop Bets for Patrick Mahomes
Players can also bet on Patrick Mahomes' rushing yards and any non-passing touchdowns (anytime touchdown scorer odds) against Jacksonville Jaguars:
Patrick Mahomes Rushing Yards Prop: 23.5 Yards (Over -115; Under -115)
Patrick Mahomes Anytime Touchdown Scorer: +300
With the uptick in Mahomes' passing in last year's playoffs, a logical thought process could be that it came at the expense of him running the ball.
That would be untrue, as his game log from the playoffs last year suggests players should also bet on the over for his rushing yards and maybe even take him to score a rushing touchdown:
Wild Card Round vs the Steelers: 3 Rushing Attempts for 29 Yards
Divisional Round vs the Bills: 7 Rushing Attempts for 69 Yards
AFC Championship vs the Bengals: 3 Rushing Attempts for 19 Yards
Another reason to bet the over on Patrick Mahomes' rushing yards prop and to score an anytime touchdown is because of how important him rushing the ball has been in the Chiefs' playoff wins and losses:
Patrick Mahomes Playoff Wins (8): Averages 5.63 Carries for 32.5 Yards with a rushing touchdown in 5/8 games
Patrick Mahomes Playoff Losses (3): Averages 3.33 Carries for 21 Yards with no rushing touchdowns
Are you trailing bets on Patrick Mahomes to have a big game versus the Jaguars on Saturday?
Advertising Disclosure
BettingSuperBowl.com may receive a commission from any purchases you make through link on our site. This enables us to offer you the best free content and news about Super Bowl Betting.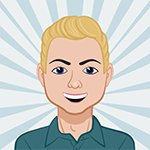 Brett has been writing professionally since November of 2021. He had such a passion for sports he even decided to major in Sport Management from Florida State University! When not writing about sports, Brett loves playing DFS, bowling, and golfing.