Other Halftime Show odds indicate that yellow/gold for Snoop Dogg's shoes should be favorite.
Eminem's hair color odds are not reflective of Marshall Mathers and Slim Shady era hits.
Big Ape Yacht Club owners and popularity not affecting odds on Halftime Show appearance.
LOS ANGELES - Oddsmakers have released many different styles of bets for when the Los Angeles Rams take on the Cincinnati Bengals in Super Bowl 56, and some of the top betting options are available for the Super Bowl Halftime Show.
When hip hop legends Dr. Dre, Snoop Dogg, Eminem, Kendrick Lamar, and Mary J. Blige take the stage during the Super Bowl 56 Halftime Show sports bettors everywhere will be turning up the volume.
Snoop Dogg Halftime Show Odds Contradict Each Other
With Super Bowl Halftime Show odds that are relatively short (+550) that he is seen first and is wearing a Steelers jersey, it seems accepted that he's wearing the jersey.
What Will Be Seen First?
Bored Ape Yacht Club image -150
Tupac Shakur image +140
Snoop Dogg in Steelers uniform +550
Eminem in Lions uniform +650
Not that Snoop Dogg has ever been a true stickler for the rules, but wearing blue shoes with a Pittsburgh Steelers jersey would be incredibly difficult to pull off.
The black, white, and gold may clash with the blue shoes, making an interesting case that a bet on yellow/gold shoes may have more value.
Color Of Snoop Dogg's Shoes Odds
Blue +200
Yellow/Gold +300
Black +375
White +500
Grey/Silver +650
Purple +900
Red +1000
Green +1200
Orange +1200
Pink +16000
Eminem's Hair Color Odds Show Strong Favorite
Known for his blonde hair and eccentric behavior in the early 2000s, Super Bowl betting odds indicate that viewers will see the more grown-up and stoic version of Eminem during the halftime show. All that can reasonably be inferred from odds on Eminem's hair color.
Eminem Hair Color Odds
Brown/Black -300
White/Blonde +200
Any Other Color +500
What makes Eminem's hair color prop bet particularly interesting is the songs that he is known for being more likely to play are all from Eminem's blonde hair days when he would go by either Slim Shady or his real name, Marshall Mathers.
Interesting NFT Prop Bet Takes Little Note Of Big Ape Yacht Club Owners
The Bored Ape Yacht Club has become so well known and valuable that they have short odds to be shown during the biggest concert of the year, the Super Bowl Halftime show.
Will A Bored Ape Yacht Club NFT Be Shown?
With Dr. Dre, Kendrick Lamar, Eminem, and Snoop Dog all listed as holders of the BAYC it seems odd that the "Yes" to see a Bored Ape Yacht Club NFT is not the favorite.
Advertising Disclosure
BettingSuperBowl.com may receive a commission from any purchases you make through link on our site. This enables us to offer you the best free content and news about Super Bowl Betting.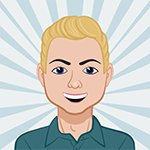 Brett has been writing professionally since November of 2021. He had such a passion for sports he even decided to major in Sport Management from Florida State University! When not writing about sports, Brett loves playing DFS, bowling, and golfing.