The 1999 St. Louis Rams are the least likely Super Bowl champions ever, holding +15000 pre-season odds to win Super Bowl 34.
Tom Brady led the New England Patriots to a Super Bowl win with +6000 odds after starter Drew Bledsoe got injured.
The Philadelphia Eagles won Super Bowl 52 with long +4000 pre-season odds.
ST. LOUIS – There have been many seasons where the pre-season betting favorite goes on to win the Super Bowl. There have also been many seasons where an underdog wins the Super Bowl, but no underdog winners had longer odds than these three infamous teams.
Teams like the 1999 St. Louis Rams, 2001 New England Patriots, and 2017 Philadelphia Eagles give confidence to those betting on the Super Bowl winners with longshot odds.
1999 St Louis Rams +15000 / 150-1
To put their miraculous Super Bowl 34 victory into perspective, the Houston Texans Super Bowl 58 odds are the same +15000 that the Rams won with.
The 1999 Super Bowl victory began "The Greatest Show on Turf", which named the high-powered St. Louis Rams offense led by Kurt Warner. Before the season started, starting quarterback Trent Green suffered a season-ending injury that made undrafted Kurt Warner the starter.
Warner went on to win his first MVP award with a talented receiving core headlined by Torrey Holt and Isaac Bruce. Not to mention, they also had Marshall Faulk at running back.
The Greatest Show on Turf was etched into Rams Super Bowl history forever, with the franchise earning their second Super Bowl in 2021. The 1999 St. Louis Rams are the least likely Super Bowl champions ever based on odds.
2001 New England Patriots +6000 / 60-1
The 2001 New England Patriots took down The Greatest Show on Turf to claim their +6000 Super Bowl odds. Those who bet on a New England Patriots Super Bowl likely could've gotten odds closer to +10000 after an injury to nine-year starter Drew Bledsoe forced last year's fourth-string rookie Tom Brady to start the rest of the season.
New England was 0-2 before Brady went 11-3 to earn the Patriots a first-round bye. The Patriots became the first team ever to win the Super Bowl after starting the season 1-3.
Now often recognized as the greatest quarterback of all time, Tom Brady won three Super Bowls in four seasons after becoming the starter. One of those wins was against the Philadelphia Eagles in Super Bowl 36, who were one of the least likely Super Bowl champions ever in 2017.
2017 Philadelphia Eagles +4000 / 40-1
The Philadelphia Eagles were 7-9 in 2016 and had +4000 odds to win Super Bowl 52 in 2017. A 41-33 victory against the New England Patriots notched the first win in Philadelphia Eagles Super Bowl history post AFL-NFL merger.
The Carson Wentz-led Eagles squad was counted out early by NFL sportsbooks with +4000 odds. After Wentz tore his ACL in Week 14 while having an MVP-caliber season, Nick Foles took over and went on to win the Super Bowl 52 MVP.
The miraculous season came after a last-place finish in the 2016 NFC East standings. The Washington Commanders Super Bowl 58 odds are +6600 after finishing last in the NFC East in 2022, showing how special the 2017 Philadelphia Eagles were.
Advertising Disclosure
BettingSuperBowl.com may receive a commission from any purchases you make through link on our site. This enables us to offer you the best free content and news about Super Bowl Betting.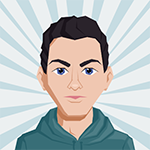 Zach is currently a student enrolled at Florida State University. He is majoring in Writing, Editing, and Media with a minor in Communication. He has a passion for sports writing and most enjoys writing about football and baseball both professional and collegiate. During his free time, you can find playing team sports, watching games, or playing DFS. Still searching for his first Fantasy Football Championship, he has been the runner-up four years in a row.