Best Super Bowl Props To Bet On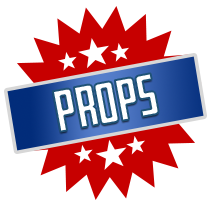 The Super Bowl is the biggest betting day of the year and there is no shortage of wagers going around for this most coveted event. The betting type that gamblers will see in bulk for the game are prop bets and the ones that will be discussed in this section are some of the best prop bets for the Super Bowl. Props not only make for the most amount of wagers for the Super Bowl, but they also account for live in-game betting wager as well. In-game props are some of the best bets offer during the Super Bowl. Its money and an adrenaline rush all in one.
Props are a type of wager that will vary between sportsbook because they can cover just about every aspect of the game and each sportsbook is different to begin with. These wagers range from silly to serious and everything in between. It is this variety that makes them some of the most fun bets to place. The seasoned gambler to the newbie all want to have their hand in the prop betting game. Below you'll find the best prop bets to get in on when watching the Super Bowl. Like potato chips, it'll be hard to pick just one.
What Are The Best Prop Bets?
The best Super Bowl prop bets come down to what the bettor is looking for. If they are looking to answer a simple question, finding the yes/no or over/under prop bets would be the best answer. If they are looking to risk a little to potentially win a lot, selecting a prop bet with many options and high odds would be best. Super Bowl prop bets are designed to have viewers discussing certain aspects of the game they normally wouldn't and to have them pay attention to the intricate details of the entire event. In short, this is a dealer's choice.
What Super Bowl Prop Bets Pay Out The Most?
Prop bets are always given at different odds. While some are the standard yes/no or over/under type wagers, many others give a variety of options with differing odds. There is no exact Super Bowl prop bet that pays out the most but scanning multiple sportsbooks for the best betting lines is imperative to making money. The props with the most options will offer the best ability to receive a high payout, but be wary of what you are betting on. If the prop is asking how the first points of the game are scored and the safety option has odds of +10000, you would likely lose your bet as a lot of things have to go right for a safety to happen rather than a field goal or touchdown that happen often.
Super Bowl Props To Keep An Eye On
Every year when it comes time for the Super Bowl, there are plenty of different Super Bowl prop bets to take advantage of. Some of the different Super Bowl prop bets to keep an eye on don't even have to do with play in the game. There are prop bets on things that will be said, how many players will miss the game and even if a kick or punt will be returned for a touchdown. Still, here's some advice on common Super Bowl prop bets.
Will There Be A Kick Return For A TD?
Will There Be A Punt Return For A TD?
Scoring a touchdown in the Super Bowl is a tough battle, especially when it has to hit a foot first. While the odds for no are so high, over time, it has proven that Yes would be the more profitable answer. In fact, since Super Bowl I, betting yes at +750 odds would have net a profit of 4.5 units; however, the last touchdown hasn't happened since Super Bowl XLI and a punt return TD has never occurred in Super Bowl history. Only once (Super Bowl XXXV) has two kick return touchdowns occurred.
What Are The Most Famous Super Bowl Prop Bets?
The most famous Super Bowl props to wager on are pretty interesting. Some have to do with the playing of the game while others are just fun happenings you'll see while you're watching. Prop bets are a fan favorite for the randomness and just the fun factor they bring to sports betting. While Super Bowl team and player props are a big deal, they are not the most famous.
Who Will MVP Refer To 1st In Speech?
Teammates +100
God/Religion +225
USA +700
Winning City +700
Family +900
Coaches +1000
Team Owner +2000
What Color Gatorade Will Be Thrown On The Winning Coach At The End Of The Game?
A very popular prop bet is wagering on the color of the Gatorade that is poured on the winning coach. Sports bettors have been taking action on this prop bet since the 1980s. The favorite is usually yellow-green or orange, but depending on teams colors sports bettors will wager on red or even clear/water. The Gatorade pour has become a tradition and is one of the best ways to bet on the Super Bowl.
Odds For Gatorade Color Thrown On Winning Coach - BetOnline
Orange +125
Yellow/Green/Lime +250
Blue +600
Purple +600
Clear +700
Red/Pink +800
Creating A Super Bowl Props Contest
When having a Super Bowl party, there should always be some type of game that is played involving betting. No money has to be exchanged, but the contests for Super Bowl props give the viewing party members bragging rights as well as a reason to keep watching the game. These prop bets can be printed out or created with only a few ideas in mind. By making the sheet loaded with over-under and yes-no questions, a Super Bowl party can become more intense as the final prop bets get revealed.
On your Super Bowl prop betting contest sheets, include topics such as, will a quarterback win the MVP, how many points will be scored, will there be a touchdown of one yard or less, will the jersey number from the first touchdown scorer be odd or even, which team will score last, will there be a defensive or special teams touchdown, and any other random situation that can have bettors thinking about the game. At the end of it, tally up the totals and the winner can be rewarded with a small prize or can be in charge of cleaning up the entire party. No matter what, make sure to make it fun.
Betting Alternate Lines On The Super Bowl
When expanding the normal offerings of what bettors can wager on during the Super Bowl, they will find alternate lines at their disposal. These lines slightly adjust the spread of the game and add or remove to the potential payout depending on which way the line moves. These types of prop bets are fantastic for the overconfident bettor who is looking to make their bet worthwhile, or for the bettor who is unsure about the game line but is willing to risk a little more. If worse comes to worst, when betting on the alternate Super Bowl lines, it creates a great hedging opportunity for live bettors.
How Many Prop Bets Are Offered During The Super Bowl?
Prop bets offered during the Super Bowl are unlimited. They are basically all you can eat wager type of the sports betting world. Each sportsbook will have its own props to choose from but each of them will have plenty listed. When it comes to placing wagers on the Super Bowl, the bulk of all bets will be prop related. They cover every single aspect of the game from beginning to end, giving bookies a multitude of opportunities to come up with all kinds of props for bettors to wager on.
What Are The Craziest Super Bowl Prop Bets?
Some Prop Bets for the NFL and Super Bowl have zero to do with the actual gameplay, award show, halftime show, or any aspect of the production. Instead, bettors will be introduced to certain prop bets such as if a fan will run onto the field, what color the Gatorade will be that is poured on the winning coach, and which commercial is going to play first. Always be sure to scan all of the Super Bowl prop bets because even if you are not betting on them, you can still get a good laugh out of the craziness that is offered to bet on.
How To Bet On Super Bowl 56 Prop Bets?
When it comes to betting on the Super Bowl, many bettors minds go straight to the different prop bets that are offered. When it comes to understanding the different prop bets, it is simple. Some prop bets require no research at all like the coin toss where the odds are the same on both sides and there is a 50/50 chance on them as well. However, there are other Super Bowl prop bets that could require some additional research in order to make the best possible bets. One prop bet for example could be on the time of the National Anthem, where bettors could look back at previous performances from the performers.
Super Bowl Prop Bets FAQ's