Betting On The Washington Football Team To Win The Super Bowl
Betting on the Washington Football Team to win the Super Bowl is pretty much like taking your money and flushing it down the toilet. In fact, that would probably be a lot easier than having to go through a bookie. The Washington Football Team has not been amazing in quite some time. They will have a flicker now and then of greatness, but it's like the flicker of a lighter that's run out of gas. The organization itself has run out of gas and can no longer keep a consistent spark. That does nothing for the team or it's fans when they need a light and nothing happens. The franchise got its start in 1932 so their history spans almost 90 years. In that time, they have won a total of five championship games and that's pretty sad for the length of time as a team.
Two NFL Championships which were the equivalent to a Super Bowl before the NFL and AFL merged to become just the NFL are part of their wins. After that, they won three Super Bowl titles. In 2019, the Washington Football Team ended their season with a record of 3-13, hear that sound of the toilet flushing do ya? The odds for the Super Bowl in 2021 will be based on their performance in 2019. This means they will have odds just as bad as their season to start off the 2020 year of games. If by some miracle they cannot only get to the Super Bowl but win it, the payout will be just as big as the letdown has been to their fans over these past years.
Washington Football Team Playoff History
| | | |
| --- | --- | --- |
| Playoff Appearances | 25 | 1936, 1937, 1940, 1942, 1943, 1945, 1971, 1972, 1973, 1974, 1976, 1982, 1983, 1984, 1986, 1987, 1990, 1991, 1992, 1999, 2005, 2007, 2012, 2015, 2020 |
| Division Championships | 14 | 1936, 1937, 1940, 1942, 1943, 1945, 1972, 1983, 1984, 1987, 1991, 1999, 2012, 2015 |
| Conference Championships | 5 | 1972, 1982, 1983, 1987, 1991 |
| Super Bowl Victories | 3 | 1983 (XVII), 1988 (XXII), 1992 (XXVI) |
| Super Bowl Losses | 2 | 1973 (VII), 1984 (XVIII) |
| Super Bowl Winning Quarterbacks | 3 | Joe Theismann, Doug Williams, Mark Rypien |
| Super Bowl Winning Coaches | 1 | Joe Gibbs |
| Super Bowl MVPs | 3 | John Riggins (XVII), Doug Williams (XXII), Mark Rypien (XXVI) |
How
Coronavirus

Has Affected The Washington Football Team

The Washington Football Team has seen just two of their players decide to opt-out due to the coronavirus. Also, there are currently no players listed on the team's coronavirus/reserve list. The team has also announced that there will be no fans in the stands at all for the entirety of the 2020 season. With that being said, the team is offering a full refund to all season ticket holders.
Where To Bet On Washington Football Team In Washington D.C.
Like their name, the Washington Football team is still trying to find their identity during the start of the season. Their current Super Bowl odds are +10000 which is shorter than what they opened up with to start the season which was +12500. As expected, they got off to a rocky start to the season and it is expected to continue. As long as their rocky season continues, their odds will remain towards the bottom.
2020 Washington Football Team Betting Trends
The WFT is 0-4 ATS in their last 4 playoff games.
Washington is 4-1 ATS in their last 5 games as an underdog.
The Football Team is 4-0 ATS in their last 4 games following a straight-up win.
What Are The Washington Football Team's Odds To Win The Super Bowl?
Washington Football Team has had a rough past few years and Super Bowl odds boards have taken note of that as they are down at the bottom with +8000 betting odds which is last amongst all of the playoff teams. They have had endless confusion with their starting quarterback job and have had different issues with different players. As long as their struggles continue, they will remain at the bottom.
What Are The Washington Football Team's Odds To Win The NFC Championship?
The Washington Football Team has seen their NFC Championship odds move further from when they first opened up the season at +7500. Their odds now sit at +20000 to win the NFC Championship as they do not have any key talents on their team that can push them over the hump to compete with the top teams in the conference.
What are the Washington Football Team's Odds To Win The NFC East?
The Washington Football Team are the winners of their 15th NFC East championship. They will be the only team representing the NFC East in the playoffs being that they managed to finish with the best record of arguably the worst division in the league. Those that took advantage of their betting line at +1200 are certainly jumping for joy right now.
How Many Super Bowls Have The Washington Football Team Won?
The Washington Football Team has won five Super Bowl Championships in franchise history. Their last win was in 1991. The Washington Football Team just cannot seem to get it together during the regular season to even give themselves a chance at postseason play. They have been in the playoffs 24 times in their entire history as a team. It's safe to say their story is far from the greatest story ever told but their fans deserve better. With their new head coach Ron Rivera leading the team in the 2020 season, maybe that'll be what the team needs to finally play something resembling football when they take the field on Sundays. If not, bettors can always lean back on Super Bowl prop bets when they are at home watching the other teams perform on football's biggest stage.
2020 Washington Football Team Player Props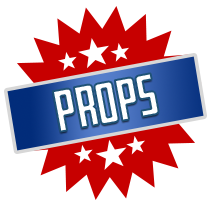 The Washington Football Team could be in a better position than they are right now. They have very little to look forward to in the 2020 season. Some of those bright spots are quarterback, Dwayne Haskins, wide receiver, Terry McLaurin and defensive end Chase Young.
Dwayne Haskins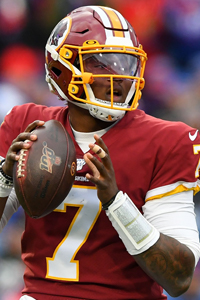 Haskins is entering his first full year as the starting quarterback in Washington and is looking to turn things around. In the games that he did play in 2019, Haskins put up 1,365 yards and seven touchdowns. Online sportsbooks are looking for Haskins to step things up as his season totals for touchdowns are set at 8.5 touchdowns with the over favored.
Terry McLaurin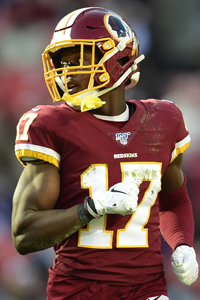 McLaurin is easily the most exciting player on the team to look forward to. He had a great rookie season having but up 919 yards and seven touchdowns. NFL sportsbooks are expecting him to back that up with 975.5 yards with the over favored and 5.5 touchdowns.
Chase Young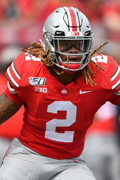 The second overall pick in the draft, Chase Young, is looking to make an immediate impact on a defense that needs tremendous help. During Young's last year at Ohio State, he was on a tear as he had 46 total tackles and 16.5 sacks. NFL oddsmakers are expecting a huge rookie season from young as his sack total is set at 8.5 with the over favored.
WASHINGTON FOOTBALL TEAM HISTORY
Washington Football Team Playoff History
The Washington Football Team is one of the oldest and most storied franchises in the history of the NFL as they were first established in 1932. Since becoming an NFL team, they have made some noise in the postseason as they have 24 playoff appearances, 14 division championships, 5 conference championships and have won 3 Super Bowls.
Washington Football Team Playoff Appearances
The Football Teams' first playoff appearance came in 1936 when they were coached by Ray Flaherty. Flaherty led them to four total playoff berths from 1936 to 1942. There next two playoff appearances came in 1943 and 1945 under two different coaches, Dutch Bergman and Dudley DeGroot. They made noise in the 70s with George Allen calling the plays as they made the playoffs five times including four straight from 1971-1974 and again in 1976. The 80s was a similar story as they posted five playoff appearances under Joe Gibbs. From 1990 to the present day, they have made the playoffs just 9 times with five different coaches.
Washington Football Team Division Championships
Of their 24 playoff appearances, they have managed 14 division titles out of them with their first one coming in 1936 and their second following in the year after in 1937 under Flaherty. Flaherty also coached them to two more division titles in 1940 and 1942 as well. Dutch Bergman and Dudley DeGroot led them to their next two in 1943 and 1945. They have not made much divisional noise since as they have only won 8 division titles since 1972 under five different coaches including Joe Gibbs, Norv Turner, Mike Shanahan and Jay Gruden with their most recent one coming in 2015.
Washington Football Team Conference Championships
With all of their playoff experience, many would think that they have turned a good amount of it into conference wins but they only have five conference titles under their belt. Their first one came in 1973 with George Allen at the coach along with Billy Kilmer under center. Their next three came in the '80s under Joe Gibbs with Joe Theismann under center in 1982 and 1983 and Jay Schroeder in 1987. Their most recent conference title came back in 1991 under Joe Gibbs as well but with Mark Rypien at quarterback.
Washington Football Team Super Bowl Victories
As the Washington Football Team has just five conference titles, their Super Bowl championship count remains low as well. They have just three Super Bowl wins with their first two coming in the 80s under Joe Gibbs and their third coming in 1992 also under Joe Gibbs.
Looking at their first Super Bowl win at Super Bowl XVII, the Washington Football Team took down the Miami Dolphins with a final score of 27-17 after the line had the Dolphins favored by 3-points. Being that they defeated all odds in winning fashion, the Super Bowl MVP of the game was John Riggins after he rushed for 166 yards and a touchdown.
Their second Super Bowl win for Super Bowl XXII came against the Denver Broncos. The game ended with a final score of 42-10 and the Washington Football Team did this in stunning fashion as they went into the game as 3.5-point underdogs. Doug Williams was named the Super Bowl MVP here after a spectacular outing having thrown the ball for 340 yards and 4 touchdowns.
Their most recent Super Bowl win for Super Bowl XXVI came against the Buffalo Bills where they defeated them with a final score of 37-24. The Washington Football Team was favored going into the game by 7-points and clearly covered the spread as they won by 14. Mark Rypien was named the Super Bowl MVP as he threw the ball for 292 yards and 2 touchdowns.